Blog/Market Talk
Posted Oct 22, 2019 by Martin Armstrong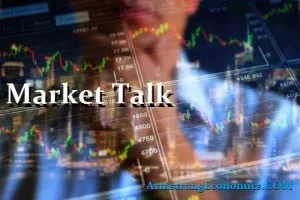 ASIA:
No real news coming out today regarding the US and China trade deal. Positivity surrounds the recent round of talks, although phase 1 has not been approved. However, China is still pressing the US to lift all tariffs prior to a deal being reached. Still, there are a few non-tariff related issues that are causing concern for the US, namely being the current protests in Hong Kong, a possible annexation of Taiwan, and the treatment of the Uighur population in China.
The German government is producing security requirements over their newly planned 5G networks. However, there is no mention of Chinese firms ZTE and Huawei as potential suppliers. Huawei is currently a world leader at the implementation of such technology and could be victorious when bidding for the deal. Other European firms such as Nokia are also equipped to provide the technology. If Huawei will be used, the US mentioned there will be no intelligence sharing, in the fear that the information will be sent back to China.
The Indian government has warned to Pakistan that they should stop their 'terror camps,' otherwise India would enter their sovereignty to destroy the camps. A recent skirmish between the two countries has seen up to 10 Pakistani soldiers killed. Both countries hold nuclear weapons, in which Pakistan holds 145 and India 135.
The major Asian stock markets had a mixed day today:
Shanghai increased 14.76 points or 0.50% to 2,954.38
Kospi increased 24.02 points or 1.16% to 2,088.86
ASX 200 increased 19.70 points or 0.30% to 6,672.20
NIKKEI 225 closed
Hang Seng increased 60.52 points or 0.23% to 26,786.20
SENSEX decreased 334.54 points or -0.85% to 38,963.84
The major Asian currency markets had a green day today:
AUDUSD increased 0.0007 or 0.09% to 0.6863
NZDUSD increased 0.0034 or 0.53% to 0.6419
USDJPY increased 0.1840 or 0.17% to 108.5670
USDCNY increased 0.0070 or 0.10% to 7.0775
Precious Metals:
Gold increased 4.02 USD/t oz. or 0.27% to 1,485.48
Silver increased 0.0734 USD/t. oz or 0.42%% to 17.6446
Some economic news from last night:
South Korea:
PPI (MoM) (Sep) decreased from 0.2% to 0.1%
PPI (YoY) (Sep) decreased from -0.6% to -0.7%
Some economic news from today:
HongKong:
CPI (YoY) (Sep) decreased from 3.50% to 3.20%
EUROPE/EMEA:
The UK's Brexit wish has been postponed as the Brexit timetable was rejected in parliament today, which caused PM Boris Johnson to pause the bill. He admitted later on in the day that he will discuss with the EU the possibility of an extension but stressed his goal would be to leave for the 31st of October. European Council leader Donald Tusk said that the Brexit extension for January 31st would have his blessing and that he will try and push it forward to the 27 heads of European states. It was not all gloom for Boris Johnson as the MPs did vote to approve the first stage of the withdrawal agreement bill, but they could not agree on the timeline. The opposition leaders felt they did not have enough time to really go through the scenarios of outcomes.
Germany's economy is suffering this quarter as Brexit and the global trade war is affecting their export market. The entire Eurozone is hovering around 20 bps with the German economy slipping 10 bps, Spain being one of the economies in Europe offering some sort of growth at a meager 50 bps, but as of late are facing their own issues with the Catalan protests. The UK has warned Britons to pay attention to travel warnings issued in some parts of Europe due to the politician and social unrest in the region.
At the end of September Iranian President Hassan Rouhani met with leaders of the Eurasian Economic Union (EAEU) including Russia in order to create a free trade agreement in the region, this is expected to come into force in the next 5 days on October 27th. This will give Iran access to a single market of 183 million people with a GDP of USD 4 Trillion.
The Turkish-Kurdish ceasefire came to an end today after the agreed five days. Today, Russia agreed to aid Turkey in order to help remove the Syrian Kurdish fighters from the border. This is a kick to the US in which they seemed to have an understanding with Turkey. However, with the Russians also involved it will be harder for the US to dictate terms.  Putin's spokesman did come out and say that the only country to give Turkey permission to be in Syria would be the government of the Syrian Arab Republic.
The major Europe stock markets had a green day today:
CAC 40 advanced 9.35 points or 0.17% to 5,657.69
FTSE 100 advanced 48.85 points or 0.68% to 7,212.49
DAX 30 advanced 6.73 points or 0.05% to 12,754.69
The major Europe currency markets had a mixed day today:
EURUSD decreased 0.0029 or 0.26% to 1.1141
GBPUSD decreased 0.0012 or -0.09% to 1.29600
USDCHF increased 0.0042 or 0.43% to 0.9883
Some economic news from Europe today:
Spain:
Spanish Trade Balance decreased from -2.49B to -3.99B
UK:
CBI Industrial Trends Orders (Oct) decreased from -28 to -37
Public Sector Net Borrowing (Sep) increased from 4.92B to 8.73B
Public Sector Net Cash Requirement (Sep) decreased from 6.387B to 2.655B
US/AMERICAS:
The results are in – Justin Trudeau will serve a second term as Canada's Prime Minister. The Liberal Party lost their majority standing after only securing 157 seats in Canada's parliament compared to the 184 seats obtained during the 2015 election. Of the 338 seats in parliament, 170 are needed to hold majority status. Conservatives now hold 121 seats after gaining an additional 26 positions. "Thank you, Canada, for putting your trust in our team and for having faith in us to move this country in the right direction. Regardless of how you cast your vote, our team will work hard for all Canadians," Prime Minister Trudeau tweeted.
Bolivia also "elected" a new leader, and the results have left the country in rising civil unrest. Protestors set fire to ballot boxes and took to the streets after alleged election fraud awarded Evo Morales another term in office. The Supreme Electoral Tribunal (TSE) halted the election vote for a full 24-hours before re-evaluating the votes to show Morales leading with 46.85% compared to his opponent Carlos Mesa at 36.73%. Despite Bolivian law imposing term limits for presidents, Morales has reigned for 14. The people voted that they did not agree with allowing him to run for another term, but their votes were ignored.
In US election news, Bernie Sanders told reporters that he would appoint Alexandra Cortez-Ocasio to his administration if elected president. There are rumors swirling that AOC would be positioned as Bernie's Vice President in a move almost reminiscent of the Romney-Palin pairing. However, AOC is under the 35-year-old age requirement to become vice president. Regardless, this duo would certainly push the New Green Deal agenda that would cost taxpayers, according to the current president's estimate, $100 trillion.
China appealed to the World Trade Organization (WTO) to receive $2.4 billion from the US for retroactive penalties enforced during the Obama administration. Seven years ago, China filed a case with the WTO alleging that the US placed anti-subsidiary tariffs on $7.3 billion of Chinese goods that violated WTO rulings. The WTO plans to review the case next week on Oct. 28. Deputy Director-General for the WTO declined to provide Reuters with a direct comment, but said his organization "can't prevent a trade war, but can be part of the solution."
The Bovespa reached a midday high of 107,420.73, signaling Brazil's strong standing as an emerging market. Brazil recently pledged to treat foreign capital as domestic capital by reforming laws to encourage investment. "Ibovespa in new historical record; More than 760,000 formal jobs created since the beginning of our government; Signs of recovery in the economy with investor confidence; Brazil risk falling as well as crime. After decades of destruction, Brazil is rebuilding itself," President Bolsonaro commented.
US Market Closings:
Dow declined 39.54 points or -0.15% to 26,788.10
S&P 500 declined 10.73 points or -0.36% to 2,995.99
Nasdaq declined 58.69 points or -0.72% to 8,104.29
Russell 2000 advanced 0.73 of a point or 0.05% to 1,550.87
Canada Market Closings:
TSX Composite declined 26.93 points or -0.16% to 16,391.52
TSX 60 declined 1.82 points or 0.19% to 981.11
Brazil Market Closing:
Bovespa advanced 1358.83 points or 1.28% to 107,381.11
ENERGY:
For the fourth week in a row, reports from the API suggest there is another build in Crude. Tomorrow we will get the official EIA numbers. The price of oil rose somewhat after a few days of decline with positives of the US-China trade deal being a primary motivator as well as OPEC pushing the idea they may have to cut production in order to support the bearish market.
The oil markets had a negative day today:
Crude Oil decreased 0.22 USD/BBL or -0.41% to 53.6686
Brent decreased 0.18 USD/BBL or -0.30% to 59.1719
Natural gas decreased 0.082 USD/MMBtu or -3.54% to 2.2329
Gasoline decreased 0.0041 USD/GAL or -0.25% to 1.6076
Heating oil decreased 0.0027 USD/GAL or -0.14% to 1.9457
Top commodity gainers: Lean Hogs (4.23%),Lumber (3.11%),Lead(1.62%), and Soybeans (1.02 %)
Top commodity losers: Oat(-2.34 %), Natural Gas(-3.54%), Bitumen (-1.82%), and Ethanol (-1.80%)
The above data was collected around 07:10 am EST on Tuesday.
BONDS:
Japan -0.13%(+1bp), US 2's 1.60% (-1bps), US 10's 1.78%(-1bps), US 30's 2.27%(-1bps), Bunds -0.35% (-1bp), France -0.05% (-1bp), Italy 1.03% (-6bp), Turkey 13.94% (-10bp), Greece 1.29% (-53bp), Portugal 0.21% (-3bp), Spain 0.26% (-4bp) and UK Gilts 0.72% (-3bp).