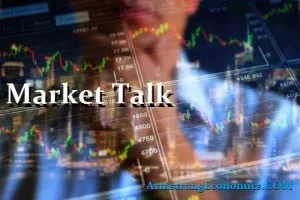 ASIA:
China and the US seem to have struck an agreement on how to proceed with the trade deal. Both countries acknowledge that continuing the trade war would not be beneficial to anyone. Over the weekend, Vice Premier Liu He said that the US and China were working at addressing each other's core concerns – all with mutual respect. He mentioned that the US and China have now laid a foundation in which they can move forward. He also reiterated that stopping the trade war will benefit the US, China, and the whole world. Lastly, he commented on the recent Chinese underwhelming economic data by stating that he was not worried about short-term volatility and is confidence that China will meet their macroeconomic targets for the year.
Military wise, China sent a harsh note to the US and the rest of the world. The Chinese defense minister stated that no one and no force will get in the way of China's annexation of Taiwan and any nation that tries to stop them would be doomed to fail. China "will never allow the separatists for Taiwan independence to take their chances or any external forces to interfere into the Taiwan affairs," he added. "Reunification of the motherland is a justified course and separatist activities are doomed to failure."
Dragon and tiger, or panda and elephant? As Xi Jinping, the Chinese president, and Narendra Modi, India's prime minister, met for an "informal summit" on October 12th, the masala of metaphors in the Indian press was telling. Strongmen on their own political turf, the two men ambled as tourists through the eighth-century rock carvings of Mamallapuram on India's south-eastern coast before banqueting at a romantic seaside temple, the last vestige of a once-thriving port that traded with China 1,300 years ago. Yet their countries, jointly home to more than a third of humanity, are not the best of pals.
The list of mutual irritants is long. Each side claims land the other controls. China asserts a right to the entire Indian state of Arunachal Pradesh. Both have friends the other hates. China is an increasingly vital financial, military, and diplomatic lifeline for India's eternal nuclear-armed foe, Pakistan. India has for decades hosted prominent Tibetan exiles, including the Dalai Lama. China grates at India's blunt opposition to its Belt and Road Initiative, aimed at integrating Asia through infrastructure built with Chinese loans. India is annoyed by China's $53bn surplus in the $96bn trade between the two. It shows its disapproval by, among other things, rebuffing Chinese proposals to deepen "people-to-people" contacts, suspecting that the offer of things like research collaboration is just a cover for more insidious aims. For its part, China sends a minuscule 250,000 tourists a year to India, out of some 149m who travel abroad.
India also fears the growing disparity between China's military might and its own. With an economy that is now five times bigger, and with an industrial base and defense budget to match, China is rapihdly outstripping their neighbor who still relies on imported weapons. Nor is it just China's warships and submarines that are pushing into what India sees as its ocean. Dollops of Chinese money have impressed, and in some cases heavily indebted, smaller states that India sees as part of its backyard, such as the Maldives and Sri Lanka.
China, meanwhile, casts a wary eye at India's growing closeness to adversaries such as America, Australia and Japan. Partly because India views itself as a superpower-in-waiting, and partly from a desire not to provoke its bigger neighbor, India has shied away from formal alliances. But even under the erratic Trump administration, India's ties with America, which include a growing number of defense agreements, have continued to strengthen. "Nobody in Delhi is under the illusion anymore that China is a reliable partner, or even an alternative to an increasingly shaky relationship with the United States, a deepening partnership with Japan and stronger engagement with other middle powers across Europe and South-East Asia that are equally concerned about China's unfettered and increasingly assertive rise," says Constantino Xavier of Brookings India, a think-tank.
Given so many sources of tension, what did Mr. Xi and Mr. Modi find to talk about? "It's almost like the deal is, we will not discuss the real issues in the relationship," says Jabin Jacob of Shiv Nadar University in Delhi. "It's an example of diplomacy without accountability, and largely meant to impress domestic audiences." India says very little about China's controversial policies in Hong Kong and Xinjiang, and has notably curbed the exiled Tibetans it hosts. In return, it hopes China will pipe down on the issue of Kashmir, which India recently stripped of autonomy. In that respect, at least, Mr. Xi has signaled disappointed, saying shortly before his visit that he was concerned about the situation in Kashmir and supported Pakistan's stance.
A similar shadow-play of competing influences goes on in India's near-abroad. After meeting Modi, Xi flew to the Nepalese capital, Kathmandu. It was the first visit by a Chinese president in 23 years. The largely Hindu republic has strong historic and cultural ties to India, but its government has tilted northward in recent years. Both countries are run by communists, after all, and many Nepalese resent India's occasionally bullying policies towards their country.
Xi signed some 18 bilateral agreements in Nepal, offering promises of Chinese investment in roads and railways. But the deal he wanted most, an extradition pact that might have targeted Nepal's large community of Tibetan exiles, remained elusive. Considering the size of the mountains and the weakness of Nepal's economy, the planned infrastructure links to China will take years to materialize. India, meanwhile, says it will strengthen road and rail links from its side.
Another area of competition is Sri Lanka. China muddied its own pitch there by signing too many murky deals for ports and other infrastructure, causing a political backlash that favored India. Now the pendulum is swinging back. Presidential elections in November look likely to return the pro-China Rajapaksa family to power. India has contributed to various development projects, but cannot match the scale of China's largesse. The Chinese ambassador last year handed Sri Lanka's outgoing president, Maithripala Sirisena, $300m as a gift from Xi, to spend as he wished. "Unfortunately, staying power and the capacity for the long haul are missing from the Indian playbook," laments Jacob.
The major Asian stock markets had a green day today:
Shanghai increased 1.48 points or 0.05% to 2,939.62
Kospi increased 4.15 points or 0.20% to 2,064.84
ASX 200 increased 2.80 points or 0.04% to 6,652.50
NIKKEI 225 increased 56.22 points or 0.25% to 22,548.90
Hang Seng increased 6.10 points or 0.02% to 26,725.68
SENSEX closed
The major Asian currency markets had a mixed day today:
AUDUSD increased 0.0011 or 0.15% to 0.6867
NZDUSD increased 0.0018 or 0.28% to 0.6403
USDJPY increased 0.2560 or 0.24% to 108.6390
USDCNY decreased 0.0007 or 0.01% to 7.0698
Precious Metals:
Gold decreased 9.14 USD/t oz. or -0.61% to 1,480.79
Silver increased 0.03 USD/t. oz or 0.17%% to 17.5172
Some economic news from last night:
China:
House Prices (YoY) (Sep) decreased from 8.8% to 8.4%
PBoC Interest Rate remain the same at 4.2%
Japan:
Exports (YoY) (Sep) increased from -8.2% to -5.2%
Imports (YoY) (Sep) increased from -11.9% to -1.5%
Trade Balance (Sep) increased from -143.5B to -123.0B
New Zealand:
Credit Card Spending (YoY) decreased from 6.0% to 4.8%
Some economic news from today:
Japan:
All Industries Activity Index (MoM) decreased from 0.2% to 0.0%
US/AMERICAS:
Chinese Vice Premier Liu He spoke optimistically about the China-US trade deal over the weekend, stating that the two countries have made "concrete progress." According to the South China Morning Post, Liu He stated that "equality and mutual respect" have eased tensions and provided a basis for building a professional relationship in regards to trade.
Despite progress, there are still details to address before President Trump and President Xi meet in November at the Asia-Pacific Economic conference. The Chinese remain concerned over the additional tariffs on $156 billion worth of goods that will take effect on December 15. Mnuchin hinted that he and US Trade Representative Lighthizer may meet Liu He prior to the conference in Chile to discuss phase one of the trade deal.
In an odd bit of news, Senator Mitt Romney admitted to creating a fake Twitter account under the identity "Pierre Delecto." While the Twitter account was barely active, past post history shows that the fake persona was mainly used to support Romney against critics. In one post, "Delecto" defends Romney's ethical standards by noting he was one of the only GOP members to question President Trump about the Mueller report. Another post reinforces Romney's commitment to his political party in comparison to other politicians. Romney's dissatisfaction with the current president was apparent on his fake profile after he "liked" a post mentioning impeachment. While not illegal, the fake account is certainly a source of embarrassment for the senator.
Canadians took to the polls this Monday to decide the fate of their new government. Four years ago, Trudeau's Liberal Party won by a landslide after securing 184 Parliament seats. Corruption, bribery, and morally questionable decisions have since shaken Trudeau's popularity and recent polls show the Conservatives led by Andrew Sheer almost tying for favor among voters with the New Democratic Party coming in third place. After a brief 40-day campaign, the country will now choose their next leader. The final polls will close this evening at 10 PM EST in British Columbia.
US Market Closings:
Dow advanced 57.44 points or 0.21% to 26,827.64
S&P 500 advanced 20.52 points or 0.69% to 3,006.72
Nasdaq advanced 73.44 points or 0.91% to 8,162.99
Russell 2000 advanced 14.66 points or 0.95% to 1,550.14
Canada Market Closings:
TSX Composite advanced 41.33 points or 0.25% to 16,418.45
TSX 60 advanced 2.89 points or 0.29% to 982.93
Brazil Market Closing:
Bovespa advanced 1,293.39 points or 1.23% to 106,022.28
EU/EMEA:
UK PM Boris Johnson had his latest Brexit deal voted upon on Saturday with the deal failing to pass the Parliament. Today, Boris Johnson was denied a revote by house speaker John Bercow, as he mentioned that it would be "repetitive and disorderly" to debate it again. Boris Johnson's official speaker stated that the speaker had denied the British people their will to leave the EU. With less than 10 days left, some are stating an EU extension is necessary before a deal can be reached.
The German Central Bank has stated that Germany may have already fallen into recession. The Bundesbank stated in its monthly report that the "German economic output could have decreased slightly in the third quarter of 2019" after shrinking by 0.1%. Meaning if the numbers are official, then the economy would have fallen for the second consecutive quarter which means that it is in a recession. The bank blamed the global trade war and that the export market continues to weaken.
US President Trump has been pretty decent in the way of trying to pull the US away from wars. His recent actions in Syria and relative unwillingness to jump at Bolton's suggestion to go into war with Iran show that he has a somewhat anti-war stance. He recently told reporters, "I'm trying to get out of wars. We may have to get in wars, too. OK? We may have to get in wars … We're better prepared than we've ever been." This suggests that he may have some pressure within the White House to continue the role of the "global peacekeeper." He mentioned Iran, "If Iran does something, they'll be hit like they've never been hit before. I mean, we have things that we're looking at."
US Secretary of state Mike Pompeo has stated that President Trump is fully prepared to take the actions necessary in Turkey, even if it is military and reiterated that they prefer peace to war. The German foreign minister said that the Turkish invasion of northern Syria was illegal under international laws. The latest reports suggest that Turkish President Erdogan is looking to make Turkey a nuclear power, as reported by the New York Times.
Facebook, meanwhile, took a swipe at Russia and Iran after stating that they are trying to interfere with the 2020 US presidential elections. Facebook said they are creating many posts that are spreading news that could influence the elections. Facebook said they removed the "inauthentic" networks this morning.
The Catalan crisis, where protestors are taking to the streets demanding a referendum for an independent state, has taken a further negative turn after the Spanish PM Pedro Sanchez refused to meet the Catalan independence leaders. He went further by criticizing them for being unable to contain the tensions amongst the people.
The major Europe stock markets had a green day today:
CAC 40 increased 12.11 points or 0.21% to 5,648.35
FTSE 100 increased 13.07 points, or 0.18% to 7,163.64
DAX 30 increased 114.36 points or 0.91% to 12,747.96
The major Europe currency markets had a mixed day today:
EURUSD decreased 0.0021 or 0.19% to 1.1149
GBPUSD decreased 0.001 or -0.08% to 1.29620
USDCHF increased 0.0019 or 0.19% to 0.9860
Some economic news from Europe today:
Norway:
Industrial Confidence (Q3) decreased from 5.1 to 2.5
Germany:
German PPI (MoM) (Sep) increased from -0.5% to -0.1%
German PPI (YoY) (Sep) decreased from 0.3% to -0.1%
ENERGY:
Crude oil took a slight downturn today as Brent still hovers under the 60 USD mark. Aramco IPO seems to be delayed yet again as investors are seemingly fed up with the continued delays.
The oil markets had a negative day today:
Crude Oil decreased 0.346 USD/BBL or -0.64% to 53.4836
Brent decreased 0.1409 USD/BBL or -0.24% to 59.1407
Natural gas decreased 0.067 USD/MMBtu or -2.89% to 2.2505
Gasoline decreased 0.0149 USD/GAL or -0.92% to 1.6103
Heating oil decreased 0.0001 USD/GAL or -0.01% to 1.9460
Top commodity gainers: Soda Ash (0.94%), Lumber (3.01%),Bitumen(0.95%), and Coal (0.83 %)
Top commodity losers: Oat(-3.18 %), Natural Gas(-2.89%), Corn (-1.96%), and Ethanol (-1.73%)
The above data was collected around 16:10 EST on Monday.
BONDS:
Japan -0.13%(+13bp), US 2's 1.62% (+5bps), US 10's 1.80%(+5bps), US 30's 2.29%(+4bps), Bunds -0.35% (+4bp), France -0.04% (+24bp), Italy 1.10% (+7bp), Turkey 14.04% (+0bp), Greece 1.37% (-47bp), Portugal 0.25% (+5bp), Spain 0.31% (+5bp) and UK Gilts 0.75% (+4bp).