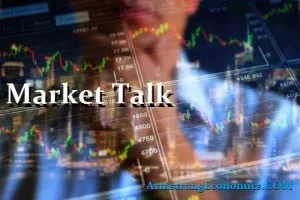 The opening conversation in Asia was that of the impressive bounce the US markets had attained by close of business. Many Asian traders had left their desks Thursday with the DOW futures down over 130 points with fears spreading that we could see a repeat of the October '87 crash. As a result of the lack of follow-through Asia opened on a strong note and continued throughout the day with indices closing higher across the board. The Nikkei closed higher for its 14th straight day. The Yen lost ground to the strong US Dollar taking it to mid 113's ahead of Sundays election and what maybe not so certain a Shinzo Abe victory. The Hang Seng recouped much of Thursdays losses closing up over 1.1% whilst the mainland Shanghai index added +0.3%.
Given so much uncertainty from Spain to BREXIT, many decided to just close their eyes and follow the US sentiment. We will know next week whether this was the correct course of action or not when we have hear more from Spain, BREXIT, Japan, China, ECB and closer to news of the next FED Chairmanship. The GBP found a boost in the shape of better than expected Budget Deficit data. Last month figures released showed a marked improvement, beating an estimate of 6.5bn releasing at 5.9bn GBP. Sterling also improved after talk that the Theresa May dismissed rumours that they had increased the 'divorce' payment. When markets reopen on Monday we will also know more on the Catalonian situation having then heard the result of Spain's' PM Mariano Rajoy special cabinet meeting (Saturday) on the possible suspension of Catalonia's autonomy. All core (DAX, CAC, FTSE) markets ended marginally positive. Although we have lots that could move markets, the core focus will probably be the ECB and especially the searching Q+A session prepared for Mario Draghi. Certainly worth keeping an eye on peripheral spreads from Monday onward, any clues to Thursday's fun and games will be signalled early with curve and spread moves.
Given the additional positive sentiment and the added lift from the US Senate budget proposal, all core traded better, and as the day wore-on confidence gained with indices up around +0.5% across the board. Foreign capital continues to find its way into the USD and it looks like they are happy to take equities and bonds. Closing firmer for the sixth straight week, the pressure will be on to continue this performance in the face of next weeks events.
2's closed 1.58% (+5bp), 10's at 2.38% (+6bp) and 30's 2.89% (+6bp). Bunds 0.45% (+6bp), France 0.86% (+6bp), Italy 2.03% (+1bp), 5.46% (+0), Portugal 2.27% (-1bp), Spain 1.65% (+3bp), Gilts 1.33% (+5bp).