Blog/Market Talk
Posted Oct 20, 2016 by Martin Armstrong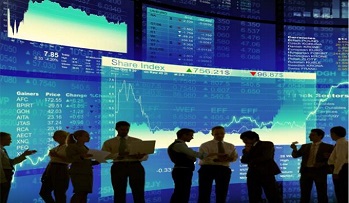 Asian markets traded better on the heels of last nights presidential debate following the firm US closes with Japan especially strong climbing 1.4%. The Nikkei is now trading at the highest levels since April and the JPY looks to have rejected the attempts to regain the par level. Shanghai and Hang Seng were little changed as most awaited the ECB's rate announcement and following Q+A session.
It was a wait and see game for the European morning with markets flat whilst all eagerly waiting to see what would be said about the QE program (which is due to expire March 2017). ECB left rates unchanged but it was the Q+A session that, despite Draghi's attempt to avoid the question, was taken by the markets to mean, "Yes",  we can expect a continuation of the program. Not that this is what was said but by the end of the evasive session the markets heard what they wanted to hear and that was that. The EURO was hit, stocks rallied and bond markets recovered. Only time will tell if they have interpreted it correctly but that is how we ran into the weekend. DAX and CAC up about 0.5%, IBEX +1.25% and FTSE unchanged, even with a weaker GBP. Banks stocks loved the thought of continued QE and so helped all indices into the weekend. We are expecting ratings news on Portugal over the weekend and a downgrade would make their bonds ineligible for ECB bond buying operation.
Despite a 2% decline in the price of oil late Friday, core US stock markets did very little. Early gains were wound back in on data but we then spent the rest of the day scrambling back to unchanged. Even in the last hour of the day that pattern did not change and we closed a very quiet day with little movement. Given the resumed QE continuation the DXY took its chance and went for Q1 highs. The DXY Dec Future was last seen playing with the years high (98.40) set in February. Yes, we did see Dec futures briefly breach the 100 level back in January so that will be the next target towards year end.
Bonds like the QE interpretation with the US curve flattening while the core European curves steepened. US 2's closed 0.82% (+2.5bp) while 10's closed +1bp higher at 1.75% (2/10 curve at +93bp). German Bunds closed 2's -0.675% and 10's 0.01% (curve +68.5bp). Italy 1.37%, Greece 8.29%, Turkey 9.53% (-15bp), Portugal 3.18% (+2bp) and UK Gilt 10's at 1.07% (-1bp).