Blog/Market Talk
Posted Oct 2, 2018 by Martin Armstrong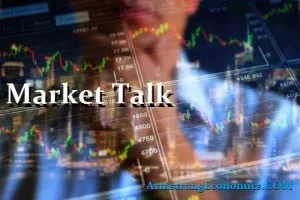 Shanghai remains closed but the Hang Seng reopened after its public holidays to a negative mood. The trend remained the same for the day, as bid after bid was hit to close down 2.38% on the day. The news that US Defence Secretary James Mattis proposed visit to China had been cancelled, escalated the rumours that the trade situation between the two were far worse than previously imagined. The decline in the HSI reverberated onto the largest exporters to China, the ASX which resulted in a near 1% in that market also, possibly the reason for the no-change from the RBA. SENSEX was also closed today, but keep an eye on the INR as it now looks comfortable with a 73 handle and looks to be heading towards 74! The decline in Asia looks set to continue either through stocks or by the currency. The capital flow remains solidly into the US Dollar.
Europe was brought lower as the Asian negativity drifts westward, having hit its lows mid-morning we started to see the recovery. However, the strength was inefficient to turn markets positive, but with the currency declining it is scary to see the daily capital slippage. The Euro suffered yet again on Italian budget concerns again, this time with the 10yr BTP out another 15bp today. BREXIT was again a hot topic as the Conservative Party Conference continues. Today, we heard from Theresa May, but probably the biggest cheer was for Boris Johnson who took a second swipe at the Leader calling the Chequers Plan a "cheat". Either way, both the Euro and Sterling suffered as MEPs took their meeting as an opportunity to air their individual views of Plan. Both the CAC and DAX were off around -0.5% but its the peripheral bond market and the currency that warrants attention.
The large cap DOW hit yet another high today to boost a strong opening for Q4. However, it was not all optimism as some small cap indices suffer, while the broader S+P hovers around unchanged. Now that the Canadian issue is off the agenda, dealers start to concentrate on the China issue. The speech play is upping the anti, but whilst Asia and Europe fight their own economic battles, the money continues to find its way to the US large caps almost by default. The DOW finishes up +0.55% whilst at the opposite spectrum the Russell 2k closes down 1%. Looks like we may have to wait until next week for the small caps to join the party.
Japan 0.12%, US 2's closed 2.81% (-1bp), US 10's 3.05% (-3bp), US 30's 3.20% (-2bp), Bunds 0.42% (-6bp), France 0.78% (-5bp), Italy 3.44% (+15bp), Turkey 17.71% (+53bp), Greece 4.25% (+8bp), Portugal 1.89% (u/c), Spain 1.53% (u/c) and UK Gilts closed 1.53% (-6bp).