Blog/Market Talk
Posted Oct 2, 2017 by Martin Armstrong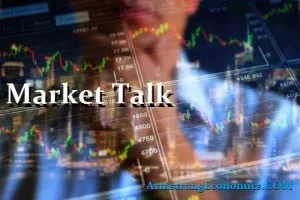 With Japan being one of the few markets that were open in Asia, most of the conversation was centred around Spain, TANKAN, DXY, UK's Conservative Party conference and then the tragic events of Las Vegas. The Nikkei traded well, closing near the mornings highs with momentum provided by the strong confidence survey (TANKAN). With this number at almost 10year highs, it was inyeresting to see 10yr JGB's edging towards the magic yield (10bp – Japanese Simple Yield) where historically we have seen the BOJ at play. The JPY traded into the 113 handle but drifted back to the 112's throughout most of the European and US trading hours. The DXY looks to have turned at Quarter end and with it see the A$ quietly trading back below the 0.78 level; the ASX is reflection trades better closing up almost 1% on the day.
Spain was obviously top of the agenda for most market participants today following the weekends event. The IBEX lost ground from the start (-1.2%), falling to around 1.4% mid afternoon, then closing roughly where it started the day. In general, banks were hit the hardest, with the smaller regionals suffering more than most. Even with todays reset, the IBEX remains over 21% higher YTD. The Spainish 10yr BONO's lost around 8bp on the day, with Italian BTP's also widening to Bunds. Favourable economic data and a weakening currency helped balance the equity markets and we saw the northern core perform, highlighting an obvious division.
The US saw strong demand for both currency and equity as we witness a strong opening for the fourth quarter. The DOW closes at record highs (+154 points) up +0.68%. Still running high on tax reform, it has opened an interesting week which still has potential to surprise as we approach NFP expected Friday. In afternoon trading we saw Manufacturing ISM release at 60.8; the highest in over 10 years. Looking likely to set the high this week, we have much to be grateful for!
2's closed 1.48% (u/c), 10's 2.34% (+1bp), 30's 2.87% (+1bp), Bunds 0.45% (-1bp) closes the spread +189bp (+2bp). France 0.73% (-1bp), Italy 2.14% (+4bp), Greece 5.46% (-7bp), Turkey 10.69% (+1bp), Portugal 2.39% (+5bp), Spain 1.68% (+9bp) and UK Gilts 1.32% (-4bp).