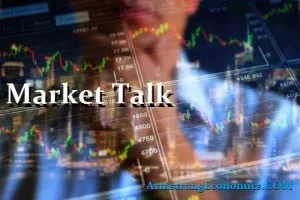 ASIA:
The IMF estimated China's GDP will grow by 1.9 percent for all of 2020–the only major economy to inch back into positive territory in a year that saw economies around the globe tumble sharply. Chinese officials announced this week that the country's economy grew by 4.9 percent in the third quarter, a positive sign from the initial COVID-19 epicenter. The year-on-year expansion, while slightly lower than analyst expectations, represents a dramatic reversal from the first quarter of this year when the economy shrunk by 6.8%, China's first contraction since 1992 when officials began keeping quarterly GDP data. China's central bank governor Yi Gang said on Sunday that officials predict annual growth of about 2%.
India's gasoil sales rose in October for the first time since the nation imposed COVID-19 restrictions in late March, preliminary data shows, signaling a pick-up in industrial activity ahead of key festivals. Diesel sales by the country's three state fuel retailers rose 8.8% year on year in the first half of October, according to provisional data compiled by Indian Oil Corp, the country's biggest refiner and fuel retailer. Rising diesel sales in the world's third-biggest oil consumer and importer would help refiners that have had to cut crude-processing runs during the coronavirus crisis, said an official at one of the state refiners, though he cautioned that diesel sales growth could be temporary.
The major Asian stock markets had a mixed day today:
NIKKEI 225 increased 260.50 points or 1.11% to 23,671.13
Shanghai decreased 23.69 points or -0.71% to 3,312.67
Hang Seng increased 155.47 points or 0.64% to 24,542.26
ASX 200 increased 52.60 points or 0.85% to 6,229.40
Kospi increased 5.21 points or 0.22% to 2,346.74
SENSEX increased 448.62 points or 1.12% to 40,431.60
Nifty50 increased 110.60 points or 0.94% to 11,873.05
The major Asian currency markets had a mixed day today:
AUDUSD increased 0.00078 or 0.11% to 0.70861
NZDUSD increased 0.00238 or 0.36% to 0.66283
USDJPY increased 0.01 or 0.01% to 105.41
USDCNY decreased 0.01879 or -0.28% to 6.67652
Precious Metals:
Gold increased 9.73 USD/t oz. or 0.51% to 1,908.70
Silver increased 0.43 USD/t. oz or 1.78% to 24.600
Some economic news from last night:
China:
Fixed Asset Investment (YoY) (Sep) increased from -0.3% to 0.8%
GDP (YoY) (Q3) increased from 3.2% to 4.9%
GDP (QoQ) (Q3) decreased from 11.7% to 2.7%
Chinese GDP YTD (YoY) (Q3) increased from -1.6% to 0.7%
Industrial Production (YoY) (Sep) increased from 5.6% to 6.9%
Chinese Industrial Production YTD (YoY) (Sep) increased from 0.4% to 1.2%
Retail Sales (YoY) (Sep) increased from 0.5% to 3.3%
Chinese Retail Sales YTD (YoY) (Sep) increased from -9.21% to -7.87%
Chinese Unemployment Rate decreased from 5.6% to 5.4%
Japan:
Adjusted Trade Balance increased from 0.35T to 0.48T
Exports (YoY) (Sep) increased from -14.8% to -4.9%
Imports (YoY) (Sep) increased from -20.8% to -17.2%
Trade Balance (Sep) increased from 248.6B to 675.0B
EUROPE/EMEA:
The UK has refused to restart Brexit deal negotiations despite Michael Gove performing a U-turn at the dispatch box in which he praised a "constructive move" by the EU minutes after declaring the talks "effectively ended." The EU's chief negotiator, Michel Barnier, seemingly agreed to all the government's demands for the resumption of Brexit talks in pursuit of a deal. Barnier's statement appeared to meet all the requests his British counterpart had been making as the price of new talks.
Germany's economic prospects for 2020 are looking increasingly bleak, with the country's leading research institutes downgrading GDP forecasts for this year and beyond. Publishing a joint economic forecast last Wednesday, Germany's prominent economists warned that the coronavirus pandemic is leaving what they called "substantial marks" on the German economy, adding that "its impact is more persistent than assumed in spring." They revised their economic outlook downward by roughly one percentage point for both 2020 and 2021. They now expect GDP to fall by 5.4% in 2020 (lower than a previous -4.2% forecast) and to grow by 4.7% (less than a previously forecast 5.8%) in 2021, and 2.7% in 2022.
The major Europe stock markets had a negative day:
CAC 40 decreased 6.59 points or -0.13% to 4,929.27
FTSE 100 decreased 34.93 points or -0.59% to 5,884.65
DAX 30 decreased 54.33 points or -0.42% to 12,854.66
The major Europe currency markets had a mixed day today:
EURUSD increased 0.00667 or 0.57% to 1.17832
GBPUSD increased 0.00869 or 0.67% to 1.30000
USDCHF decreased 0.00529 or -0.58% to 0.90948
Some economic news from Europe today:
UK:
Rightmove House Price Index (MoM) increased from 0.2% to 1.1%
Spain:
Spanish Trade Balance decreased from -0.31B to -1.74B
Euro Zone:
Construction Output (MoM) (Aug) increased from 0.29% to 2.57%
US/AMERICAS:
Federal Reserve Vice Chair Richard Clarida said on Monday that the third quarter outlook appears "unusually uncertain" after the coronavirus shutdown sank the US economy in a "very deep hole." Clarida believes additional monetary and fiscal policies are crucial to revive the economy, and stated that the Fed is "committed to using out full range of tools to support the economy and to help ensure that the recovery from this difficult period will be as robust and rapid as possible." Although the Fed is aiming for a "rapid" recovery, they do not expect unemployment to drop to pre-pandemic levels until 2023. The Fed Vice Chair reminded the public that the US has "a long way to go" before a full economic recovery in possible.
President Trump offered his condolences to France after they experienced a "vicious Islamic terrorist attack" over the weekend. He also used the opportunity to reiterate the importance of border security, quoting former President Ronald Regan by stating, "We have to have borders. A nation without border is not a nation."
Canada is continually cracking down on Americans who try to enter the country amid fears of COVID-19. If found illegally entering the country, an immediate $1,000 fine is imposed, and if anyone ticketed refuses to pay the fine a warrant will be issued for their arrest. Furthermore, Canadian law now states that if someone knowingly passes COVID-19 they may be subjected to a million-dollar fine and up to three years imprisonment.
US Market Closings:
Dow declined 410.89 points or -1.44% to 28,195.42
S&P 500 declined 56.89 points or -1.63% to 3,426.92
Nasdaq declined 192.67 points or -1.65% to 11,478.88
Russell 2000 declined 20.18 points or -1.24% to 1,613.63
Canada Market Closings:
TSX Composite declined 164.68 points or -1% to 16,274.68
TSX 60 declined 10.45 points or -1.06% to 972.22
Brazil Market Closing:
Bovespa advanced 348.53 points or 0.35% to 98,657.65
ENERGY:
The oil markets had a mixed day today:
Crude Oil increased 0.12 USD/BBL or 0.29% to 41.0000
Brent decreased 0.05 USD/BBL or -0.12% to 42.8800
Natural gas decreased 0.009 USD/MMBtu or -0.32% to 2.7640
Gasoline increased 0.0076 USD/GAL or 0.65% to 1.1725
Heating oil decreased 0.0082 USD/GAL or -0.70% to 1.1675
The above data was collected around 12:27 EST on Monday
Top commodity gainers: Silver (1.78%), Zinc (2.01%), Tin (1.94%), and Cocoa (2.41%)
Top commodity losers: Coffee (-1.49%), Palm Oil (-2.30%), Baltic Dry (-4.60%), and Heating Oil (-0.70%)
The above data was collected around 12:32 EST on Monday.
BONDS:
Japan 0.03%(+1bp), US 2's 0.15% (+0bps), US 10's 0.76%(+2bps); US 30's 1.55%(+2bps), Bunds -0.62% (-0bp), France -0.34% (+1bp), Italy 0.74% (+8bp), Turkey 13.06% (-26bp), Greece 0.86% (+8bp), Portugal 0.16% (+3bp); Spain 0.17% (+10bp) and UK Gilts 0.17% (-1bp).
US 3-Month Bill Auction decreased from 0.105% to 0.100%
US 6-Month Bill Auction remain the same at 0.115%
French 3-Month BTF Auction decreased from -0.656% to -0.685%
French 6-Month BTF Auction decreased from -0.637% to -0.678%
French 12-Month BTF Auction decreased from -0.628% to -0.646%