Blog/Market Talk
Posted Oct 19, 2018 by Martin Armstrong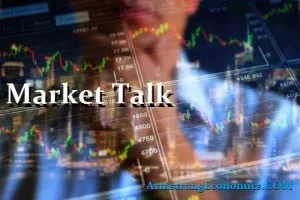 Another negative open today but fortunately was not to last! Although China's GDP released lower than expected weekend book squaring and absolute levels helped revive values by the close, also helped by a little "authoritative" speech play . Growth came in at 6.5% YOY which was missed the 6.6% markets were looking for, but the Shanghai did rally 2.6% following supportive measures. Todays bounce helped but remains 2.5% lower on the week. The currency still plays around the 6.93 level whilst many talk the magic 7 number. It remains 6.5% weaker on the year, but whilst the Shanghai is 23% lower YTD there is still a lot of work ahead of the November 30th trade talks. the Nikkei opened around 1.5% lower then managed to find its feet but still closed off -0.56%. The Yen has been incredibly quiet this week whilst remaining opportunistic to safety runs. SENSEX resumed trading after the holiday yesterday, but remains heavy. The INR has bounced a touch but stocks are suffering probably because of that. Trend looks to be the same however for next week, with a resumption of equity selling (possible target 33,800) and weaker currency.
European markets were encouraged by the Shanghai's bounce and so we opened core indices in positive territory. That wasn't to last that long because we started to see selling hit the peripheral bond markets with Italian debt out 15bp at one stage. Late in afternoon trading there were some positive noises coming from the EU surrounding the Italian budget and buckled with "official support rumours" helped BTP's to close 21bp tighter on the day. News came too late for FTSE MIB too as that had been trading weaker for much of the day. Closing near its lows the weekends headlines will be closely watched for Mondays direction. CAC and DAX both off around -0.45% while the UK's FTSE closed up +0.32% on – then 0 weaker currency. However, in late US trading the Pound has rallied on optimism of positive BREXIT headlines expected over the weekend. Economic data is being watched, but unless it is way off of market consensus is tending to be ignore. There are far too many structural issues to be concerned about data currently.
Early US gains were lost in a thin volatile morning session. What is interesting is that its the DOW that appears to be assuming the led index today, makes a change from the NASDAQ. This could well be international money starting to seek stock even though a refreshing bid for P+G stock provides the reason. Treasuries are resuming their yield climb all be it a parallel shift across the curve. The market still does not believe the FED will raise to the dot plot next year, but as we see prices fall the demand is still looking for paper. The NASDAQ is down 7% this month but it remains up over 12% YOY. The S+P also down around 3% on the month against an 8% YTD, short term still looks volatile but the flow is still into the US Dollar.
Japan 0.15%, US 2's closed 2.90% (+3bp), US 10's closed 3.20% (+3bp), US 30's 3.38% (+2bp), Bunds 0.46% (+5bp), France 0.83% (+4bp), Italy 3.47% (-21bp), Turkey 18% (+39bp), Greece 4.30% (-10bp), Portugal 2.01% (-1bp), Spain 1.72% (u/c) and Gilts 1.57% (+3bp).