Blog/Market Talk
Posted Oct 19, 2016 by Martin Armstrong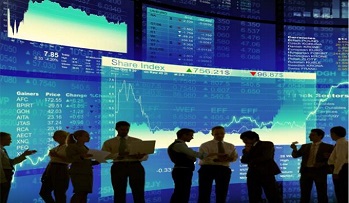 The Nikkei opened on a wobble but after the first couple of hours progressed steadily to close up +0.3% on the day. As JPY found the renewed bid, and even in late trading, the Yen was knocking on the 102 handle as futures trades close to unchanged. Shanghai also found comfort with Q3 GDP reporting at +1.8% growth which takes us to a 6.7% growth rate for the year; still in line with the governments 6.5-7% forecast. A fairly uneventful days trading in Asia as we opened the Europe session.
It took all day but all core European indices closed better despite weaker morning trading. It was not until after lunch that market found their way into positive ground and even then only making marginal gains (0.25% generally). It was the bond market that dominated most of the market gossip today after Saudi Arabia offer $17.5bn of bonds ranging from 5 years up to thirty years. Rumours of eventual pricing is around 5's at T (Treasuries) +135bp, T+165bp over 10's and T+210 over 30's. Obviously the bids outweighed demand with all grey markets trading around 50-70cents premium. Many traders were confident these issues would sell and at the same time expected they would be pricing them again soon! Saudi Arabia joins other Middle Eastern sovereign borrowers Qatar, Oman and the UAE as oil prices starts to see a bounce in recent months. It is worth keeping an eye on the SAR FRWDS (FX Forwards); even if just to see how the currency fairs after this debt issue (don't forget the spot market is fixed). The 3M SIBOR has been moving up for the past 15 months (settled today at 2.386%) the highest in 7yrs.
A healthy start for US stocks as earnings numbers continue to beat, oil rallies (1yr highs) and we see the demand return for the USD. Some argue that a rate increase will halt this rally whilst others debate it is the most expected hike in history, so why worry! As oil rallied, so did gold, bonds and stocks an unusual occurrence but the common denominator is the USD.
DOW and S+P closed better on the day +0.3% with the NASDAQ lagging slightly at 0.15%.
US 10's closed almost unchanged at 1.74% with Bunds 0.03% which closes the spread at +171bp. Italy 1.38%, Greece 8.28%, Turkey 9.68% (-13bp), Portugal 3.17% (-5bp) and UK Gilts also almost unchanged at 1.08%.