Blog/Market Talk
Posted Oct 18, 2017 by Martin Armstrong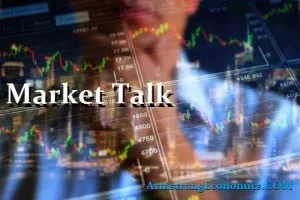 Even though we saw yet another strong day for US markets, for Asia it was more steady as she goes rather than running away with itself. With the Chinese Party conference just underway, many will be looking for headlines to set the next stage of the markets. Currency will set the agenda with stocks following close behind. The Yen had a weak day (-0.7%) pushing the 113 figure change due both to Japanese uncertainty but also to US Dollar strength. The Nikkei closed higher but at +0.15% was not really much to write home about, exporters lead the trend. Shanghai performed slightly better (+0.3%) with the Hang Seng lagging a little behind (+0.5%), but both reflective of the optimism many expect from the conference. With China looking to fill the void the US is about to leave will make headlines interesting reading.
Europe followed sentiment and the strong US market trend. Yet again we saw fresh highs helping European markets but the lead was always US equities. We saw DAX, CAC and FTES all finish around +0.4% firmer on the day. Things are still not clear in Spain with Catalonia after they reputed to have refused to walk from its independence claim. The uncertainty continues within the BREXIT negotiations also, with rumours all around they both sides are rejecting each others compromises. Still lots to watch for the rest of the week with data and headlines expected from all four corners of the globe. Although equities markets were quiet it is worth keeping an eye on the peripheral markets. If and when the ECB take a less commanding role, peripheral spreads will gap wider until real demand is seen.
Another day another record for the DOW. Closing up 160 points the DOW easily breaks away from the 23k level with a 23,157. Sentiment is being helped after the House passed a $4.1trln Tax Reform which will go to the Senate vote next week. The Russell was the only other index that performed as well as the DOW, whilst the NASDAQ and S+P managed to progress just marginally. We are finally starting to see the equity performance hit 30yr treasuries with 10/30's finally steepening in the sell-off.
2's closed 1.56% (+1bp), 10's at 2.34% (+4bp), 30's 2.86% (+6bp), Bunds 0.39% (+2bp), France 0.80% (+2bp), Italy 2.03% (+4bp), Greece 5.43% (+6bp), Turkey 11.09% (+7bp), Portugal 2.32% (+4bp), Spain 1.60% (+7bp), UK Gilts 1.31% (+4BP).