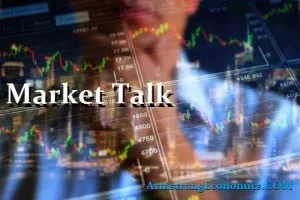 ASIA:
There is some concern over the latest figures of Chinese unemployment, which shows that 10.97 million new jobs were created. This is very close to the full-year government target of 11 million. US President Trump often bashes China and suggests that the trade war is costing them dearly, with more than "3 million jobs" lost, however, the current figures do not show such a loss which brings to question whether the government figures are accurate or not.
The Chinese economy grew at 6% in the third quarter which is the slowest rate since records began 27 years ago. Many analysts are expecting the last quarter to slow further.
The World Bank International Monetary Fund (IMF) annual meetings kicked off on a somber note, with the IMF downgrading global growth in 2019 to 3%, which is the slowest since the global financial crisis. India's growth projections have also been downgraded to 6.1% and 7.0% in 2019 and 2020 respectively, down by 1.2 percentage points and 0.5 percentage points relative to April's projections due to weaker than expected domestic demand.
Globally, rising trade barriers, heightened uncertainty around trade and geopolitics, and idiosyncratic factors have strained several emerging markets. Structural factors such as advanced economies' aging population and low productivity growth were the causes behind a "synchronized slowdown," the IMF said in its 2019 World Economic Outlook (WEO) Global Manufacturing Downturn, Rising Trade Barriers report. "This is a serious climbdown from 3.8% in 2017," the WEO said of the 2019 global growth projection. World output is projected to increase to a modest 3.4% in 2020 — still lower by 0.2% than the April projection. Unlike the slowdown, this recovery is expected to be "precarious" and "not broad based" as per the IMF. Emerging economies will show increased growth from 3.9% in 2019 to 4.6% in 2020, while advanced economies will slow to 1.7% in 2019 and 2020. The report called for defusing trade tensions, "reinvigorating" multilateral cooperation, and "providing timely support to economic activity where needed."
IMF Chief Economist Gita Gopinath said at a press briefing on Tuesday that India's negative growth has come from financial vulnerabilities in the non-bank financial sector that impacted consumer borrowing and borrowing of small and medium enterprises. The projected growth in India's case will be supported by lagged effects of monetary policy easing, cuts to corporate taxes, measures to address environmental and corporate uncertainty, and government programs to boost rural consumption. On the fiscal side for India there have been some recent measures including the corporate tax cut. There have not been any announcements about how that will be offset through revenues at this point.
India's growth rate in the April-June quarter had hit 5%, the lowest in six years, as per government data. Consumption, investment, and exports were down. The World Bank had projected that India's growth rate would fall to 6.0% from 6.9% in 2018. The Index of Industrial Production for India was 1.1%, month on month, in September — its lowest since February 2013. "Appropriate steps have been taken, there is still a lot more do be done, including cleaning up of the balance sheets of regular commercial banks. The premise (for India's growth projections) is that these particular bottlenecks will clear up," Gopinath said on Tuesday.
Faced with a slowdown in several sectors of the economy, Finance Minister Nirmala Sitharaman announced a number of policy measures to support a recovery including slashing the corporate tax rate and a rollback of surcharges on foreign portfolio investors. This is expected to cost ₹1,45,000 crore a year — putting at risk the government's ability to stick to its fiscal deficit target of 3.3% of GDP this year, a point Gopinath alluded to at Tuesday's briefing.
"The revenue projections look "optimistic," Gopinath said. "But it is important for India to keep the fiscal deficit in check."
The WEO recommended broad based structural reforms to strengthen confidence and address cyclical weakness. The report called for a "credible fiscal consolidation path" over the medium term to bring down elevated public debt, supported by measures to enhance the tax base and rationalize subsidy spending. The report also recommended "reforms to hiring and dismissal regulations" to help incentivize job creation and "land reforms …to encourage and expedite infrastructure development." It called for a strengthening of governance of public sector banks and greater efficiency of their credit allocation.
The major Asian stock markets had a mixed day today:
Shanghai decreased 39.19 points or -1.32% to 2,938.14
Kospi decreased 17.25 points or -0.83% to 2,060.69
ASX 200 decreased 35.00 points or -0.52% to 6,649.70
NIKKEI 225 increased 40.82 points or 0.18% to 22,492.68
Hang Seng decreased 128.91 points or -0.48% to 26,719.58
SENSEX increased 246.32 points or 0.63% to 39,298.38
The major Asian currency markets had a mixed day today:
AUDUSD increased 0.0031 or 0.46% to 0.6854
NZDUSD increased 0.0029 or 0.45% to 0.6373
USDJPY decreased 0.2380 or 0.22% to 108.4120
USDCNY decreased 0.0034 or 0.05% to 7.0772
Precious Metals:
Gold decreased 0.63 USD/t oz. or -0.04% to 1,492.95
Silver increased 0.05 USD/t. oz or 0.29%% to 17.5709
Some economic news from last night:
China:
Fixed Asset Investment (YoY) (Sep) decreased from 5.5% to 5.4%
GDP (QoQ) (Q3) decreased from 1.6% to 1.5%
GDP (YoY) (Q3) decreased from 6.2% to 6.0%
Chinese GDP YTD (YoY) (Q3) decreased from 6.3% to 6.2%
Industrial Production (YoY) (Sep) increased from 4.4% to 5.8%
Chinese Industrial Production YTD (YoY) (Sep) remain the same at 5.6%
Retail Sales (YoY) (Sep) increased from 7.5% to 7.8%
Chinese Retail Sales YTD (YoY) (Sep) decreased from 8.21% to 8.16%
Chinese Unemployment Rate remain the same at 5.2%
Japan:
CPI, n.s.a (MoM) (Sep) decreased from 0.2% to 0.1%
Corporate Services Price Index (CSPI) (YoY) decreased from 0.6% to 0.5%
National Core CPI (YoY) (Sep) decreased from 0.5% to 0.3%
National CPI (YoY) (Sep) decreased from 0.3% to 0.2%
National CPI (MoM) remain the same at 0.0%
Foreign Bonds Buying increased from -425.7B to 1,062.2B
Foreign Investments in Japanese Stocks decreased from 1,072.5B to 508.1B
Some economic news from today:
HongKong:
Unemployment Rate (Sep) remain the same at 2.9%
India:
FX Reserves, USD increased from 437.83B to 439.71B
EU/EMEA:
Yesterday the EU and UK struck a deal with regards to Brexit. However, the UK still needs to push the deal through parliament with Jean-Claude Junker stating "there is no need for prolongation." Even with the positive discussions between the EU and the UK, there is still an expectation that an extension will be required to make sure the transition is clean.
The Finnish PM who has been quite outspoken in recent months, has said that the UK has 12 days to set out their plans. Meanwhile, PM Boris Johnson said that the UK parliament should "come together" as there is no "better outcome" than the deal he presented to the EU. He told the BBC that he just wanted the UK to "move on." 320 votes are needed for the deal to be passed through parliament with Boris Johnson expected to claim only 302.
Jean-Claude Junker, President of the European Commission, has condemned the EU bloc's unwillingness to open membership talks with North Macedonia and Albania as a "major historic mistake." He further added, "If we want to be respected, we have to keep our promises." Donald Tusk, President of the European Council, also shared the same sentiment. "It is not a failure, it is a mistake. I feel really embarrassed," he stated. Both countries have passed their exams but he cannot say the same for the current member states.
Apparently, fighting continues between Turkey and the Kurds even through a five-day ceasefire was supposed to be agreed upon that would give the Kurdish military time to retreat from the border.
The major Europe stock markets had a negative day today:
CAC 40 decreased 36.81 points or -0.65% to 5,636.25
FTSE 100 decreased 31.75 points, or -0.44% to 7,150.57
DAX 30 decreased 21.35 points or -0.17% to 12,633.60
The major Europe currency markets had a mixed day today:
EURUSD increased 0.0042 or 0.37% to 1.1164
GBPUSD increased 0.00583 or 0.45% to 1.29463
USDCHF decreased 0.0023 or 0.23% to 0.9856
Some economic news from Europe today:
Eurozone:
Current Account (Aug) increased from 21.6B to 26.6B
Current Account n.s.a. (Aug) decreased from 31.4B to 25.7B
US/AMERICAS:
Boeing shares sank -6.80% this Friday after the ongoing Federal Aviation Administration (FAA) investigation revealed that the company withheld information about faults in the design of the 737 Max aircraft. Newly released transcripts show test pilots voicing concern over the MCAS flight control system during precautionary flight simulations. The 737 Max was allowed to take flight despite concerns during testing; the control system failed on two separate occasions, claiming 346 lives. Previously, Boeing claimed the aircraft was safe to fly and they were unaware of any potential hazards. The manufacturer recently stated they have developed a solution to fix the faulty MCAS system, but it has not yet been approved by regulators.
Friday was filled with unethical business practice news and shares of Johnson & Johnson tumbled -6.23% as it was confirmed that their baby powder contains traces of asbestos. Today the company voluntary recalled 33,000 bottles of baby powder from batch #22318RB. "Thousands of tests over the past 40 years repeatedly confirm that our consumer talc products do not contain asbestos," the company announced in a statement. Still, the company is working closely with the FDA to determine the cause of contamination. The FDA issued a statement as well, noting that both talc and asbestos are naturally occurring minerals. "Unlike talc, however, asbestos is a known carcinogen. There is the potential for contamination of talc with asbestos and therefore, it is important to select talc mining sites carefully and take steps to test the ore sufficiently," the FDA stated.
Homeland Security Secretary Kevin McAleenan is stepping down from his position. President Trump thanked McAleenan for his service and claimed he is stepping down to move into the private sector and spend more time with his family. However, rumors say the decision to leave was based on the ongoing southern border dispute. On Monday, McAleenan walk off stage before presenting a speech on immigration after protestors riled up the crowd.
Energy Secretary Rick Perry also announced his resignation. The former governor of Texas was recently shrouded by the Biden-Trump Ukraine scandal, and the House has subpoenaed Perry to testify during the impeachment inquiry. Perry was one of the last remaining members of Trump's original cabinet, as most have voluntarily or forcibly resigned.
On Monday October 21, Canadians will take to the polls to elect their new government leaders. According to a CBC poll tracker, the Conservatives have a slight lead over the Liberals at 31.7% compared to 30.8%. The NPD is listed as the third favorite with 18.8%, followed by the Green party at 8.3%.
The Canadian Chamber of Commerce (CCC) released a statement criticizing Trudeau's Liberal government for failing to address economic issues. "Canada's business leaders have expressed over and over and over again — that this country's business and investment environment is weakening. And it is inconceivable that Canada's competitiveness is not a central issue in this election," the CCC voiced. The CCC describe Canada as a "trade-dependent nation," as most are, and claims that harmful policies are eroding Canada's ability to compete on a global scale.
US Market Closings:
Dow declined 255.68 points or -0.95% to 26,770.20
S&P 500 declined 11.75 points or -0.39% to 2,986.20
Nasdaq declined 67.31 points or -0.83% to 8,089.54
Russell 2000 declined 6.36 points or -0.41% to 1,535.48
Canada Market Closings:
TSX Composite declined 49.18 points or -0.30% to 16,377.12
TSX 60 declined 2.71 points or -0.28% to 980.04
Brazil Market Closing:
Bovespa declined 286.88 points or -0.27% to 104,728.89
ENERGY:
Crude oil continued to trickle down this Friday after reports of weak Chinese economic data were released today and a report yesterday of a large build in US inventories.
The oil markets had a mixed day today:
Crude Oil decreased 0.16 USD/BBL or -0.30% to 53.7431
Brent decreased 0.59 USD/BBL or -0.98% to 59.2852
Natural gas increased 0.037 USD/MMBtu or 1.60% to 2.3565
Gasoline decreased 0.0027 USD/GAL or -0.17% to 1.6215
Heating oil decreased 0.0025 USD/GAL or -0.13% to 1.9483
Top commodity gainers: Coffee (3.01%),Natural Gas (1.60%),Copper(1.57%), and Steel (0.94 %)
Top commodity losers: Lumber(-1.67 %), Bitumen(-1.08%), Live Cattle (-1.60%), and Oat (-1.42%)
The above data was collected around 15:45 EST on Friday.
BONDS:
Japan -0.20%(+0bp), US 2's 1.57% (-3bps), US 10's 1.74%(-1bps), US 30's 2.24%(-0bps), Bunds -0.40% (-2bp), France -0.27% (+3bp), Italy 1.04% (+4bp), Turkey 14.04% (-33bp), Greece 1.35% (-51bp), Portugal 0.21% (+2bp), Spain 0.27% (+3bp) and UK Gilts 0.70% (+1bp).