Blog/Market Talk
Posted Oct 17, 2017 by Martin Armstrong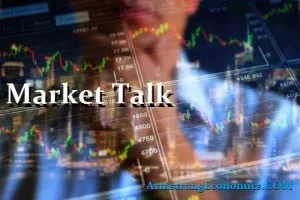 Having seen yet another US session, Asian markets traded firm and steady. We are on the eve of the Chinese Communist Party meeting which markets are eagerly awaiting any news and views. The Yuan continues to trade around years best levels (6.60) having spent the first six months of 2017 playing around 6.90 levels. The Yen has backed away from the mid 111's, now looking at the mid 112's as a short-term play. The Nikkei closes up for yet another day, making a significant break-away from the 21k level. In Australia the ASX performed the best with a +0.7% rally with miners and exporters helping the rally.
Interesting that both the equity and bonds and the currency declined again today in Europe as cash flow edges again towards the US markets. The German Bunds lost ground across the curve and we even saw a pick-up in French CDS (Credit Default Swaps). BREXIT negotiations remain front page news for core and peripherals and certainly remains so in the UK. This on a day where the UK inflation runs at a five year high. The Euro and GBP closed down -0.4% and -0.65% respectively. Gold traded heavy throughout the European time zone with losses of around $15, but interesting it traded heavy in European afternoon hours rather than Asia or US time zones.
The big news for the US markets was that the DOW traded 23k even though it failed to close above it. Confidence remains strong but we did see a small retracement in the NASDAQ and the broader S+P. The Treasury curve continues to flatten with 2's gaining 1bp and 10's unchanged. Late news we saw an about turn in the Canadian Dollar and Mexican Peso earlier declines on NAFTA reports that talks would extend past the 2017 deadline.
2's closed 1.55% (+1bp), 10's closed 2.30 (u/c), 30's 2.80% (-2bp), Bunds 0.37% (u/c), France 0.78% (u/c), Italy 1.99% (-3bp), Greece 5.37% (-3bp), Turkey 11.02% (+5bp), Portugal 2.28% (-2bp), Spain 1.53% (-2bp) and UK Gilts 1.27% (-6bp).