Blog/Market Talk
Posted Oct 16, 2017 by Martin Armstrong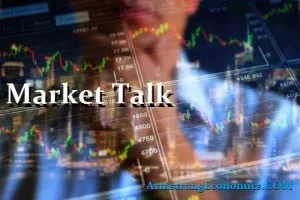 The big event this week will be China which commences its 19th National Congress of the Communist Party on Wednesday. It is little surprise that the Shanghai stock market gave up early gains to close a fraction weaker. The initial rally was based on the expected strong CPI release (+1.6%), but was overshadowed by the impressive 6.9% PPI number which proved well above the 6.3% expected. Hang Seng closed up +0.7% with real estate and tech stocks leading the rally. In Japan the stronger Yen continues to strengthen to mid 111's whilst the Nikkei hits 21 year high! An impressive performance racing away from the psychological 21k mark especially with the Yen strengthening and ahead of the Lower House elections due the end of the week. Oil and gold continued to push higher in Asia following geopolitical news.
European equity markets closed small positive for the core DAX and CAC but saw IBEX drifted over ongoing Catalan concerns. Adding to the uncertainty was the Austrian result heard yesterday where Sebastian Kurz won with his conservative Austrian Peoples Party. The BREXIT negotiations appear to be reaching a climax with still no common ground achieved found. Both the Euro and GBP traded weaker against the USD probably for the same reason – BREXIT and uncertainty.
The US markets surge continues with new records being hit day after day. The DOW closes up almost 100 points and we creep closer and closer to the 23k point. Apple and Netflix both helping sentiment. As the confidence builds so we start to see gold drift lower closing below the $1300 level. President Trump continues to claim credit for the stock market rally, claiming it has increased 25% since the election.
2's closed 1.54%, 10's 2.30%, 30's 2.82%, Bunds 0.37%, France 0.78%, Italy 2.02%, Greece 5.40%, Turkey 10.97%, Portugal 2.30%, Spain 1.55% and UK Gilts 1.33%. Interesting that the yield curve continues to flatten in the US while the ECB accrues yet more bonds. we should hear more on that next week especially as they are approaching their 2.5trillion target.