Blog/Market Talk
Posted Oct 14, 2019 by Martin Armstrong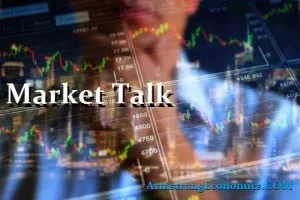 ASIA:
According to Bloomberg, China wants to hold out for more talks before agreeing to "phase one" of the trade deal. Meanwhile, US Treasury Secretary Steven Mnuchin told the media that he would assume that more tariffs will be applied to China around December if no deal takes place before then. The breakthrough for the talks is that the US were due to schedule a 5% increase in the tariffs from 25% to 30% this Tuesday, but that has been scrapped for now.
US president Trump has reportedly allowed Chinese telecommunications company Huawei to do business with US companies again. The select US companies would then be allowed to sell non-sensitive equipment to Huawei.
India has restored cell phone services to millions of residents of Kashmir. This service will be voice only, but it is a significant improvement after a near total blackout which lasted 72 days.
The major Asian stock markets had a green day today:
Shanghai increased 34.23 points or 1.15% to 3,007.88
Kospi increased 22.79 points or 1.11% to 2,067.40
ASX 200 increased 35.80 points or 0.54% to 6,642.60
NIKKEI 225 closed
Hang Seng increased 213.41 points or 0.81% to 26,521.85
SENSEX increased 87.39 points or 0.23% to 38,214.47
The major Asian currency markets had a negative day today:
AUDUSD decreased 0.0011 or 0.16% to 0.6776
NZDUSD decreased 0.0037 or 0.58% to 0.6299
USDJPY decreased 0.0330 or 0.03% to 108.3670
USDCNY decreased 0.0173 or 0.24% to 7.0695
Precious Metals:
Gold increased 3.66 USD/t oz. or 0.25% to 1,495.79
Silver increased 0.132 USD/t. oz or 0.75%% to 17.7073
Some economic news from last night:
China:
Exports (YoY) (Sep) decreased from -1.0% to -3.2%
Imports (YoY) (Sep) decreased from -5.6% to -8.5%
Trade Balance (USD) (Sep) increased from 34.84B to 39.65B
Singapore:
GDP (QoQ) (Q3) increased from -2.7% to 0.6%
GDP (YoY) (Q3) remain the same at 0.1%
Some economic news from today:
India:
CPI (YoY) (Sep) increased from 3.28% to 3.99%
WPI Food (YoY) (Sep) decreased from 7.67% to 7.47%
WPI Fuel (YoY) (Sep) increased from -4.00% to 5.98%
WPI Inflation (YoY) (Sep) decreased from 1.08% to 0.33%
WPI Manufacturing Inflation (YoY) (Sep) decreased from 0.00% to -0.42%
Indonesia:
Motorbike Sales (YoY) (Sep) increased from -11.3% to 2.1%
EUROPE/EMEA:
The Queen's speech today centered around Brexit. She declared that her government is committed to ensuring a transition out of the EU. Additionally, she said government will be tougher on crime and will end the free movement act to ensure a more modern immigration policy as well as beefing up the NHS.
"I think there is no time in a practical or legal way to find an agreement before the EU council meeting. We need more time," a statement by the Finnish Prime Minister on the state of affairs. There is around 16 days left to come out with a solution. The EU chief negotiator Michel Barnier also came with the same conclusion after a slow weekend of progress, stating there "was still a lot of work to do."
UK PM Boris Johnson has been buoyed by the news that some hardline Brexiter "Spartans" have voiced they will support him in his new deal. This comes about after they reject their predecessor Teresa May on any deal.
The Spanish government issued an arrest warrant for Catalan Carles Puigdemont. Earlier, 12 of his colleagues were arrested for trying to push for an independent Catalan region. The charges against them were for misuse of public funds and sedition. Nine of the 12 were given between nine and 13 years in jail, which led to mass protests in Barcelona.
Iran has released images of its likely attacked ship off the coast of Saudi Arabia. The pictures show large holes in the tanker which they claim was struck twice and "probably proves" the tanker was attacked. Iran has yet to point a finger at anyone, although Saudi Arabia seems to be the prime suspect.
The major Europe stock markets had a negative day today:
CAC 40 decreased 22.39 points or -0.40% to 5,643.08
FTSE 100 decreased 33.63 points, or 0.46% to 7,213.45
DAX 30 decreased 25.09 points or -0.20% to 12,486.56
The major Europe currency markets had a mixed day today:
EURUSD decreased 0.0014 or 0.12% to 1.1026
GBPUSD decreased 0.00845 or -0.67% to 1.25625
USDCHF increased 0.0010 or 0.10% to 0.9975
Some economic news from Europe today:
Germany:
German WPI (MoM) (Sep) increased from -0.8% to -0.4%
German WPI (YoY) (Sep) decreased from -1.1% to -1.9%
Eurozone:
Industrial Production (MoM) (Aug) increased from -0.4% to 0.4%
Industrial Production (YoY) (Aug) decreased from -2.1% to -2.8%
US/AMERICAS:
"The relationship with China is very good," according to President Trump. After finalizing a deal, verbally, last Friday, the two economic powerhouses are moving toward a truce to the longstanding trade war. Although it will take weeks to finalize a signed formal agreement, President Trump assured the public that actions toward "phase one" of the deal are already underway. China has begun to purchase large quantities of US agricultural products as promised. In turn, the US has agreed to abandon the tariff hike that was set to occur on October 15. "We will finish out the large Phase One part of the deal, then head directly into Phase Two. The Phase One Deal can be finalized & signed soon!" the US president assured.
The Chinese press seems less enthusiastic about the verbal trade agreement. "While the negotiations do appear to have produced a fundamental understanding on the key issues and the broader benefits of friendly relations, the champagne should probably be kept on ice, at least until the two presidents put pen to paper," China Daily reported. China is concerned that the US may "backpedal" at the last minute, a move both sides have previously accused the other of making.
Secretary Mnuchin also appeared less optimistic about the verbal agreement. In an interview with CNBC, Mnuchin warned that the US will impose additional tariffs on $300 billion worth of Chinese goods in December if a deal cannot be reached. "I have every expectation if there's not a deal those tariffs would go in place, but I expect we'll have a deal," Mnuchin told CNBC.
Bernie Sanders announced a new radical plan today that would bring the US further from free market capitalism. Under Sander's proposed plan, large-scale buybacks will be considered market manipulation and therefore banned. Public corporations netting $100 million or more will be required to distribute 2% of their stock holdings to workers with the end goal of employees owning a 20% stake in their corporations.
Canada's strengthening labor market is poised to post its best performance in years, according to new data from Statistics Canada. The Canadian economy added over 358,100 new positions since December; the strongest performance since 2002. September's job report exceeded expectations after posting 53,700 new positions compared to analysts' drastically lower expectation of 7,500. Unemployment fell 0.2% from August to 5.5%, although most had anticipated the rate to remain unchanged.
US Market Closings:
Dow declined 29.23 points or -0.11% to 26,787.36
S&P 500 declined 4.12 points or -0.14% to 2,966.16
Nasdaq declined 8.39 points or -0.10% to 8,048.65
Russell 2000 declined 6.47 points or -0.43% to 1,505.43
Canada Market Closings:
TSX Composite declined 7.52 points or -0.05% to 16,415.16
TSX 60 advanced 0.16 of a point or 0.02% to 982.65
Brazil Market Closing:
Bovespa advanced 469.66 points or 0.45% to 104,301.58
ENERGY:
Crude took a significant turn today after dropping more than 2% over the less than optimistic US-China trade talks. The talks seem to be stalling as the Chinese ask for further talks before signing an agreement.
The oil markets had a mixed day today:
Crude Oil decreased 1.28 USD/BBL or -2.34% to 53.4053
Brent decreased 1.36 USD/BBL or -2.25% to 59.1372
Natural gas increased 0.074 USD/MMBtu or 3.34% to 2.2923
Gasoline decreased 0.0295 USD/GAL or -1.80% to 1.6109
Heating oil decreased 0.0477 USD/GAL or -2.44% to 1.9060
Top commodity gainers: Lumber (3.74%), Natural Gas (3.34%),Oat(2.68%), and Orange Juice (2.05 %)
Top commodity losers: Cotton (-2.65 %), Heating Oil (-2.44%), Crude Oil (-2.34%), and Brent (-2.25%)
The above data was collected around 15:56 EST on Monday.
BONDS:
Japan -0.20%(+0bp), US 2's 1.61% (+8bps), US 10's 1.73%(-1bps), US 30's 2.20%(-2bps), Bunds -0.44% (+5bp), France -0.27% (+3bp), Italy 1.02% (-3bp), Turkey 15.18% (+81bp), Greece 1.46% (-31bp), Portugal 0.18% (-3bp), Spain 0.23% (-3bp) and UK Gilts 0.63% (-9bp).
French 3-Month BTF Auction increased from -0.639% to -0.604%
French 6-Month BTF Auction increased from -0.627% to -0.599%
French 12-Month BTF Auction increased from -0.628% to -0.593%