Blog/Market Talk
Posted Oct 12, 2020 by Martin Armstrong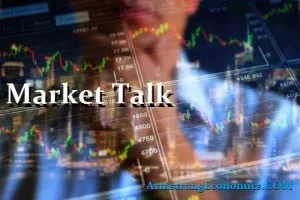 ASIA:
Shenzhen is one of the four Chinese cities to begin internal testing of the digital yuan, announced a government notice in August without going into the specifics. The latest distribution to consumers is seen as the country's first large-scale, public test of the centrally issued virtual currency. Nearly 2 million individuals in Shenzhen signed up for the lottery, according to a post from the local government. Winners could redeem the 200-yuan red envelope within the official digital yuan app and spend the virtual money at over 3,000 retail outlets in the city.
The Reserve Bank of India (RBI) left key interest rates unchanged on Friday as widely expected, while keeping policy accommodative to help pull the coronavirus-ravaged economy out of its worst slump in four decades. As expected, the monetary policy committee (MPC) kept the repo rate, its key lending rate, at 4.0%, while the reverse repo rate or the key borrowing rate stayed at 3.35%.
London Stock Exchange is in talks with several Indian technology firms for their overseas stock listings, a senior executive for the British exchange told Reuters, as India moves closer to allowing companies to directly access foreign markets. India's capital markets regulator SEBI had marked out 10 possible foreign markets for overseas listings, including the United States and Britain, back in 2018, but it took until this year for regulation to move forward.
Japan's core machinery orders unexpectedly rose in August, extending gains and highlighting resilience in capital spending even as the economy remains under pressure from the coronavirus pandemic. Core machinery orders, a highly volatile data series regarded as an indicator of capital spending in the coming six to nine months, grew 0.2% in August after a 6.3% rise in July. However, analysts warn orders may turn negative again in the coming months as firms struggle with excess output capacity.
The major Asian stock markets had a mixed day today:
NIKKEI 225 decreased 61.00 points or -0.26% to 23,558.69
Shanghai increased 86.39 points or 2.64% to 3,358.47
Hang Seng increased 530.55 points or 2.20% to 24,649.68
ASX 200 increased 29.80 points or 0.49% to 6,132.00
Kospi increased 11.77 points or 0.49% to 2,403.73
SENSEX increased 84.31 points or 0.21% to 40,593.80
Nifty50 increased 16.75 points or 0.14% to 11,930.95
The major Asian currency markets had a mixed day today:
AUDUSD decreased 0.00259 or -0.36% to 0.72170
NZDUSD decreased 0.00174 or -0.26% to 0.66533
USDJPY decreased 0.28 or -0.27% to 105.32
USDCNY increased 0.05299 or 0.79% to 6.74066
Precious Metals:
Gold decreased 4.38 USD/t oz. or -0.23% to 1,925.05
Silver increased 0.10 USD/t. oz or 0.41% to 25.222
Some economic news from last night:
Japan:
Bank Lending (YoY) (Sep) decreased from 6.7% to 6.4%
Core Machinery Orders (MoM) (Aug) decreased from 6.3% to 0.2%
Core Machinery Orders (YoY) (Aug) increased from -16.2% to -15.2%
PPI (MoM) (Sep) decreased from 0.1% to -0.2%
PPI (YoY) (Sep) decreased from -0.6% to -0.8%
New Zealand:
External Migration & Visitors (Aug) increased from -98.50% to -96.90%
Permanent/Long-Term Migration (Aug) increased from -172 to 1,133
Visitor Arrivals (MoM) increased from 8.8% to 104.7%
Some economic news from today:
India:
CPI (YoY) (Sep) increased from 6.69% to 7.34%
Cumulative Industrial Production (Aug) increased from -29.20% to -25.00%
Industrial Production (YoY) (Aug) increased from -10.4% to -8.0%
Manufacturing Output (MoM) (Aug) increased from -11.1% to -8.6%
Japan:
Machine Tool Orders (YoY) increased from -23.3% to -15.0%
EUROPE/EMEA:
The UK could take a £57bn share of a £1.3tn boost to the global economy by the end of this decade as a result of blockchain-based technologies being adopted at scale from 2025, according to analysis by PwC of the technology's potential in sectors such as healthcare, government, manufacturing, finance, logistics, and retail. Best known in the financial services sector for its role in enabling bitcoin to become a reality, the distributed ledger technology has been identified as an efficient and effective means of tracking and tracing goods and services, which PwC said could be worth £30bn to the UK economy over this decade. Beyond bringing £30bn in potential value to the UK economy over the next decade due to its use in track and trace, PwC predicts further benefits of blockchain in other applications.
The major Europe stock markets had a mixed day:
CAC 40 increased 32.48 points or 0.66% to 4,979.29
FTSE 100 decreased 15.27 points or -0.25% to 6,001.38
DAX 30 increased 87.18 points or 0.67% to 13,138.41
The major Europe currency markets had a mixed day today:
EURUSD decreased 0.00196 or -0.17% to 1.18110
GBPUSD increased 0.00202 or 0.15% to 1.30653
USDCHF decreased 0.00016 or -0.02% to 0.90932
Some economic news from Europe today:
Germany:
German WPI (YoY) (Sep) increased from -2.2% to -1.8%
German WPI (MoM) (Sep) increased from -0.4% to 0.0%
US/AMERICAS:
Millennials, who comprise the largest portion of the US workforce, hold only 4.6% of the nation's wealth during the first half of 2020. According to a report by the Federal Reserve, Baby Boomers control 53% of the nation's wealth, Gen X holds 25%, and the Silent Generation accounts for 17%. Although it is common for older generations to hold more wealth, Millennials are in the worst financial situations than their parents. The report found that Baby Boomers controlled 21% of the wealth when they were around the same age range as Millennials.
Early voting mail-in voting fraud is becoming a growing concern in the US after nearly 50,000 Ohio residents received the wrong ballots. In New Jersey, a USPS worker was apprehended for throwing away nearly 100 ballots. Franklin County, Ohio, claims it was a clerical error that they will revise to ensure voters receive the proper ballots. "We want to make it clear that every voter who received an inaccurate ballot will receive a corrected ballot. Stringent tracking measures are in place to guarantee that a voter can only cast one vote," a spokesperson said for the county board.
Despite the border closure between the US and Canada that has been in place since March due to the coronavirus, the US is still permitting Canadians to fly into the country for leisure. Although Canadians have been stopped while driving across the US border, there seems to be a loophole in the travel restriction. The US government has yet to respond to CBC News when asked why travel by air was still permitted. Americans are not permitted to fly into Canada at this time unless they obtain a special permit.
Canada Recovery Benefit (CRB) opened its website for applications this Monday, but was met with multiple technical issues that halted some people from applying. The program will pay out C$500 weekly for up to 26 weeks for those who qualify. The Canadian government apologized for the glitch and is encouraging people who were denied this Monday to reapply.
US Market Closings:
Dow advanced 250.62 points or 0.88% to 28,837.52
S&P 500 advanced 57.09 points or 1.64% to 3,534.22
Nasdaq advanced 296.32 points or 2.56% to 11,876.26
Russell 2000 advanced 11.51 points or 0.7% to 1,649.05
Canada Market Closings:
TSX Composite advanced 28.27 points or 0.17% to 16,562.81
TSX 60 declined 0.33 of a point or -0.33% to 990.95
Brazil Market Closing:
Bovespa declined 436.42 points or -0.45% to 97,483.31
ENERGY:
The oil markets had a mixed day today:
Crude Oil decreased 1.35 USD/BBL or -3.33% to 39.2500
Brent decreased 1.33 USD/BBL or -3.10% to 41.5200
Natural gas increased 0.144 USD/MMBtu or 5.21% to 2.9060
Gasoline decreased 0.0283 USD/GAL or -2.35% to 1.1740
Heating oil decreased 0.0341 USD/GAL or -2.87% to 1.1551
The above data was collected around 12:55 EST on Monday
Top commodity gainers: Palm Oil (1.79%), Natural Gas (5.21%), Cotton (1.66%), and Soda Ash (3.67%)
Top commodity losers: Crude Oil (-3.33%), Brent (-3.10%), Lumber (-4.09%), and Bitumen (-11.46%)
The above data was collected around 13:01 EST on Monday.
BONDS:
Japan 0.03%(-1bp), US 2's 0.15% (+1bps), US 10's 0.78%(+1bps); US 30's 1.57%(+1bps), Bunds -0.54% (-1bp), France -0.28% (-1bp), Italy 0.69% (-3bp), Turkey 13.20% (-6bp), Greece 0.92% (+4bp), Portugal 0.17% (-1bp); Spain 0.16% (+4bp) and UK Gilts 0.28% (-1bp).
French 3-Month BTF Auction decreased from -0.636% to -0.656%
French 6-Month BTF Auction decreased from -0.609% to -0.637%
French 12-Month BTF Auction decreased from -0.611% to -0.628%