Blog/Market Talk
Posted Oct 10, 2017 by Martin Armstrong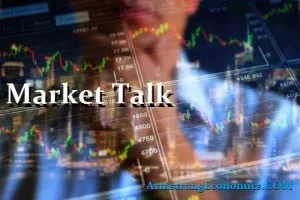 News today of the Catalan leader Carles Puigdemont putting a delay on this declaration of independence to try and have an amicable solution with the Spanish Government in Madrid. Pushed the EUR/USD rates up 0.54% to 1.18 on the day.
Few other announcements around the world, the Swiss unemployment rates dropped from 3.2% to 3.1% and the German trade balance was 21.6B compared to a 20B estimate which again helped buoy the CHF and EUR respectfully. The French and Italian Industrial production data for August was mixed, with the French missing expectations but the Italians outperforming.
Manufacturing production in the UK was good, growing 0.4% for the 2nd month as one would expect with the cheaper pound pre-Brexit decision. This helped the GBP move up to 1.32 against the dollar.
Asian markets again performing well today, the Hang Seng Index was up 0.58% removing yesterday's losses. Nikkei opened after the long weekend to close up 0.64% while China's Shanghai Composite closed up 0.26%.
European markets finished mixed as of the most recent closing prices. The FTSE 100 gained 0.40%, while the DAX and CAC 40 dropped 0.21% and 0.04% respectively. IBEX 35 was down 0.92%, still with confidence weak with the uncertainty of the Catalan independence looming offsetting yesterday's gains.
North American markets did well, the markets again exploring to new all-time high. The man touted by some to be the future fed chair Neel Kashkari and FOMC member Robert Kaplan are expected to speak about the prospects of future monetary policy. A few events to look out for tomorrow are the US JOLTs job opening figures (6.125 estimate) and the FOMC meeting minutes which will have some potential impact to the USD and Global markets. Thursday we have ECB's Draghi speaking monetary policy which should lead us to an eventful next two days.
The US 2,10 and 30 year bonds remain unchanged as well as many of the major European bonds. The big mover again was the Turkish 10 years retracting from yesterday's large +43bps move closing down 15 bps.