Blog/Market Talk
Posted Oct 10, 2018 by Martin Armstrong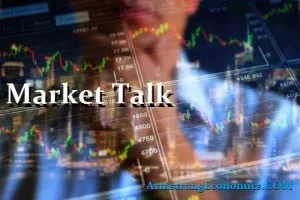 Asian markets finished positive, but it was only when the US opened did the excitement begin for the day. Europe caught a lot of the declines into their close, so lets just concentrate on developments from there on, especially following growth concerns that the IMF have raised….
We did see PPI (Producer Price Index) release in line at +0.2% in the USA, but did reverse previous print. This number followed better than expected Q2 UK GDP of +0.7%, which beat previous number. However, markets were behaving themselves until we started to see some weakness in Treasuries. We do have a heavy issuance calendar this week ($36bn 3's; $26bn 10's and $15bn 30's tomorrow) and it looked as though the street was preparing ahead of the time. US 10's hit 3.24% and 30's at 3.40% just ahead of the auctions. the results were mixed, but interesting that we are closing better bid. The stocks decline was led by tech and then joined by a solid cross-section. The DOW finishes over 800 points lower (-3.15%) and is the worst seen since February this year. The NADAQ finished 4.08% lower, also closing on its days low.
The battle is on whether rising rates are positive or negative for equity markets and judging by todays reaction, the markets have spoken. Interesting that as the stocks decline accelerated, bonds found buyers and were bid. We haven't really finished that much different to yesterdays close, but we are seeing demand late in the day. Asia will react with a negative bias as you would expect, looking at futures should be around 2% lower. The US Dollar did recover some of the days lost ground as the equity selling gained pace. Emerging markets could well be under additional pressures especially if their currencies continue their recent declines. The INR, TRY and CNY will be key pairs to watch overnight, together with their respective indices. Where the demand for US funding into the year end will tell a few stories for sure. Recent demand has been seen from China, lets watch if they remain the highest bid.
Japan 0.15%, US 2's closed 2.85% (-3bp), US 10's 3.19% (-2bp), US 30's 3.37% (u/c), Bunds 0.55% (u/c), France 0.90% (+1bp), Italy 3.5% (+3bp), Turkey 19.30% (-34bp), Greece 4.41% (-12bp), Portugal 1.95% (-2bp), Spain 1.61% (+1bp) and Gilts 1.73% (+2bp).