Blog/Market Talk
Posted Nov 9, 2020 by Martin Armstrong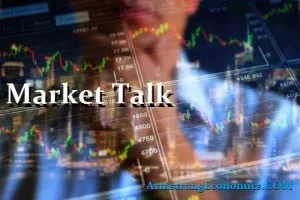 ASIA:
The Chinese government on Monday sidestepped questions on when it would congratulate United States President-elect Joe Biden on his election victory, with a Foreign Ministry spokesman saying that China would act in "accordance with international practice." More than 24 hours after US media declared Biden victorious, China remains one of the few major countries yet to send a message of congratulations to Biden and his team on their defeat of Donald Trump, leaving many to speculate whether officials there are waiting for the outgoing president to concede defeat.
Google, on Friday, criticized India's move to cap the share of transactions of some companies within the country's digital payments space, saying it would hinder the nation's burgeoning digital payments economy. Google's criticism came after India's flagship payments processor, the National Payments Corp of India (NPCI), on Thursday said that third-party payments apps, from January 1st, will not be allowed to process more than 30% of the total volume of transactions on the state-backed United Payments Interface (UPI) framework. The UPI framework facilitates seamless peer-to-peer money transfers. More than 2.07 billion UPI transactions were processed in October, according to NPCI, with Walmart's PhonePe accounting for just over 40% of those transactions. Google Pay was a close second, with rivals like Paytm and dozens of others splitting the remaining 20% share. Companies such as PhonePe and Google, which currently exceed NPCI's stipulated cap, will get two years to comply with the new rules.
India's largest public sector lender, State Bank of India (SBI) said that the Indian economy is expected to be on a normal course by early next fiscal even while the investment demand from corporate might take some time to pick up. Some of the core sectors, including cement and steel, have been doing well, and there have also been signs of revival in the construction sector. The FMCG and e-commerce segments have remained strong and performed fairly well, SBI said. However, sectors such as travel, tourism and hospitality have been impacted due to the pandemic.
The major Asian stock markets had a green day today:
NIKKEI 225 increased 514.61 points or 2.12% to 24,839.84
Shanghai increased 61.57 points or 1.86% to 3,373.73
Hang Seng increased 303.20 points or 1.18% to 26,016.17
ASX 200 increased 108.60 points or 1.75% to 6,298.80
Kospi increased 30.70 points or 1.27% to 2,447.20
SENSEX increased 704.37 points or 1.68% to 42,597.43
Nifty50 increased 197.50 points or 1.61% to 12,461.05
The major Asian currency markets had a green day today:
AUDUSD increased 0.00231 or 0.32% to 0.72816
NZDUSD increased 0.00529 or 0.78% to 0.68251
USDJPY increased 1.99 or 1.92% to 105.35
USDCNY increased 0.02398 or 0.36% to 6.61535
Precious Metals:
Gold decreased 86.39 USD/t oz. or -4.43% to 1,865.12
Silver decreased 1.446 USD/t. oz or -5.65%% to 24.147
Some economic news from last night:
Japan:
Reuters Tankan Index (Nov) increased from -26 to -13
Foreign Reserves (USD) (Oct) decreased from 1,389.8B to 1,384.4B
Australia:
Building Approvals (MoM) increased from -2.3% to 15.4%
Some economic news from today:
Japan:
Coincident Indicator (MoM) (Sep) increased from 1.0% to 1.4%
Leading Index (MoM) (Sep) increased from 1.8% to 4.4%
Leading Index increased from 88.4 to 92.9
Indonesia:
Consumer Confidence (Oct) decreased from 83.4 to 79.0
Singapore:
Foreign Reserves USD (MoM) (Oct) increased from 328.0B to 338.0B
EUROPE/EMEA:
Thirty thousand "robot soldiers" could form an integral part of the British army in the 2030s, working alongside humans in and around the frontline, the head of the armed forces said in a television interview on Sunday. Speaking to Sky News on the morning of Remembrance Sunday, the defense staff chief suggested that "an armed forces that's designed for the 2030s" could include large numbers of autonomous or remotely controlled machines.
EU and UK officials have resumed trade talks in London at the start of another key week for the negotiations. They are trying to bridge what the two sides have said are still significant differences on fishing quotas and competition issues. Boris Johnson said on Sunday that the "outlines" of an agreement were clear and a deal was "there to be done". But he has insisted the UK is prepared to leave the single market and customs union on 31 December without agreement. The UK left the EU on 31 January but continues to follow the bloc's rules until the end of the year.
The COVID-19 self-isolation period is expected to be cut from two weeks to 10 days after a row involving Prof Chris Whitty and Dominic Cummings, who had been pushing for a more drastic change, the Guardian reported. The reduced quarantine time is to be made possible by increasing the use of rapid tests – for which the UK government has paid more than £500m, despite the fact that some are not designed to test people without symptoms.
Germany is seeking to mend its trade relations and is mulling a more conciliatory approach that would see the European Union delay tariffs set to hit $4 billion of American products as soon as Tuesday, Bloomberg reported from the officials familiar with the government's thinking. Germany will raise the issue on Monday at a meeting of the EU's trade ministers, where Berlin will support rekindling the bloc's relationship with the U.S. rather than escalating the 16-year-old trade conflict, which is over illegal subsidies provided to Boeing Co. and rival Airbus SE, said the official. The European Commission, which will make the decision on the duties, stands by the tariffs.
The major European stock markets had a green day today:
CAC 40 increased 375.44 points or 7.57% to 5,336.32
FTSE 100 increased 276.27 points, or 4.67% to 6,186.29
DAX 30 increased 615.95 points or 4.94% to 13,095.97
The major European currency markets had a mixed day today:
EURUSD decreased 0.00637 or -0.54% to 1.18107
GBPUSD increased 0.00114 or 0.09% to 1.31575
USDCHF increased 0.01387 or 1.54% to 0.91409
Some economic news from Europe today:
Germany:
German Current Account Balance n.s.a (Sep) increased from 16.5B to 26.3B
German Exports (MoM) (Sep) decreased from 2.9% to 2.3%
German Imports (MoM) (Sep) decreased from 5.8% to -0.1%
German Trade Balance (Sep) increased from 15.4B to 17.8B
Swiss:
Unemployment Rate n.s.a. (Oct) remain the same at 3.2%
Unemployment Rate s.a. (Oct) decreased from 3.4% to 3.3%
Euro Zone:
Sentix Investor Confidence (Nov) decreased from -8.3 to -10.0
US/AMERICAS:
Joe Biden has been officially elected as the next president of the United States. Biden secured 290 Electoral college votes, surpassing Trump's 214. His running-mate Kamala Harris will become the first woman ever to hold the position of vice president. This marks the first time an incumbent president lost reelection since 1992 when George Bush Sr. lost his seat. However, sitting President Donald Trump is convinced he is the legal victor of the election and is demanding a recount and investigation.
A new coronavirus vaccine touting a 90% effective rate will soon be available, according to Pfizer and BioNTech. Pfizer CEO Dr. Albert Bourla told reporters at CNBC, "I believe this is likely the most significant medical advance in the last 100 years, if you count the impact this will have in public health, global economy." The Center for Disease Control anticipates that the US will receive up to 30 million dosages of the vaccine by the end of the year, and the cost will be covered by the government. The Dow hit an all-time high after the news boosted worldwide confidence.
The travel industry soared this Monday on news of a promising coronavirus vaccine. Boeing stock jumped 14.51%, assisting the Dow's historic day of trading. Travel company Expedia soared 25.24%, Marriott advanced 14.54%, and even the once doomed cruise industry saw improvements with Carnival jumping 38.35% and Royal Caribbean experiencing a 29.03% gain.
The US unemployment rate fell by 1% to 6.9% in October, according to the Bureau of Labor Statistics. Nonfarm payroll increased by 638,000 positions, exceeding analysts' expectations of 530,000. Figures would have been noticeably better had it not been for the loss of 147,000 temporary Census worker positions.
As world leaders congratulated Joe Biden on his victory, Russian leader Vladimir Putin declined to comment. Putin said he would be willing to work with whomever the US put into power, but said he will wait until the "official" results of the election are available.
US Market Closings:
Dow advanced 834.7 points or 2.95% to 29,158.1
S&P 500 advanced 41.2 points or 1.17% to 3,550.64
Nasdaq declined 181.45 points or -1.53% to 11,713.78
Russell 2000 advanced 60.88 points or 3.7% to 1,705.04
Canada Market Closings:
TSX Composite advanced 193.03 points or 1.19% to 16,475.86
TSX 60 advanced 13.56 points or 1.4% to 980.43
Brazil Market Closing:
Bovespa advanced 2,590.05 points or 2.57% to 103,515.16
ENERGY:
The oil markets had a mixed day today:
Crude Oil increased 2.82 USD/BBL or 7.59% to 39.9600
Brent increased 2.67 USD/BBL or 6.77% to 42.1200
Natural gas decreased 0.031 USD/MMBtu or -1.07% to 2.8570
Gasoline increased 0.069 USD/GAL or 6.36% to 1.1534
Heating oil increased 0.0681 USD/GAL or 5.96% to 1.2107
Top commodity gainers: Crude Oil (7.59%), Brent (6.77%), Gasoline (6.36%), and Heating Oil (5.96%)
Top commodity losers: Gold (-4.43%), Silver (-5.65%), Platinum (-2.14%), and Rubber (-4.28%)
The above data was collected around 16:34 EST on Monday.
BONDS:
Japan 0.02%(+0bp), US 2's 0.18% (+2bps), US 10's 0.93%(+11bps);US 30's 1.71%(+12bps), Bunds -0.62% (-0bp), France -0.35% (+0bp), Italy 0.72% (+10bp), Turkey 12.94% (-87bp), Greece 0.97% (+15bp), Portugal 0.17% (+8bp), Spain 0.19% (+9bp) and UK Gilts 0.38% (+10bp).
US 3-Month Bill Auction increased from 0.095% to 0.100%
US 6-Month bill Auction remain the same at 0.110%
US 3-Year Note Auction increased from 0.193% to 0.250%
French 3-Month BTF Auction increased from -0.676% to -0.635%
French 6-Month BTF Auction increased from -0.653% to -0.628%
French 12-Month BTF Auction increased from -0.648% to -0.627%