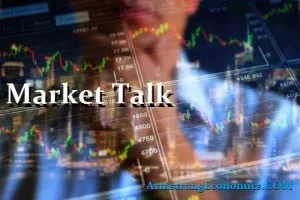 ASIA:
The Chinese Community Party has responded to US Secretary of State Mike Pompeo's attack that claimed China is too focused on international domination and needs to be confronted. The CCP stated that his comments were extremely dangerous and exposed his sinister intentions. "Pompeo is splitting apart and setting in antagonism against each other the Chinese people and the Chinese Communist Party in an attempt to provoke their relationship," Geng Shuang the Chinese foreign minister said.
Japanese household spending has increased at the fastest pace on record in September as the government announced a sales tax hike went into force on October 1. Prior to September, Japan saw ten straight months of households increasing spending. The later part of the year is expected to see a sharp decline.
After Chile canceled this year's APEC summit scheduled for November, the US has put their name in the hat to hold the meeting early 2020. However, some countries have expressed their concerns, such as Malaysia with their foreign minster branding it a bad idea. Meanwhile, the 94-year-old Malaysian PM has named his successor Datuk Seri Anwar Ibrahim President of the People's Justice Party. "Yes, I will. Although there are lots of other people who have been asking me to carry on until the next election but that is their view. My commitment is to step down before the next election, certainly," the 94-year-old said.
The major Asian stock markets had a mixed day today:
Shanghai decreased 14.53 points or -0.49% to 2,964.18
Kospi decreased 7.06 points or -0.33% to 2,137.23
ASX 200 decreased 2.50 points or -0.04% to 6,724.10
NIKKEI 225 increased 61.55 points or 0.26% to 23,391.87
Hang Seng decreased 196.09 points or -0.70% to 27,651.14
SENSEX decreased 330.13 points or -0.81% to 40,323.61
The major Asian currency markets had a mixed day today:
AUDUSD decreased 0.0044 or 0.64% to 0.6853
NZDUSD decreased 0.0038 or 0.60% to 0.6326
USDJPY decreased 0.0800 or 0.07% to 109.1900
USDCNY increased 0.0193 or 0.28% to 6.9903
Precious Metals:
Gold decreased 6.32 USD/t oz. or -0.43% to 1,460.75
Silver decreased 0.2779 USD/t. oz or -1.62%% to 16.8209
Some economic news from last night:
Australia:
Home Loans (MoM) (Sep) decreased from 2.7% to 1.4%
Invest Housing Finance (MoM) decreased from 3.8% to 1.1%
Japan:
Household Spending (YoY) (Sep) increased from 1.0% to 9.5%
Household Spending (MoM) (Sep) increased from 2.4% to 5.5%
Overall wage income of employees (Sep) increased from -0.1% to 0.8%
Overtime Pay (YoY) (Sep) decreased from 0.10% to 0.00%
Foreign Bonds Buying increased from -1,018.5B to 668.1B
Foreign Investments in Japanese Stocks decreased from 649.5B to 420.9B
Foreign Reserves (USD) (Oct) increased from 1,322.6B to 1,324.5B
China:
Exports (YoY) increased from -3.2% to -0.9%
Imports (YoY) increased from -8.5% to -6.4%
Trade Balance (USD) increased from 39.65B to 42.81B
Some economic news from today:
Japan:
Coincident Indicator (MoM) (Sep) increased from -0.7% to 2.0%
Leading Index increased from 91.9 to 92.2
Leading Index (MoM) (Sep) increased from -1.8% to 0.3%
India:
Bank Loan Growth increased from 8.8% to 8.9%
Deposit Growth increased from 9.8% to 10.3%
FX Reserves, USD increased from 442.58B to 446.10B
EUROPE/EMEA:
There seems to be some confusion over the Brexit deal in Conservative Party after PM Boris Johnson stated that there will not be any checks going into the UK from Northern Ireland.  "We are the government of the UK and we will not be instituting such checks," PM Boris Johnson said. However, Brexit Secretary Stephen Barclay told the Parliament that businesses would, in fact, need to complete "exit summary declarations" when sending goods from NI to the rest of the UK.
Boris Johnson and Jeremy Corbyn of the Labour party will face each other live on the BBC on the 6th of December, which is six days before the polling begins. Nicola Sturgon of the SNP told her party that this was the most important election of their lifetimes. She also stated that people should vote SNP in order to escape Brexit.
Iran confirmed that its forces have shot down an "unknown" drone in the south of Iran said to belong to a foreign country, IRNA reported. Meanwhile, an earthquake of 5.9 magnitude struck the northwestern part of Iran today.
Turkish President Erdogan commented on EU's stance towards them and stated it is far from constructive. His comments came about when he was visiting Hungarian PM in Budapest.
The major Europe stock markets had a negative day today:
CAC 40 decreased 1.28 points or -0.02% to 5,889.70
FTSE 100 decreased 47.03 points, or -0.63% to 7,359.38
DAX 30 decreased 60.90 points or -0.46% to 13,228.56
The major Europe currency markets had a mixed day today:
EURUSD decreased 0.0028 or 0.25% to 1.1021
GBPUSD decreased 0.0037 or 0.29% to 1.2776
USDCHF increased 0.0023 or 0.23% to 0.9971
Some economic news from Europe today:
Swiss:
Unemployment Rate n.s.a. (Oct) increased from 2.1% to 2.2%
Unemployment Rate s.a. (Oct) remain the same at 2.3%
Germany:
German Current Account Balance n.s.a (Sep) increased from 16.9B to 25.5B
German Exports (MoM) (Sep) increased from -0.9% to 1.5%
German Imports (MoM) (Sep) increased from 0.1% to 1.3%
German Trade Balance (Sep) increased from 18.7B to 19.2B
France:
French Current Account (Sep) increased from -3.00B to -2.70B
French Exports (Sep) decreased from 42.7B to 41.7B
French Imports (Sep) decreased from 48.2B to 47.3B
French Industrial Production (MoM) (Sep) increased from -0.9% to 0.3%
French Non-Farm Payrolls (QoQ) (Q3) increased from 0.2% to 0.3%
French Reserve Assets Total (Oct) decreased from 177,969.0M to 176,831.0M
French Trade Balance (Sep) decreased from -5.4B to -5.6B
US/AMERICAS:
US indexes peaked to new highs on Thursday after Chinese Commerce Ministry spokesman Gao Feng announced that the US planned to retroactively undo tariffs incrementally as part one of the trade deal. President Trump clarified Feng's comments this Friday and admitted that he never agreed to rollback tariffs. "I haven't agreed to anything. China would like to get somewhat of a rollback, not a complete rollback because they know I won't do it," President Trump told reporters.
Former New York Mayor Michael Bloomberg announced that he enter the 2020 presidential elections under the Democratic Party. "There's nobody I'd rather run against than little Michael," President Trump proclaimed. Biden's team is allegedly concern that a Bloomberg run could hurt his chances and drive more voters toward Elizabeth Warren. Warren tweeted to Bloomberg, "Welcome to the race!" and embedded a link to her website that features her wealth tax calculator. Bloomberg has an estimated net worth of $53.4 billion. Under Warren's wealth tax plan, Bloomberg would pay $3.079 billion in taxes. On Wednesday, Hillary Clinton announced that she would not throw her into the race at the last minute.
Federal Reserve Chairman Jerome Powell will testify before Congress next week on the state of the US economy. The Federal Open Market Committee (FOMC) recently voted to lower interest rates for the third time in 2019. Powell has consistently stated that the US economy remains strong despite the global slowdown. "We see the current stance of monetary policy as likely to remain appropriate as long as incoming information about the state of the economy remains broadly consistent with our outlook," Powell stated after the last FOMC meeting. The Fed significantly increased their short-term funding market (repo) program, injecting billions into the markets, and causing many analysts to question whether there is a liquidity crisis. Powell is expected to address the repo program, rates, and more next week.
US Market Closings:
Dow advanced 6.44 points or 0.02% to 27,681.24
S&P 500 advanced 7.90 points or 0.26% to 3,093.08
Nasdaq advanced 40.80 points or 0.48% to 8,475.31
Russell 2000 advanced 4.87 points or 0.31% to 1,598.86
Canada Market Closings:
TSX Composite advanced 71.67 points or 0.43% to 16,877.42
TSX 60 advanced 4.93 points or 0.49% to 1,010.54
Brazil Market Closing:
Bovespa declined 1,951.59 points or XX% to 107,628.98
ENERGY:
The oil markets had a mixed day today:
Crude Oil decreased 0.01 USD/BBL or -0.02% to 57.0722
Brent increased 0.08 USD/BBL or 0.13% to 62.2354
Natural gas increased 0.027 USD/MMBtu or 0.97% to 2.7933
Gasoline decreased 0.0038 USD/GAL or -0.23% to 1.6350
Heating oil decreased 0.0003 USD/GAL or -0.02% to 1.9161
Top commodity gainers: Bitumen (7.98%),Cocoa (2.30%),Palm Oil(1.39%), and Sugar (1.29%)
Top commodity losers: Steel(-4.86 %), Palladium(-3.29%), Lumber (-2.18%), and Platinum (-2.10%)
The above data was collected around 13:40  EST on Friday.
BONDS:
Japan -0.06%(+3bp), US 2's 1.66% (-2bps), US 10's 1.92%(-0bps), US 30's 2.39%(-1bps), Bunds -0.26% (-1bp), France 0.03% (-1bp), Italy 1.29% (+4bp), Turkey 12.39% (+5bp), Greece 1.36% (-35bp), Portugal 0.33% (+3bp), Spain 0.41% (+2bp) and UK Gilts 0.80% (+1bp).