Blog/Market Talk
Posted Nov 7, 2019 by Martin Armstrong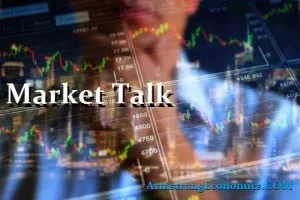 ASIA:
China announced that the US has agreed to incrementally lift tariffs once a trade deal is reached. "If China, US reach a phase-one deal, both sides should roll back existing additional tariffs in the same proportion simultaneously based on the content of the agreement," stated ministry spokesman Gao Feng. Feng pointed to positive progressive talks over the past two weeks between top negotiators. Until an official deal is signed, speculation will remain. "The trade war started with tariffs, and should end with the cancellation of tariffs," Feng told Reuters.
Russia is seeking to move away from the USD in a move many are calling "de-dollarization." An anonymous source from the Russian National Wealth Fund told the press this Thursday that the fund intends to diversify their foreign currency holdings next year. "We will lower the dollar share to levels close to the structure of the central bank's reserves. We will add reserves currencies as the central bank," the source told Reuters. Russia's finance ministry has yet to comment on whether the "de-dollarization" program will be implemented at the state level.
Sam Rainsy, self-exiled Cambodian opposition leader, was prevented from boarding a Thai Airways flight from Paris to Bangkok. The Cambodia National Rescue Party (CNRP) leader has lived in France since 2015 after fleeing his home country with other CNRP members. Thailand's PM announced on Wednesday that he would not permit CNRP members to travel through his country and urged neighboring countries to follow suit. Earlier in the day, CRNP Deputy, Mu Sochua was detained at a Malaysian airport. Malaysian authorities say they are bound by Association of Southeast Asian Nations (ASEAN) agreement that insists on a policy of non-interference with neighboring countries.
The major Asian stock markets had a green day today:
Shanghai increased 0.12 points or 0.00% to 2,978.71
Kospi increased 0.14 points or 0.01% to 2,144.29
ASX 200 increased 66.40 points or 1.00% to 6,726.60
NIKKEI 225 increased 26.50 points or 0.11% to 23,330.32
Hang Seng increased 158.59 points or 0.57% to 27,847.23
SENSEX increased 183.96 points or 0.45% to 40,653.74
The major Asian currency markets had a mixed day today:
AUDUSD increased 0.0016 or 0.24% to 0.6898
NZDUSD increased 0.0001 or 0.01% to 0.6368
USDJPY increased 0.2470 or 0.23% to 109.2070
USDCNY decreased 0.0369 or 0.53% to 6.9742
Precious Metals:
Gold decreased 20.76 USD/t oz. or -1.39% to 1,472.54
Silver decreased 0.4861 USD/t. oz or -2.76%% to 17.1593
Some economic news from last night:
Australia:
AIG Construction Index (Oct) increased from 42.6 to 43.9
Exports (MoM) (Sep) increased from -3% to 3%
Imports (MoM) (Sep) increased from 0% to 3%
Trade Balance (Sep) increased from 6.617B to 7.180B
Japan:
Reuters Tankan Index (Nov) decreased from -5 to -9
Indonesia:
FX Reserves (USD) (Oct) increased from 124.30B to 126.70B
Some economic news from today:
China:
FX Reserves (USD) increased from 3.092T to 3.105T
Hong Kong:
Foreign Reserves (USD) increased from 438.70B to 440.60B
Singapore:
Foreign Reserves USD (MoM) (Oct) increased from 272.2B to 276.8B
EUROPE/EMEA:
The European Central Bank reduced economic growth expectations in its Autumn Economic Forecast released this Thursday. The European Commission (EC) reduced the growth forecast for this fiscal year to 1.1% from 1.2%. The EC anticipates a growth of 1.2% for 2020, down from the original 1.5% forecast. The report retracted its original assumption that the global economy would "meaningfully rebound" in the next two years, and instead foresees a persistent global slowdown. "Most importantly, the surge in trade tensions and record-high uncertainty about trade policies is likely to have inflicted lasting damage to world trade," stated the Commission.
French President Macron accused the US of abandoning their NATO alliance. "What we are currently experiencing is the brain death of NATO," Macron said during a candid interview with The Economist. Macron sternly warned the EU to "wake up" and begin recognizing itself as a global power. When questioned about Article Five that states NATO members will collectively defend one other in the event of an attack, Macron said he did not trust the US to provide support. Financially, the US spends more on NATO defense than all European countries combined. German Chancellor Merkel called Macron's comments "drastic" and not representative of Europe as a whole. "NATO remains a cornerstone of our security," Merkel added.
Germany, meanwhile, announced it plans to meet its 2% of GDP spending on NATO defense by 2031. "NATO is and will remain the anchor of European security. But it is also clear that Europe must increase its own complementary ability to act," said Defense Minister Annegret Kramp-Karrenbauer in direct contrast to President Macron's earlier comments. The United States, Britain, Poland, Greece, Latvia, Lithuania, Estonia and the three Baltic states are the only NATO nations who have met the 2% spending target.
The major Europe stock markets had a green day today:
CAC 40 increased 24.25 points or 0.41% to 5,890.99
FTSE 100 increased 9.76 points, or 0.13% to 7,406.41
DAX 30 increased 109.57 points or 0.83% to 13,289.46
The major Europe currency markets had a mixed day today:
EURUSD decreased 0.0018 or 0.17% to 1.1047
GBPUSD decreased 0.0035 or 0.27% to 1.2815
USDCHF increased 0.0024 or 0.24% to 0.9950
Some economic news from Europe today:
Germany:
German Industrial Production (MoM) (Sep) decreased from 0.4% to -0.6%
Norway:
Manufacturing Production (MoM) (Sep) increased from -1.2% to 0.8%
France:
French Industrial Investments (Q4) decreased from 6.0% to -1.0%
UK:
Halifax House Price Index (MoM) (Oct) increased from -0.4% to -0.1%
Halifax House Price Index (YoY) (Oct) decreased from 1.1% to 0.9%
BoE MPC vote cut (Nov) increased from 0 to 2
BoE MPC vote hike (Nov) remain the same at 0
BoE MPC vote unchanged (Nov) decreased from 9 to 7
BoE QE Total (Nov) remain the same at 435B
BoE Interest Rate Decision (Nov) remain the same at 0.75%
Italy:
Italian Retail Sales (MoM) (Sep) increased from -0.5% to 0.7%
Italian Retail Sales (YoY) (Sep) increased from 0.8% to 0.9%
US/AMERICAS:
China's early morning announcement of a potential tariff rollback sent US indexes soaring during early trading. All three major US indexes closed at record highs this Thursday However, the White House has not made an official statement to honor or deny China's claims.
The Pentagon announced today that revenue from Syrian oil fields will go to the Kurdish Syrian Democratic Forces (SDF). The announcement was made to counteract the negative feedback received after it was announced that the US would directly profit from the Syrian oil reserves it is guarding. Turkish President Erdogan told reporters this Thursday that he is displeased with the US' effort to remove Kurdish forces from northeast Syria. Erdogan is still scheduled to visit the White House next week to discuss matters with President Trump.
Robinhood, the commission-free trading app, closed a loophole in its platform that granted users "infinite leverage." The hack was first posted on Reddit at the end of October when a user discovered how to borrow unlimited funds. To access "infinite leverage," users simply placed call options and Robinhood incorporated the sold options into the users' overall buying power. Users could then repeat trades without spending any personal funds. Robinhood released the following statement: "We recently identified a small number of accounts engaging in problematic trading activity on our platform. We've quickly restricted these accounts, and made a permanent update to our systems intended to prevent anyone from engaging in this pattern of trades." It is unknown whether the users will face criminal charges at this time.
The United Nations voted in favor of ending the US' embargo on Cuba in a landslide vote. Out of the assembly's 197 members, 187 rejected Washington's banishment of Cuba. Israel and Brazil were the only countries to side with the US, while seven other nations declined to comment. This is the 28th consecutive year that the UN has held a vote on dissolving the embargo.
Vehicle production in Brazil expanded by 16.6% in October, reflecting a 9.6% YoY increase. During the first ten months of the year, the country produced 2.55 million vehicles, reflecting a 3.6% YoY increase.
US Market Closings:
Dow advanced 182.24 points or 0.66% to 27,674.80
S&P 500 advanced 8.4 points or 0.27% to 3,085.19
Nasdaq Composite advanced 23.89 points or 0.28% to 8,434.52
Russell 2000 advanced 4.45 points or 0.28% to 1,593.99
Canada Market Closings:
TSX Composite advanced 60.11 points or 0.36% to 16,805.75
TSX 60 advanced 4.05 points or 0.40% to 1,005.61
Brazil Closing:
Bovespa advanced 1,220.35 points or 1.13% to 109,580.67
ENERGY:
The oil markets had a mixed day today:
Crude Oil increased 0.66 USD/BBL or 1.17% to 57.1247
Brent increased 0.41 USD/BBL or 0.66% to 62.0289
Natural gas decreased 0.031 USD/MMBtu or -1.10% to 2.7939
Gasoline increased 0.0088 USD/GAL or 0.54% to 1.6381
Heating oil decreased 0.0124 USD/GAL or -0.64% to 1.9118
Top commodity gainers: Ethanol (2.33%), Steel (2.78%),Copper(1.73%), and Coffee (1.34%)
Top commodity losers Silver (-2.76 %), Platinum(-1.91%), Sugar (-1.67%), and Milk (-1.48%)
The above data was collected around 15:50 EST on Thursday.
BONDS:
Japan -0.07%(+1bp), US 2's 1.68% (+7bps), US 10's 1.92%(+11bps), US 30's 2.40%(+10bps), Bunds -0.24% (+8bp), France 0.06% (+9bp), Italy 1.27% (+15bp), Turkey 12.34% (-23bp), Greece 1.26% (+5bp), Portugal 0.31% (+8bp), Spain 0.41% (+10bp) and UK Gilts 0.80% (+8bp).
Spanish 5-Year Bonos Auction increased from -0.221% to -0.199%
Spanish 10-Year Obligacion Auction increased from 0.253% to 0.300%
French 10-Year OAT Auction increased from -0.24% to -0.03%
US 4-Week Bill Auction decreased from 1.570% to 1.535%
US 8-Week Bill Auction decreased from 1.560% to 1.530%
US 30-Year Bond Auction increased from 2.170% to 2.430%