Blog/Market Talk
Posted Nov 7, 2018 by Martin Armstrong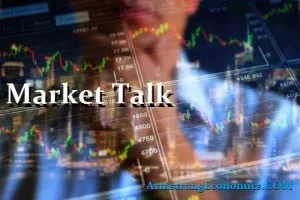 Much of the Asian trading day was over when results began to appear from the US midterm elections and so markets lacked momentum. Early gains were reverted in what we now know were misinterpreted Asian market responses. The USD was sold throughout much of the day, but interesting that the Japanese Yen retained a 113 handle and not enough strength to make a meaningful move below. However, let us jump to Europe as this was first when stocks started to run. Asian futures have also followed-suit and in late trading sees the Nikkei , SENSEX and Singapore all up around 1.5% since the cash close.
The DAX, CAC, FTSE and IBEX were all better by around 1%, but added value was had in the currency move too! Both the Euro and GBP made headway against the USD even though those gains were only +0.25%. The currency moves are something to watch and especially as the demand for year end US Dollars starts to be bid. There is talk that the bid over Dec 31st exceeded 9.5% earlier in the week, we will check again and follow this as events unfold. Europe data was released but almost a non event even though the Retail Sales number saw a small increase for September. The latest on BREXIT is that UK Ministers have been invited to read the UK's draft deal, as claims that it is 95% complete. The arrangements surrounding the Irish boarder are yet to be known as this has been a sticky issue for much of the debate. Sterling has bounced over the past week on much of this news, but is a concern that we are rallying on rumours and speculation. the old trading adage has always been, "Buy the rumour sell the fact", and we fear this is going to be the case yet again.
 US stocks have benefited in the hope that one common aim between parties will be infrastructure spending. All sectors rallied today with biotech and healthcare leading the way. Last months sell-off all seems a distant memory, but it is probably a little early to call this quarter done just yet. Treasuries are back to their flattening theme again as the FED begin their two day meeting. The call is for no change but many expect another rate rise next month. The talk now is that we are back to searching for Trade Talk headlines now that domestic elections are out of the way. Much of the talk is that China should open its economy as its in every-ones interest so lets just get on with it. However, structural issues do take time and the adversary challenge is a long way off just yet. Worth keeping an eye on oil as the price is declining even as the USD is weak, how much will it fall once the buck is bid.
Japan 0.11%, US 2's closed 2.95% (+2bp), US 10's closed 3.22% (u/c), US 30's 3.43% (-1bp), Bunds 0.44% (+1bp), France 0.81% (+1bp), Italy 3.33% (-6bp), Greece 4.26% (-2bp), Turkey 16.43% (+37bp), Portugal 1.92% (+3bp), Spain 1.60% (+2bp) and Gilts 1.53% (u/c).