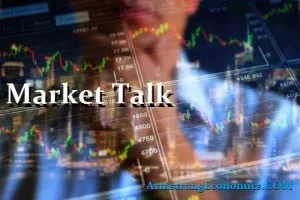 ASIA:
China plans to purchase up to 10 percent of the Saudi Aramco IPO. The IPO came under some pressure after the recent attacks on Saudi's largest oil refineries, but recently production was brought back to max capacity.
China and France have announced deals worth 15 billion USD today after French President Emmanuel Macron met Chinese President Xi in Beijing. The deal extends to aeronautics, energy, and agriculture with 20 French companies given the go-ahead to export poultry, beef, and pork to China. Energy deals would include a collaboration between Beijing Gas Group and French Engie group on a liquid natural gas terminal in Tianjin.
The latest news regarding the US-China trade deal is that the deal could be delayed until December, according to Reuters. Chinese President Xi came out and suggested that his trip to Brazil would unlikely include a stop of the US to ink a trade deal.
India New Delhi are facing unprecedented issues with air pollution as the capital is turning into a "gas chamber." Some schools in the area shut down and that flights were diverted due to the issue.
The major Asian stock markets had a mixed day today:
Shanghai decreased 12.97 points or -0.43% to 2,978.60
Kospi increased 1.51 points or 0.07% to 2,144.15
ASX 200 decreased 36.90 points or -0.55% to 6,660.20
NIKKEI 225 increased 51.83 points or 0.22% to 23,303.82
Hang Seng increased 5.24 points or 0.02% to 27,688.64
SENSEX increased 221.55 points or 0.55% to 40,469.78
The major Asian currency markets had a mixed day today:
AUDUSD decreased 0.0009 or 0.13% to 0.6884
NZDUSD decreased 0.0004 or 0.06% to 0.6369
USDJPY decreased 0.2390 or 0.22% to 108.9110
USDCNY increased 0.0118 or 0.17% to 7.0130
Precious Metals:
Gold increased 7.15 USD/t oz. or 0.48% to 1,488.37
Silver increased 0.039 USD/t. oz or 0.22%% to 17.6289
Some economic news from last night:
New Zealand:
Employment Change (QoQ) (Q3) decreased from 0.8% to 0.2%
Labor Cost Index (QoQ) (Q3) decreased from 0.8% to 0.6%
Labor Cost Index (YoY) (Q3) increased from 2.2% to 2.3%
Participation Rate (Q3) increased from 70.30% to 70.40%
Unemployment Rate (Q3) increased from 3.9% to 4.2%
Japan:
Services PMI (Oct) decreased from 52.8 to 49.7
South Korea:
Current Account (Sep) increased from 5.27B to 7.48B
Indonesia:
Retail Sales (YoY) decreased from 1.1% to 0.7%
Some economic news from today:
India:
M3 Money Supply increased from 10.0% to 10.6%
EUROPE/EMEA:
UK PM Boris Johnson's general election campaign is underway, with Johnson promising that he will get Brexit across the line. He said he will make sure the January deadline is met if he is reelected on December 12. He also took the opportunity to have a dig at the Labour Party, stating it would be a "horror show" if they took power.
Ursula von der Leyen, the new EU commission head, has urged UK PM Boris Johnson to nominate a candidate (preferably female) as soon as possible. Ursula von der Leyen is due to take office on December 1.
John Bercow, the former UK speaker who stepped down at the end of last month, has described UK's decision for Brexit as the biggest mistake since the second World War. He announced that the UK would be far better off as part of the EU.
Germany's Finance Minister Scholz said that the EU should adopt a common deposit insurance scheme with the goal of deepening the banking union. The idea of the plan would give banks some solidarity in the event of a run on credit institutions.
The major Europe stock markets had a green day today:
CAC 40 increased 19.85 points or 0.34% to 5,866.74
FTSE 100 increased 8.57 points, or 0.12% to 7,396.65
DAX 30 increased 31.39 points or 0.24% to 13,179.89
The major Europe currency markets had a negative day today:
EURUSD decreased 0.0003 or 0.03% to 1.1071
GBPUSD decreased 0.0023 or 0.18% to 1.2859
USDCHF decreased 0.0006 or 0.06% to 0.9921
Some economic news from Europe today:
Germany:
German Factory Orders (MoM) (Sep) increased from -0.4% to 1.3%
German Composite PMI (Oct) increased from 48.5 to 48.9
German Services PMI (Oct) increased from 51.4 to 51.6
Spain:
Spanish Industrial Production (YoY) (Sep) decreased from 1.4% to 0.8%
Spanish Services PMI (Oct) decreased from 53.3 to 52.7
Italy:
Italian Composite PMI (Oct) increased from 50.6 to 50.8
Italian Services PMI (Oct) increased from 51.4 to 52.2
France:
French Markit Composite PMI (Oct) increased from 50.8 to 52.6
French Services PMI (Oct) increased from 51.1 to 52.9
Eurozone:
Markit Composite PMI (Oct) increased from 50.1 to 50.6
Services PMI (Oct) increased from 51.6 to 52.2
Retail Sales (YoY) (Sep) increased from 2.7% to 3.1%
Retail Sales (MoM) (Sep) decreased from 0.6% to 0.1%
US/AMERICAS:
The US international trade deficit reach a five-month low in September. The deficit reached $52.5 billion in September compared to $55 billion the month prior. Imports overall declined 1.7% to $258.4 billion and exports shrank to $206 billion in a 0.9% decline. The deficit in Chinese trade significantly impacted data as exports to China fell to $9 billion from $10 billion MoM, and imports decreased to $37 billion from $38.9 billion MoM.
US indexes took a hit slightly before 12 PM ET on Wednesday after it was announced that phase one of the US-China deal may be delayed until December. The deal was originally going to be signed by both parties in Chile mid-November, but the event was canceled due to unrelated reasons. It is still unclear when or where the two leaders will meet again. Some rumors stated the two would meet in Iowa to symbolize China's promise to purchase larger quantities of US agriculture. Current rumors suggest the meeting may take place in London during the December 3-4 NATO summit. As China would like to prevent the next round of tariffs set for December 15, the two leaders are more than likely to meet before that date.
After weeks of tension, Turkey's relationship with the US is significantly improving. The US threatened harsh sanctions after the Turkish-led invasion of northern Syria. Turkey retreated and agreed to a cease fire to allow Kurdish troops to evacuate. Last week, the US acknowledged Turkey's role in the Armenian genocide despite leaders refusing to take responsibility. Yet, today President Trump announced that he had a positive call with President Erdogan. In fact, Erdogan plans to visit the White House next week to further discuss US-Turkey relations.
US Market Closings:
The Dow remained relatively unchanged at 27,492.56
S&P 500 advanced 2.16 points or 0.07% to 3,076.78
Nasdaq declined 24.05 points or -0.29% to 8,410.63
Russell 2000 declined 10.07 points or -0.63% to 1,589.54
Canada Market Closings:
TSX Composite advanced 63.72 points or 0.38% to 16,745.64
TSX 60 advanced 3.25 points to 0.33% to 1,001.56
Brazil Market Closing:
Bovespa declined 358.80 points or -0.33% to 108,360.22
ENERGY:
The EIA reported that there was a surprise build in Crude today, which coupled with weak European data helped push down the price of Crude. US inventories rose by 7.9 million barrels from the previous week.
The oil markets had a negative day today:
Crude Oil decreased 0.72 USD/BBL or -1.26% to 56.4216
Brent decreased 1.11 USD/BBL or -1.76% to 61.9332
Natural gas decreased 0.03 USD/MMBtu or -1.05% to 2.8351
Gasoline decreased 0.0469 USD/GAL or -2.80% to 1.6268
Heating oil decreased 0.0249 USD/GAL or -1.27% to 1.9284
Top commodity gainers: Rubber (1.92%),Coffee (1.98%),Oat(2.00%), and Palladium (0.74%)
Top commodity losers : Baltic Dry(-7.43 %), Ethanol(-5.10%), Lean Hogs (-3.86%), and Gasoline (-2.80%)
The above data was collected around 15:50 EST on Wednesday.
BONDS:
Japan -0.08%(+5bp), US 2's 1.60% (-3bps), US 10's 1.82%(+5bps), US 30's 2.29%(-6bps), Bunds -0.34% (-2bp), France -0.05% (-2bp), Italy 1.09% (-2bp), Turkey 12.57% (+18bp), Greece 1.25% (+3bp), Portugal 0.23% (-2bp), Spain 0.31% (-3bp) and UK Gilts 0.71% (-7bp).
US 10-Year Note Auction increased from 1.590% to 1.809%
Japan 10-Year JGB Auction increased from -0.160% to -0.100%