Blog/Market Talk
Posted Nov 5, 2019 by Martin Armstrong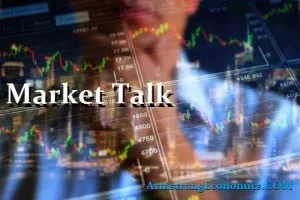 ASIA:
According to the FT, the US is considering removing some tariffs in an attempt to make a truce in the trade war. The cuts will be for around 112 billion USD worth of goods which have had a 15% levy applied on them since September the 1st. On the news, the renminbi strengthened to the 7 per USD.
China's Communist Party today doubled down on any efforts to stabilize the region of Hong Kong. Chinese President Xi Jinping expressed that he had a high degree of "trust" for Hong Kong leader Carrie Lam. The statement of the party demonstrated that Chinese national interests should be a priority over the "two systems" policy which allows Hong Kong to remain autonomous.
India has decided against signing the Regional Comprehensive Economic Partnership in Bangkok in an attempt to curb the disruption to the farming industry. Senior Indian officials stated that PM Modi was concerned about the fairness of the agreement and what impact it would have on the lives of the Indian nationals. Some analysts were criticizing India's move, saying they will suffer in the long run from opting out.
The major Asian stock markets had a mixed day today:
Shanghai increased 16.07 points or 0.54% to 2,991.56
Kospi increased 12.40 points or 0.58% to 2,142.64
ASX 200 increased 10.20 points or 0.15% to 6,697.10
NIKKEI 225 increased 401.22 points or 1.76% to 23,251.99
Hang Seng increased 136.10 points or 0.49% to 27,683.40
SENSEX decreased 53.73 points or -0.13% to 40,248.23
The major Asian currency markets had a mixed day today:
AUDUSD increased 0.0011 or 0.16% to 0.6894
NZDUSD decreased 0.0016 or 0.24% to 0.6386
USDJPY increased 0.6090 or 0.56% to 109.1690
USDCNY decreased 0.0305 or 0.43% to 7.0004
Precious Metals:
Gold decreased 24.34 USD/t oz. or -1.61% to 1,487.71
Silver decreased 0.425 USD/t. oz or -2.36%% to 17.6255
Some economic news from last night:
Australia:
AIG Services Index (Oct) increased from 51.5 to 54.2
RBA Interest Rate Decision (Nov) remain the same at 0.75%
New Zealand:
ANZ Commodity Price Index (MoM) increased from 0.0% to 1.2%
China:
Caixin Services PMI (Oct) decreased from 51.3 to 51.1
Hong Kong:
Manufacturing PMI (Oct) decreased from 41.5 to 39.3
Japan:
Monetary Base (YoY) increased from 3.0% to 3.1%
South Korea:
FX Reserves – USD (Oct) increased from 403.32B to 406.32B
Indonesia:
Consumer Confidence decreased from 121.8 to 118.4
GDP (QoQ) (Q3) decreased from 4.20% to 3.06%
GDP (YoY) (Q3) decreased from 5.05% to 5.02%
Some economic news from today:
India:
Nikkei Services PMI (Oct) increased from 48.7 to 49.2
New Zealand:
GlobalDairyTrade Price Index increased from 0.5% to 3.7%
EUROPE/EMEA:
French President Macron said that the upcoming meeting with China on reducing climate warming emissions is paramount in making a change. Europe and China must be in cooperation, Macron stressed. If they want to be in compliance with the Paris agreement, then everyone will need to enhance their commitments to reduce emissions and confirm new commitments for 2030 and 2050.
Reuters reported that earnings for European based companies have slightly improved for the third quarter. The region is still in a corporate recession according to a report released today. The corporations that make up the composite STOXX 600 index are expected to report a 6.6% decline for the quarter compared to an estimate of 8.4%.
UK service companies have witnessed their seventh monthly decline as the finger is pointed at the uncertainty of Brexit. Export orders were reported experienced turmoil in September and suffered nearly the same in October. Meanwhile, the UK Services PMI reported at 50 as well as the overall composite, indicating zero growth for the region.
Iran will commence injecting gas into centrifuges to further enrich uranium, a feature which was banned under the 2015 nuclear deal. President Rouhani said that the process was reversible if the world leaders come back to the table to uphold their commitments.
Turkey and Russia are coming into an agreement to jointly produce S-400 missile defense systems. The agreement will give Turkey access to technology sharing and joint production. Recently, the US booted Turkey out of their F 35 program, and Turkey is now expressing closer ties with Russian equipment by expressing interest in the Sukhois.
The major Europe stock markets had a green day today:
CAC 40 increased 22.59 points or 0.39% to 5,846.89
FTSE 100 increased 18.39 points, or 0.25% to 7,388.08
DAX 30 increased 12.22 points or 0.09% to 13,148.50
The major Europe currency markets had a mixed day today:
EURUSD decreased 0.0052 or 0.47% to 1.1074
GBPUSD increased 0.0002 or 0.01% to 1.2884
USDCHF increased 0.0050 or 0.51% to 0.9926
Some economic news from Europe today:
France:
French Government Budget Balance increased from -123.1B to -109.9B
Spain:
Spanish Unemployment Change increased from 13.9K to 97.9K
Spanish Consumer Confidence decreased from 80.7 to 73.3
UK:
Composite PMI (Oct) increased from 49.3 to 50.0
Services PMI (Oct) increased from 49.5 to 50.0
Norway:
House Price Index (YoY) (Oct) decreased from 2.60% to 2.40%
Eurozone:
PPI (MoM) (Sep) increased from -0.50% to 0.10%
PPI (YoY) (Sep) decreased from -0.8% to -1.2%
US/AMERICAS:
Both President Trump and President Xi appear poised to sign phase one of the verbal trade agreement. China's end goal, however, is to eliminate all US-imposed tariffs. China is requesting that the US remove the 15% tariff placed on $125 worth of Chinese goods on September 1. Chinese negotiators would also like to receive reimbursement for the 25% tariff that was placed on $250 billion of Chinese goods. Although the US has said they would consider removing the next round of tariffs set for December 15, they seem less likely to fully give into China's demands for free trade. Trump has reiterated that he will not sign an agreement unless it is favorable to the US.
US Commerce Secretary Wilbur Ross voiced optimistic sentiments about US-China trade relations this Tuesday. Ross believes that signing phase one of the trade deal will pave the way for "a much more robust set of agreements." As top trading partners, it would be beneficial for both parties to come to an amicable agreement. "If we resolve phase one, that will calm people down a lot because they'll see an end point is hopefully within sight," Ross said.
The Federal Reserve accepted $71.04 billion bid from primary dealers this Tuesday. Yesterday, the Fed accepted $77.58 billion in repo bids. At the time of this writing, the overnight repo rate stands at 1.65%.
Brazil's President Bolsonaro proposed a constitutional amendment to limit public spending and reverse Brazil's steep budget deficit. Part of the proposal would allow the government to reduce salaries and benefits for public employees, which has unsurprisingly been met with resistance. Bolsonaro also hinted at reducing tax breaks by 10% and liquidating some government funds to pay off public debts. The new government plans to introduce legislation that would completely overhaul the current tax code, but lowering the deficit and attracting foreign investment are the first priorities.
US Market Closings:
Dow advanced 30.52 points or 0.11% to 27,492.63
S&P 500 declined 3.65 points or -0.12% to 3,074.62
Nasdaq advanced 1.48 points or 0.02% to 8,434.68
Russell 2000 advanced 2.21 points or 0.14% to 1,599.61
Canada Market Closings:
TSX Composite advanced 12.11 points or 0.07% to 16,681.92
TSX 60 advanced 0.75 of a point or 0.08% to 998.31
Brazil Market Closing:
Bovespa declined 60.31 points or -0.06% to 108,719.02
ENERGY:
Forbes reported that OPEC are facing troubles as the amount of US shale hitting the markets is reducing their global demand. Over the next decade, the amount of US shares are expected to exceed that of OPEC. Meanwhile, the OPEC group lowered their forecast of the next 12 months, indicating that it has been challenging for the energy markets. The forecast for demand is now set at 104.8 mpd by 2024 and 110.6 by 2040.
The oil markets had a green day today:
Crude Oil increased 0.71 USD/BBL or 1.26% to 57.2066
Brent increased 0.87 USD/BBL or 1.40% to 63.0019
Natural gas increased 0.048 USD/MMBtu or 1.70% to 2.8706
Gasoline increased 0.012 USD/GAL or 0.72% to 1.6767
Heating oil increased 0.0151 USD/GAL or 0.78% to 1.9591
Top commodity gainers: Rubber (2.77%), Coffee (2.07%),Lean Hogs (3.99%), and Steel (3.75%)
Top commodity losers: Gold (-1.63 %), Silver(-2.45%), Lumber (-2.83%), and Bitumen (-1.91%)
The above data was collected around 16:25 EST on Tuesday.
BONDS:
Japan -0.12%(+6bp), US 2's 1.63% (+4bps), US 10's 1.87%(+8bps), US 30's 2.35%(+8bps), Bunds -0.31% (+4bp), France -0.02% (+2bp), Italy 1.13% (+4bp), Turkey 12.39% (+14bp), Greece 1.25% (+5bp), Portugal 0.25% (+1bp), Spain 0.33% (+1bp) and UK Gilts 0.78% (+5bp).
US 52-Week Bill Auction decreased from 1.600% to 1.565%
US 3-Year Note Auction increased from 1.413% to 1.630%