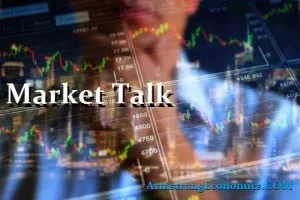 ASIA:
Chinese President Xi Jinping tried to re-assure international businesses that the nation is committed to open trade, amid concerns that the new 'dual circulation' strategy will mean the world's second-largest economy is set to become more insular. Xi speech was closely watched, given the backdrop of the U.S. election result and the shock withdrawal of what would've been the world's biggest stock-market debut, the listing of financial technology giant Ant Group Co. in Shanghai and Hong Kong.
As per IMF's projection, India's real GDP growth is expected to contract 10.3 percent in 2020, which is the highest contraction among the 10 emerging markets. India is also the only economy with a double-digit contraction. On the other hand, China is expected to see 1.9 percent growth, the highest among all of them. At 4.9 percent retail inflation in 2020 will be the highest in India. Inflation has eased in most of the emerging economies, except India. Average inflation during the nine-month period of 2020 has more-than-doubled in India, while in most of the emerging nations it was lower than the same period in 2019.
The major Asian stock markets had a mixed day today:
NIKKEI 225 increased 399.75 points or 1.72% to 23,695.23
Shanghai increased 6.37 points or 0.19% to 3,277.44
Hang Seng decreased 21.59 points or -0.53% to 24,886.14
ASX 200 decreased 4.30 points or -0.07% to 6,062.10
Kospi increased 14.01 points or 0.60% to 2,357.32
SENSEX increased 355.01 points or 0.88% to 40,616.14
Nifty50 increased 95.00 points or 0.80% to 11,908.50
The major Asian currency markets had a negative day today:
AUDUSD decreased 0.00127 or -0.18% to 0.71830
NZDUSD decreased 0.0023 or -0.34% to 0.67037
USDJPY decreased 0.09 or -0.09% to 104.52
USDCNY decreased 0.02845 or -0.43% to 6.62410
Precious Metals:
Gold decreased 5.11 USD/t oz. or -0.27% to 1,903.25
Silver decreased 0.26 USD/t. oz or -1.09%% to 23.902
Some economic news from last night:
China:
Caixin Services PMI (Oct) increased from 54.8 to 56.8
Japan:
Monetary Base (YoY) increased from 14.3% to 16.3%
Hong Kong:
Manufacturing PMI (Oct) increased from 47.7 to 49.8
Australia:
AIG Construction Index (Oct) increased from 45.2 to 52.7
Services PMI decreased from 53.8 to 53.7
Retail Sales (MoM) (Sep) increased from -4.0% to -1.1%
Retail Sales (QoQ) (Q3) increased from -3.4% to 6.5%
New Zealand:
Employment Change (QoQ) (Q3) decreased from -0.4% to -0.8%
Labor Cost Index (YoY) (Q3) decreased from 1.8% to 1.6%
Labor Cost Index (QoQ) (Q3) increased from 0.2% to 0.4%
Participation Rate (Q3) increased from 69.70% to 70.10%
Unemployment Rate (Q3) increased from 4.0% to 5.3%
ANZ Commodity Price Index (MoM) increased from -0.2% to 1.9%
Some economic news from today:
India:
Nikkei Services PMI (Oct) increased from 49.8 to 54.1
EUROPE/EMEA:
The British economy is on course for a double-dip recession this winter, according to data showing growth slowing down in the UK's dominant services sector last month. The latest IHS Markit/Cips monthly survey of the services sector, which accounts for three-quarters of economic activity, showed that a recovery over the summer stalled in October, heaping further pressure on the Bank of England to boost its stimulus program when officials meet this week. The central bank's monetary policy committee meets on Thursday to consider a big injection of funds to support the economy.
More than 4,200 workers are set to lose their jobs as retailers John Lewis and Clarks, Lloyds Banking Group, and a caterer for British Airways added to the already grim picture for the UK's employment prospects, a major online news reported. The latest cuts at John Lewis, Clarks and the airline caterer Do & Co were directly linked to the coronavirus pandemic. John Lewis said it would ax 1,500 jobs at its head office as it tries to save £300m a year in costs and return to profitability. The footwear retailer Clarks is set to cut at least 700 jobs as part of a shake-up of its shop management and store estate. The group is consulting with all 3,969 staff at its 320 UK shops about potential redundancy. About two staff from each store are expected to go.
The major European stock markets had a green day today:
CAC 40 increased 117.24 points or 2.44% to 4,922.85
FTSE 100 increased 96.49 points, or 1.67% to 5,883.26
DAX 30 increased 235.24 points or 1.95% to 12,324.22
The major European currency markets had a mixed day today:
EURUSD increased 0.00127 or 0.11% to 1.17237
GBPUSD decreased 0.01029 or -0.79% to 1.29821
USDCHF increased 0.0014 or 0.15% to 0.91206
Some economic news from Europe today:
France:
French Markit Composite PMI (Oct) decreased from 48.5 to 47.5
French Services PMI (Oct) decreased from 47.5 to 46.5
Germany:
German Composite PMI (Oct) increased from 54.7 to 55.0
German Services PMI (Oct) decreased from 50.6 to 49.5
German Car Registration (MoM) (Oct) decreased from 5.6% to 3.4%
German Car Registration (YoY) (Oct) decreased from 8.4% to -3.6%
Spain:
Spanish Unemployment Change increased from -26.3K to 49.6K
Spanish Services PMI (Oct) decreased from 42.4 to 41.4
Italy:
Italian Composite PMI (Oct) decreased from 50.4 to 49.2
Italian Services PMI (Oct) decreased from 48.8 to 46.7
Norway:
House Price Index (YoY) (Oct) increased from 5.8% to 7.1%
UK:
Composite PMI (Oct) decreased from 56.5 to 52.1
Labour Productivity (Q2) decreased from 0.2% to -1.8%
Services PMI (Oct) decreased from 56.1 to 51.4
Euro Zone:
Markit Composite PMI (Oct) decreased from 50.4 to 50.0
Services PMI (Oct) decreased from 48.0 to 46.9
PPI (MoM) (Sep) increased from 0.1% to 0.3%
PPI (YoY) (Sep) increased from -2.6% to -2.4%
US/AMERICAS:
The results of the 2020 US presidential election remain unclear. The next president will need at least 270 Electoral College votes in order to win the election. Democratic candidate Joe Biden is currently in a narrow lead over sitting President Donald Trump. Wall Street was undeterred by the uncertainty this Wednesday as all major indexes pushed higher.
New Jersey, Montana, South Dakota, and Arizona voted in favor of legalizing marijuana for recreational purposes. Similar to US liquor laws, anyone over the age of 21 will be permitted to use marijuana.  Oregon approved the medicinal use of psilocybin, also known as "magic mushrooms," and decriminalized the possession of hard drugs. The US currently spends around $47 billion annually on the War on Drugs that began under President Reagan. Based on data from 2018, 663,367 were arrested for possessing marijuana equating to 40% of all posession arrests.
Although all the votes have not been counted as of yet, candidates are already calling for recounts. The Trump campaign is requesting an immediate recount for the state of Wisconsin. Bill Stepien, a Trump campaign manager, accused the state of using "ridiculous public polling used as a voter suppression tactic." Stepien admitted that the race for Wisconsin has been "a razor thin race" but claims the president is "well within the threshold to request a recount." It is expected that recounts will be requested in other states as well.
Later in the day, the Trump campaigned filed lawsuits to stop ballots from being counted in Pennsylvania and Michigan unsupervised. The Trump team is demanded access to review those ballots as they "were opened and counted while we did not have meaningful access," which they are legally allowed to access.
Florida has voted to raise the minimum wage to $15 per hour from the previous $8.56 pay. The minimum wage will rise $1 per hour until 2026 when it reaches $15. This is the first minimum wage hike for the state since 2004. The amendment secured 60.8% of the vote on election day. According to the Florida Policy Institute, the amendment will increase the income for 2.5 million workers across the state. California, Connecticut, Illinois, Maryland, Massachusetts, New Jersey, New York, and the District of Columbia all currently have $15 per hour minimum wage laws in place ($31,200 per year).
US Market Closings:
Dow advanced 367.63 points or 1.34% to 27,847.66
S&P 500 advanced 74.28 points or 2.2% to 3,443.44
Nasdaq advanced 430.21 points or 3.85% to 11,590.78
Russell 2000 advanced 0.79 of a point or 0.05% to 1,615.08
Canada Market Closings:
TSX Composite advanced 59.59 points or 0.37% to 15,998.74
TSX 60 advanced 4.1 points or 0.43% to 952.3
Brazil Market Closing:
Bovespa advanced 1,887.1 points or 1.97% to 97,866.81
ENERGY:
The oil markets had a green day today:
Crude Oil increased 1.37 USD/BBL or 3.64% to 39.0300
Brent increased 1.42 USD/BBL or 3.58% to 41.1300
Natural gas increased 0.001 USD/MMBtu or 0.03% to 3.0600
Gasoline increased 0.0279 USD/GAL or 2.59% to 1.1048
Heating oil increased 0.04 USD/GAL or 3.32% to 1.1645
Top commodity gainers: Brent (3.58%), Cheese (9.11%), Crude Oil (3.64%), and Milk (9.81%)
Top commodity losers: Baltic Dry (-3.09%), Silver (-1.09%), Cocoa (-0.61%), and Sugar (-0.48%)
The above data was collected around 16:38 EST on Wednesday.
BONDS:
Japan 0.04%(-0bp), US 2's 0.15% (-2bps), US 10's 0.77%(-11bps);US 30's 1.55%(-11bps), Bunds -0.66% (-4bp), France -0.38% (-4bp), Italy 0.65% (-5bp), Turkey 14.00% (-35bp), Greece 0.94% (+3bp), Portugal 0.08% (-1bp), Spain 0.09% (-2bp) and UK Gilts 0.21% (-6bp).