Blog/Market Talk
Posted Nov 4, 2019 by Martin Armstrong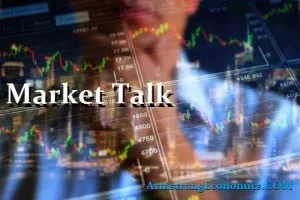 ASIA:
US President Trump signaled on Friday that China wants to make a deal with the US. That the deal could happen in the US, more specifically the state of Iowa, signaling the fact that the trade deal will help farmers the most.
In Japan, Microsoft piloted a 4-day work week and saw productivity jump as much as 40% in some areas. Managers even told staff to limit time spent in meetings and responding to emails. Japan has long had issues with overworking citizens who have been unable to maintain a healthy work-life balance.  Meanwhile, leaders of Japan and South Korea met in an attempt to resolve differences that occurred during a pre-maritime compensation dispute.
Indian Prime Minister Narendra Modi recently addressed Association of Southeast Asian Nations (Asean) Summit in Bangkok. He affirmed his terms for joining Regional Comprehensive Economic Partnership (RCEP), a group of 16 members, and confirmed that India will not join RCEP until its concerns are addressed properly. Indian officials have made it clear that the Modi Administration is unwilling to accept any deadline and wants the country's interest to be fully protected.
Indian negotiators are questioning the design of the trade agreement, which will see elimination of import duties on 80-90 % of goods, along with easier services and investment rules. India has pointed out that its concerns ranging from the base year for tariff reduction to protection against Chinese imports and opening up services sector by the other 15 countries have not been addressed yet. For India, domestic industry fears that lower custom duties will see a flood of imports, especially from China, who India has a massive trade deficit with. India has raised a red flag over the move to use 2014 as the base year for tariff reduction. While RCEP negotiators are seeking to sign the deal in 2020, the new tariff regime will kick in from 2022 and will see duties go back to 2014 levels.
The deal for India to join proposed RCEP has split the 16 members grouping between those who want to toe the Chinese line to close the deal regardless of what India does and those who want India in to balance Chinese dominance. Even as the summit pushes to take a step forward on the project, which aims to create the largest free-trade area in the world between China, India, Japan, Australia, South Korea, and New Zealand. There are reports that negotiations may remain inconclusive and continue over the next few months. India is clear that a mutually beneficial RCEP, in which all sides gain reasonably, is in the interest of all the nations involved in talks.
The major Asian stock markets had a green day today:
Shanghai increased 17.29 points or 0.58% to 2,975.49
Kospi increased 30.04 points or 1.43% to 2,130.24
ASX 200 increased 17.80 points or 0.27% to 6,686.90
NIKKEI 225 closed
Hang Seng increased 446.54 points or 1.65% to 27,547.30
SENSEX increased 136.93 points or 0.34% to 40,301.96
The major Asian currency markets had a mixed day today:
AUDUSD decreased 0.0032 or 0.47% to 0.6881
NZDUSD decreased 0.0036 or 0.55% to 0.6391
USDJPY increased 0.4610 or 0.43% to 108.6310
USDCNY decreased 0.0043 or 0.06% to 7.0353
Precious Metals:
Gold decreased 5.1 USD/t oz. or -0.34% to 1,508.02
Silver decreased 0.0405 USD/t. oz or -0.22%% to 18.0783
Some economic news from last night:
Australia:
MI Inflation Gauge (MoM) remain the same at 0.1%
ANZ Job Advertisements (MoM) decreased from 0.3% to -1.0%
Retail Sales (MoM) (Sep) decreased from 0.4% to 0.2%
Retail Sales (QoQ) (Q4) decreased from 0.2% to -0.1%
Some economic news from today:
Singapore:
Manufacturing PMI (Oct) remain the same at 49.8
EUROPE/EMEA:
UK Politician Nigel Farage officially stated he will be running for the UK general election under the Brexit Party. He reiterated that his party running will help the Conservatives to reach a majority as it did in the last elections under UKIP. He mentioned that Boris Johnson inherited a difficult situation and that he tried his best to improve the situation after inheriting Mrs. May's mess.
EU commission chief suggest that UK PM Boris Johnson told too many lies during the EU campaign referendum and there needed to be a voice from the EU to counter those lies.
In the UK, another distinct High Street brand if failing only weeks after Thomas Cook filed for bankruptcy. Mothercare, which offers paternity and baby clothes, has now entered into administration with the possibility of losing 2,500 jobs. The business has 79 shops in operation and lost 36m GBP last year.
A German study suggest that in 20 years, one in three people will have migrant roots according to news outlet DW. German chancellor Angela Merkel recently suggested the mass immigration policy was a mistake.
The Iranian enrichment of Uranium has spiked 10 times in the past two months since the US broke the nuclear agreement with Iran. The Guardian reported that the Iranian atomic energy head suggested that the enrichment is now around 5kg per day up from 450 grams. The EU is still trying to put a plan together to bring Iran back to the table.
Turkish President Erdogan is expected to meet with US President Trump next week in Washington, but some reports suggest that they may call it off after US officials acknowledged Turkey responsible for the genocide in Armenia.
The major Europe stock markets had a green day today:
CAC 40 increased 62.42 points or 1.08% to 5,824.30
FTSE 100 increased 67.27 points, or 0.92% to 7,369.69
DAX 30 increased 175.23 points or 1.35% to 13,136.28
The major Europe currency markets had a mixed day today:
EURUSD decreased 0.0038 or 0.34% to 1.1127
GBPUSD decreased 0.0049 or 0.38% to 1.2885
USDCHF increased 0.0026 or 0.26% to 0.9880
Some economic news from Europe today:
Swiss:
SECO Consumer Climate (Q4) decreased from -11 to -17
Spain:
Spanish Manufacturing PMI (Oct) decreased from 47.7 to 46.8
Italy:
Italian Manufacturing PMI (Oct) decreased from 47.8 to 47.7
France:
French Manufacturing PMI (Oct) ncreased from 50.1 to 50.7
Germany:
German Manufacturing PMI (Oct) increased from 41.7 to 42.1
Euro Zone:
Manufacturing PMI (Oct) increased from 45.7 to 45.9
Sentix Investor Confidence (Nov) increased from -16.8 to -4.5
UK:
Construction PMI (Oct) increased from 43.3 to 44.2
US/AMERICAS:
The bulls were charging this Monday after the Dow, S&P 500, and Nasdaq all reached new highs. Energy companies boosted the S&P 500 with Cimarex (7.03%), Pioneer Natural Resources (6.66%), Devon Energy (6.61%), and Noble Energy (6.49%) all reporting significant gains. Chevron (4.61%) led the advance in the Dow today followed by Walgreens (3.96%), ExxonMobil (2.97), and 3M (2.83%). Netease (6.28%) led Nasdaq's rally followed by JDcom (5.18%), Baiducom (4.76%), and Xilinx (4.24%).
Mcdonald's Corp. stock declined -2.72% this Monday after the CEO was fired for having consensual relations with an employee. C-level changes often cause uncertainty in the direction of a company. Piper Jaffray announced a downgraded rating for McDonalds from "overweight" to "neutral," and lowered their stock price target from $224 to $195. Ousted CEO Steve Easterbrook will receive a severance package of $675,000 and will maintain his $37 million holding in the company.
Canada's Green Party leader Elizabeth May resigned this Monday. After maintaining her role for 13 years, May reportedly promised her daughter that she would step down in 2019. Furthermore, May wanted to ensure that her party had growing momentum before leaving her position. ""We achieved more than one million votes for the first time ever," May told reporters.
Wexit Alberta, a separatist movement seeking to separate Alberta and segments of western Canada from the rest of the country, filed official paperwork this Monday to become a recognized political party. Wexit movement members claim that the east is financially dependent on their oil, yet they do not consider them when implementing policies. Alberta Premier Jason Kenney said he does not support the movement, however, there are loud demands for him to become the first prime minister of Alberta.
Brazil is benefiting from China's African swine fever epidemic that has depleted nearly half of the country's hogs. Seven meat processing plants in Santa Catarina, Brazil, were approved for pork exportation to China effective immediately.
US Market Closings:
Dow advanced 114.75 points or 0.42% to 27,462.11
S&P 500 advanced 11.36 points or 0.37% to 3,078.27
Nasdaq advanced 46.80 points or 0.56% to 8,433.20
Russell 2000 advanced 8.07 points or 0.51% to 1,597.40
Canada Market Closings:
TSX Composite advanced 75.74 points or 0.46% to 16,669.81
TSX 60 advanced 4.61 points or 0.46% to 997.56
Brazil Market Closing:
Bovespa advanced 583.70 points or 0.54% to 108,779.33
ENERGY:
Crude oil extended its gains today with increasing speculation of global demand after positive talks between the US and China. As a backdrop, the well anticipated IPO of Saudi Aramco is finally coming to fruition after the company officially announced they will be listing shares on the Tadawul Exchange (Saudi local).
The oil markets had a green day today:
Crude Oil increased 0.26 USD/BBL or 0.46% to 56.5372
Brent increased 0.36 USD/BBL or 0.58% to 61.9282
Natural gas increased 0.105 USD/MMBtu or 3.87% to 2.8198
Gasoline increased 0.0097 USD/GAL or 0.59% to 1.6687
Heating oil increased 0.0089 USD/GAL or 0.46% to 1.9419
Top commodity gainers: Natural Gas (3.87%), Palm Oil (1.98%), Bitumen (1.07%), and Ethanol (0.62 %)
Top commodity losers: Oat (-2.86 %), Palladium (-1.53%), Corn (-1.41%), and Platinum (-1.14%)
The above data was collected around 15:45 EST on Monday.
BONDS:
Japan -0.18%(-4bp), US 2's 1.60% (+3bps), US 10's 1.79%(+6bps), US 30's 2.27%(+6bps), Bunds -0.35% (+3bp), France -0.04% (+2bp), Italy 1.08% (-2bp), Turkey 12.25% (-34bp), Greece 1.23% (-42bp), Portugal 0.25% (+4bp), Spain 0.32% (+3bp) and UK Gilts 0.71% (+5bp).
French 3-Month BTF Auction increased from -0.682% to -0.629%
French 6-Month BTF Auction increased from -0.645% to -0.632%
French 12-Month BTF Auction increased from -0.648% to -0.628%
US 3-Month Bill Auction decreased from 1.620% to 1.520%
US 6-Month Bill Auction decreased from 1.610% to 1.535%