Blog/Market Talk
Posted Nov 4, 2016 by Martin Armstrong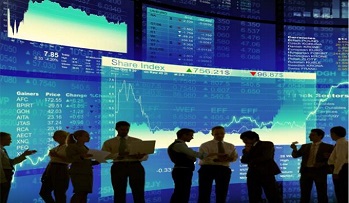 As Japan was on holidays Thursday it was today that the Nikkei cash market caught up with yesterdays futures decline. With the market still nervous surrounding the FBI's investigations ahead of the US elections, coupled with todays release of the Non-Farms Payrolls prices were hit closing down 1.4% on the day way before numbers were released. This move is probably catching the Yen's rally as we trade mid 102's. Both Shanghai and HSI saw their move yesterday and so was relatively calm closing almost unchanged at down 0.1%. Oil traded heavy throughout the Asian session also closing below the psychological $45 level. Gold saw the safe-haven bid closing a little over the $1300 level. HSI futures lost more ground late in the US session and were last seen -0.75% influenced heavily by European weakness. Both the Nikkei and China 300 futures were little changed.
You can feel the uncertainty in markets in Europe and especially for Friday trading ahead of any weekend news. All core exchanges were lower with DAX, and CAC down 0.5% and IBEX and FTSE 0.75% ahead of the release. All week we have had the data releasing earlier than usual due to the different dates for clock changes (US changes Nov 6th). This week London has been working on short-lunches as data is released at 12:30 rather than the usual 13:30. So, fortunately, dealers did not have to wait long before we saw the 165k NFP with a drop in the rate to 4.9% and a 0.4% increase in average hourly workings. Despite many calling this a reasonable jobs report European markets continue to drift, oil trades below $44 and earlier rumors from Turkey that they are blocking social media sites after reports that 11 members of the HDP were being detained. In late trading the Turkish Lira was trading down around 1.9% on the day.
By the close of Europe FTSE had fallen near 1.5% with DAX and IBEX both closed down near 0.7%, whilst the CAC fell just 0.6%. Oil was blamed a lot for these declines, last seen trading $43.75 (-1.5% today) after rumors hit that Saudi may ignore OPEC and increase output. Eventually, stocks lost early gains to close lower in anticipation of the volatility already built for next week.
Buyers moved back into core bond markets today taking the curves flatter with lower yields all-round. 2's were only 1bp lower at 0.80% while US 10's closed 3bp lower at 1.78% that puts 2/10's at +98bp. In Europe the 10yr Bund closed -2bp at 0.135% which closes the US/Germany spread at +164.5bp. The peripherals lost ground along with confidence and so we saw closes wider with Italy at 1.75% (+6bp), Greece 7.63% (-2bp), Turkey +20bp at 10.12% as cash leaves the country given the uncertainty surrounding the domestic situation. Portugal 3.26% (+4bp) and UK Gilts 1.13% (-7bp).