Blog/Market Talk
Posted Nov 29, 2018 by Martin Armstrong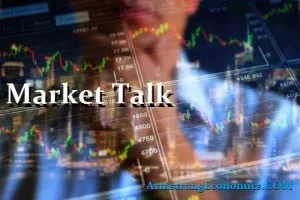 The Shanghai index managed to hold onto gains for longer than the Hang Seng, but eventually both closed negative. Talk is, that a US/China Trade deal would be forthcoming but with a distinct lack of detail and a possible misinterpretation by markets. Core Shanghai reacted most with a 1.3% decline, while Hong Kong held in a little better but still closed down -0.87%. In Japan the Nikkei opened over 1% higher, but tended to drift the balance of the day. Managing a close in positive (+0.39%) it was complemented by a rallying Yen (+0.25%). Given that we have now heard from Fed Chair last evening, many markets are re-pricing their forward curves. The US has subsequently now priced for just one hike in 2019 and so bonds, FX and Commodities are pricing accordingly. The INR gained almost 1% in todays trading also providing a positive 1.25% boost for the SENSEX.
All core European indices opened strong, following-on from the huge relief US rally. However, similar to the Asian flow values tended to drift as the day progressed. Both the CAC and UK FTSE finished trading with a +0.5% return, this tended to reflect weaker currencies as the Dollar bounced back. The DAX had its own issues after headlines broke that Deutsche Bank's Frankfurt offices, were being raided by German police on alleged money laundering claims. DB shares closed the day off 3.5% which puts the YTD figure at around -50%. Worth remembering that in 2007 and prior to the financial crisis the price hit 120, while tonight they were last traded on the NYSE at $9.43. All this comes as talk of more senior staff redundancies circle the trading floors. In late evening trading, European futures are trending firmer as US indices turn positive. European bonds rallied on the comfort the US would be less of a spread burden, but it does looks as though the market remains broken.
Following Wednesdays 2.5% rally for US stocks, many were expecting a little correction, especially as futures were indicating a lower opening. However, cash buyers were again out in force as rumours of rocky trade deals, additional tariffs and December rate hikes were largely ignored. Admittedly, we did not see the chase for stock we witnessed yesterday, but the demand was present non-the-less. After a small +0.25% rally late afternoon, all core indices closed just a touch lower across the board. Treasuries held in well and even saw short-covering at the long end as the market interprets a one and done for December and only one hike being priced-in for 2019. Lets see what we actually hear from G20 rather than simply speculate!
Japan 0.07%, US 2's closed 2.81% (u/c), US 10's closed 3.03% (-2bp), US 30's 3.32% (-2bp), Bunds 0.32% (-3bp), France 0.69% (-4bp), Italy 3.20% (-5bp), Turkey 15.85% (-35bp), Greece 4.23% (-7bp), Portugal 1.82% (-4bp), Spain 1.50% (-4bp) and UK Gilts 1.36% (-1bp).