Blog/Market Talk
Posted Nov 29, 2017 by Martin Armstrong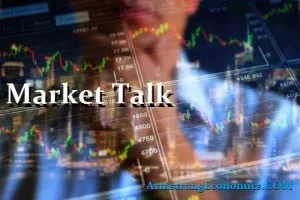 Asia performed well overnight following on from a strong US session. The Nikkei opened strong and remained well bid into the close. The Yen fell towards the high 111's a loss of around +0.3% on the day. The North Korean missile test with it apparently falling into Japanese waters, was quickly ignored even given the seriousness of the incident. Financials and exporters all leading the rally with futures continuing the trend into US trading hours. We saw moves off-set between the Hang Seng and Shanghai interestingly with financials the worst performers. As commodities gained then so did the Australian ASX closing +0.5% better on the day.
Top talking points for Europe today were the UK's rumoured BREXIT deal – expectedly Euro 50bn, and Germany's strong inflation print. UK's Sterling rallied on the talk of an agreed amount taking the currency up to the 1.34 level but obviously made the FTSE a little heavy even closing on the days low. Then, we saw Germany's CPI printed 0.1% firmer at 1.8% than many had expected and resulted in higher core and periphery yields. Although this was encouraging for core the Spanish number fell below expectation at 1.7% against a forecast 1.9%. Gilts were heavily hit as can be evidenced by the list below. the collective Eurozone number is due Thursday. Financials have bounced back recently but the concerns remain even if that is not in todays price. The behind the scenes rumours around OPEC are starting to have a direct impact on the price. Talk that there maybe a lack of consensus resulted with a 1% decline in WTI.
Another day and another record with financials leading the DOW, worth a quick note that retailers are also joining the fun. Q3 GDP showed that the economy expanded by 3.3% exceeding market expectations of a 3% number. Still a lot of fun and games in Bitcoin having broken above the 10k level we quickly saw a run up through 11k only to fade into the close, coincidentally just after the BOE official said investors should do their homework. Word of warning that the NASDAQ's performance did not inspire a jump on-board approach and as we are at numbers forecast seven years ago – maybe time for a rest. Yellen also commented on concerns the economy could get out of hand and is wary of creating a boom/bust approach.
2's closed 1.77% (+2bp), 10's 2.38% (+5bp), 30's 2.82% (+5bp), Bunds 0.39% (+4bp), France 0.71% (+4bp), Greece 5.23% (u/c), Turkey 12.27% (+10bp), Portugal 1.91% (+2bp), Spain 1.48% (+3bp), and Gilts 1.34% (+9bp).