Blog/Market Talk
Posted Nov 28, 2017 by Martin Armstrong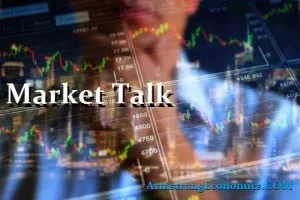 Asia responded to an uncertain US session with its own uncertainty! The Nikkei was almost unchanged despite the move back into the Yen. The currency traded back toward the 111 level but stopped shy by only a few Sen. The Hang Seng alos closed almost unchanged but we saw a small positive move back for the Shanghai (+0.3%). The KOPSI also managed a small bounce after yesterdays sever loss closing +0.25% firmer. With little to really write home about, lets move to later in the day.
As far as headlines go we should really look at the UK's FTSE as a gain of 1% looks impressive. However, what we should state is that the currency (GBP) was lower (-0.5%) in the trading day but rallied late on news of a possible 'divorce' settlement with the European Union. Talk is late that they may have settled on a Euro 60bn figure but talk is just talk until clarified. Stocks have not had the chance to move on the rumour so will be interesting to see how we open on Wednesday. The CAC and DAX were both around +0.4% firmer on the day but were led by yet more US sentiment. UK banks were trading better as BOE stress tests appeared good. Even with all of this a major topic remained the US tax reform bill due Thursday.
Yet more records were set for the DOW and S+P on Tuesday with the DOW adding close to 200 points until news broke of the North Korean missile. In late trading we heard that North Korea had fired a missile that landed in in waters just off of Japan. This news took over 100 points back but at the same time volumes thinned. However, even this was short-lived and buyers flocked back as quickly as they fled. By the close we were setting historical records with volumes very much back in fashion. Finally, we have reached our 2017 target so lets see what month end numbers bring us.
2's closed 1.75% (u/c), 10's at 2.33% (u/c), 30's 2.77% (u/c), Bunds 0.35% (+1bp), France 0.67% (u/c), Greece 5.23% (u/c), Turkey 12.17% (+8bp), Portugal 1.89% (u/c), Spain 1.45% (-1bp) and Gilts 1.25% (u/c)