Blog/Market Talk
Posted Nov 28, 2018 by Martin Armstrong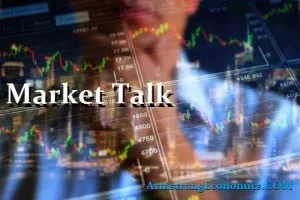 Asian markets were buoyant in the hope the meeting between USA and China over the next few days would prove fruitful. Early losses were quickly reversed leading to 1% gains for both Shanghai and the Hong Kong's Hang Seng indices. The Nikkei gained strength throughout the day, but should be viewed together with a weakening currency. The Yen did drift precariously into a 114 handle, but was not to last following late US comments from FED Chair Jerome Powell. Interesting that although most currencies gained against the US Dollar, the Chinese CNY showed little movement.
Europe looked to suffer from capital flight as it appears to drift into BREXIT, G20, Italian budget and the FED Chairs after hours speech. Although core indices did trade higher for much of the day, they couldn't quite hold it for the close. A lack of positivity tends to overhang European markets as they try to battle the capital flight and react to indirect effects. In late US trading the FED Chairs comments has hit the US Dollar on remarks they are approaching a more neutral stance. Additional late comments were heard from BOE Governor, Mark Carney, as he warned of potentially severe economic slump. This headline, coupled with Jerome Powell's remarks saw the Dollar hit against the Euro, Sterling and Yen. We need to see this currency affect on European cash trading tomorrow but futures are indicating a near 1% positive opening.
US stocks were trading higher just after the opening but it took Powell's comments to really set the market racing. Remarks that rates are "just below" neutral were a change from recent comments and acted like a green light for stocks. The market is yet to come to terms with rising rates being good news for stocks and so today was almost a nostalgic boost. We subsequently saw the best rally in nearly eight months as the DOW gained over 2.5%. It was another bad day for the price of oil that again saw prices falling. Inventories and OPEC uncertainty encouraged sellers to chase the price down 2.5% and settling only just with a $50 handle. NASDAQ performed the best with a bounce of 2.5% reclaiming some of its recent losses. BITCOIN rallied over 15% to return the best day in 2018 so far.
Japan 0.09%, US 2's closed 2.81% (-2bp), US 10's closed 3.05% (-1bp), US 30's 3.34% (+2bp), Bunds 0.35% (u/c), France 0.73% (u/c), Italy 3.25% (-3bp), Turkey 16.20% (+12bp), Greece 4.30% (-1bp), Portugal 1.86% (-1bp), Spain 1.54% (-1bp) and Gilts 1.37% (-2bp).