Blog/Market Talk
Posted Nov 27, 2019 by Martin Armstrong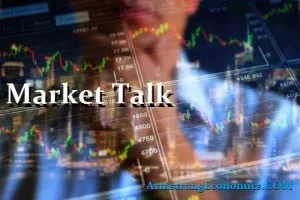 ASIA:
Chinese economic news today showed that industrial profits have had the biggest fall since 2011 in October. The trade war is the obvious culprit here with the global economy turning down. The industrial profits are down 9.9% year-over-year, and down 5.3% from September alone.
US President Trump announced that he and President Xi of China want things to go well in Hong Kong. He also touched upon the progress of the trade deal and said it is in its "final throes," but mentioned that the Hong Kong ordeal is also very important. Recently, China was angered due to their analysis that external countries are interfering directly or indirectly using focus groups in their matters. Recent elections show that 90% of the votes were for pro-democracy groups, with the Chinese calling the votes as skewed and a step back for true democracy.
Singapore's government has requested an opposition politician to correct a Facebook statement which was deemed to be "fake news" under a new law POFMA (Protection from Online Falsehoods and Manipulation Act), which came into force in October. The post was regarding the current government's spending habits.
Malaysia has won a ruling in a London court; the verdict will allow the dispute between 1MDB and Abu Dhabi state investment fund to be heard in a public hearing. Malaysia is seeking to recoup 3.5 billion USD of state funds which they claim were stolen.
The major Asian stock markets had a mixed day today:
Shanghai decreased 3.87 points or -0.13% to 2,903.19
Kospi increased 6.50 points or 0.31% to 2,127.85
ASX 200 increased 63.10 points or 0.93% to 6,850.60
NIKKEI 225 increased 64.45 points or 0.28% to 23,437.77
Hang Seng increased 40.08 points or 0.15% to 26,954.00
SENSEX increased 199.31 points or 0.49% to 41,020.61
The major Asian currency markets had a mixed day today:
AUDUSD decreased 0.0010 or 0.15% to 0.6777
NZDUSD decreased 0.0007 or 0.10% to 0.6420
USDJPY increased 0.5090 or 0.47% to 109.5870
USDCNY decreased 0.0003 or 0.00% to 7.0143
Precious Metals:
Gold decreased 6.05 USD/t oz. or -0.41% to 1,457.18
Silver decreased 0.1152 USD/t. oz or -0.67%% to 16.9453
Some economic news from last night:
China:
Chinese Industrial profit (YoY) (Oct) decreased from -5.30% to -9.90%
Chinese Industrial profit YTD (Oct) decreased from -2.1% to -2.9%
South Korea:
Consumer Confidence (Nov) increased from 98.6 to 100.9
New Zealand:
Exports (Oct) increased from 4.36B to 5.03B
Imports (Oct) increased from 5.68B to 6.05B
Trade Balance (YoY) (Oct) increased from -5,330M to -5,040M
Trade Balance (MoM) (Oct) increased from -1,319M to -1,013M
Australia:
Construction Work Done (QoQ) (Q3) increased from -3.8% to -0.4%
EUROPE/EMEA:
The EU is planning to establish a carbon border tax that could increase the price of goods from countries that do not adhere to strict practices when it comes to action against climate change. China responded stating that the EU's new rules could hinder global willingness to take joint action to tackle climate change.
According to a defense think tank, British ground forces stationed in Eastern Europe would be "comprehensively outgunned." The report suggested that there is a critical shortage of artillery and ammunition for both the British army as well as NATO. Meanwhile, Turkey is refusing to back NATO's plans for further security in Poland and the Baltics, as they seek more assurances and support with their mission in Northern Syria against the Kurdish YPG militia. Turkey has recently gone into an agreement with Qatar to establish a base there with 5000 troops, the two countries labeled this as a "symbol of brotherhood".
Large unrest had been occurring in Iran, with 731 banks and 140 government sites being burned, in addition to 50 bases and 70 gas stations that were also damaged. The unrest broke out when the government raised prices of oil by 50% due to the ongoing sanctions the country faces. The Iranian government was also quick to blackout the internet. It is thought that 143 people died and more than 7000 people were arrested, with this being one of the worst anti-government protests since 2009. The Iranian Supreme Leader later stated that the protests were a conspiracy against the country by the US.
The major Europe stock markets had a mixed day today:
CAC 40 decreased 2.78 points or -0.05% to 5,926.84
FTSE 100 increased 26.64 points, or 0.36% to 7,429.78
DAX 30 increased 50.65 points or 0.38% to 13,287.07
The major Europe currency markets had a mixed day today:
EURUSD decreased 0.0021 or -0.19% to 1.10010
GBPUSD increased 0.0044 or 0.34% to 1.2906
USDCHF increased 0.0020 or 0.20% to 0.9996
Some economic news from Europe today:
UK:
BRC Shop Price Index (YoY) decreased from -0.4% to -0.5%
Germany:
German Import Price Index (MoM) (Oct) decreased from 0.6% to -0.1%
German Import Price Index (YoY) (Oct) decreased from -2.5% to -3.5%
Swiss:
ZEW Expectations (Nov) increased from -30.5 to -3.9
Norway:
Unemployment Rate (Sep) increased from 3.7% to 3.9%
France:
French Consumer Confidence (Nov) increased from 104 to 106
France Jobseekers Total increased from 3,326.7K to 3,330.7K
Italy:
Italian Business Confidence (Nov) decreased from 99.5 to 98.9
Italian Consumer Confidence (Nov) decreased from 111.5 to 108.5
US/AMERICAS:
We would like to wish all our US readers a happy Thanksgiving!
According to the Federal Reserve's Beige Book report, the US economy "expanded modestly" from October to mid-November at a steady pace. However, most districts reported no growth in manufacturing, although overall figures are up from the previous period. Nonfinancial services "remained quite positive," while the banking sector "indicated continued but slightly slower growth in loan volumes." Employment remains strong, despite "tight" labor markets which the Fed says is due to a lack of qualified job applicants. Energy and the service sector were mainly flat or slightly up throughout the districts. "Outlooks generally remained positive, with some contacts expecting the current pace of growth to continue into next year," the report stated.
Despite the US government's claims that the Chinese tariffs would not impact American consumers, the Fed stated in their overview that "a few districts noted that companies affected by the tariffs were more inclined to pass on cost increases." Prices overall advanced modestly with mixed reviews on selling prices.
The US economy grew by 2.1% during the third quarter, according to data released by the Commerce Department this Wednesday. The growth was slightly better than analysts' expectations of 1.9%. Analysts have mixed forecasts in regards to the current quarter, with some expecting a slowdown due to the ongoing trade war while others foresee the slowdown being overshadowed by holiday consumer spending.
US retailers are gearing up for two of the busiest shopping days of the year – Black Friday and Cyber Monday. According to the National Retail Federation (NRF), over 165 million Americans shopped either online or in stores last Black Friday with the average person spending $313.29 over the five-day window from Thanksgiving to Cyber Monday. Online shopping has become increasingly popular. Last year, consumers spent $6.2 billion online on Black Friday and another $7.9 billion on Cyber Monday. Numerous companies are relying on a strong performance this weekend to meet their year-end goals. "Retail is the nation's largest private-sector employer, supporting one in four U.S. jobs — 42 million working Americans. Contributing $2.6 trillion to annual GDP, retail is a daily barometer for the nation's economy," the NRF stated on their website.
US Market Closings:
Dow advanced 42.32 points or 0.15% to 28,164.00
S&P 500 advanced 13.11 points or 0.42% to 3,153.63
Nasdaq advanced 57.24 points or 0.66% to 8,705.17
Russell 2000 advanced 9.87 points or 0.61% to 1,634.10
Canada Market Closings:
TSX Composite advanced 64.69 points or 0.38% to 17,100.57
TSX 60 advanced 3.80 points or 0.37% to 1,022.95
Brazil Market Closing:
Bovespa advanced 648.35 points or 0.61% to 107,707.75
ENERGY:
The American Petroleum Institute estimated that there will be an inventory build of around 3.6 million barrels for the week ending Nov 21, compared to expectations of a 0.42 million barrel draw. The upcoming OPEC meeting is set to take place in December where the members will agree upon the amount of production OPEC will set.
The oil markets had a mixed day today:
Crude Oil decreased 0.2244 USD/BBL or -0.38% to 58.0213
Brent increased 0.0273 USD/BBL or  0.04% to 64.0016
Natural gas decreased 0.0329 USD/MMBtu or -1.30% to 2.4971
Gasoline decreased 0.0186USD/GAL or -1.10% to 1.6760
Heating oil decreased 0.0069 USD/GAL or -0.35% to 1.9526
Top commodity gainers: Ethanol (9.45%),Rubber(2.02%),Live Cattle(1.50%), and Coffee(1.38%)
Top commodity losers: Cocoa(-4.36%), Coal(-2.04%), Platinum (-1.50%), and Natural Gas(-1.30%)
The above data was collected around 15:45 EST on Wednesday.
BONDS:
China raised 6 Billion USD in the largest international bond sale. The 3-year issue at 35 basis points above US Treasury bonds, 5-year at 40 bps, 10-year at 50bps, and 20-year at 70bps, with the Chinese happy to take advantage of cheap financing.
Japan -0.11%(-1bp), US 2's 1.62% (+3bps), US 10's 1.77%(+3bps), US 30's 2.19%(+1bps), Bunds -0.37% (+1bp), France -0.06% (+0bp), Italy 1.33% (+6bp), Turkey 12.24% (+6bp), Greece 1.45% (+4bp), Portugal 0.38% (+1bp), Spain 0.42% (+1bp) and UK Gilts 0.67% (+2bp).
German 5-Year Bobl Auction decreased from -0.580% to -0.600%
Italian 6-Month BOT Auction decreased from -0.213% to -0.215%