Blog/Market Talk
Posted Nov 26, 2019 by Martin Armstrong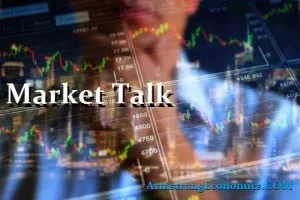 ASIA:
Top US and Chinese negotiators held an agreement this morning regarding the trade war. The Chinese commerce ministry said they have reached a "common understanding." They also jointly stressed that they are working on resolving core issues of common concern, and that communication will be open for the remaining issues related to "phase one."
Alibaba debuted its Hong Kong listing and the price shot up almost 8% during the trading day, giving some credibility back to Hong Kong after weeks of protests. Meanwhile in Hong Kong, pro-democracy/anti-establishment won big in the elections and put more pressure on Hong Kong.
The UK pleaded with China to allow the UN into China to assess the conditions the Uighur's live-in detention camps in the Xinjiang region.
The major Asian stock markets had a mixed day today:
Shanghai increased 0.89 points or 0.03% to 2,907.06
Kospi decreased 2.15 points or -0.10% to 2,121.35
ASX 200 increased 56.10 points or 0.83% to 6,787.50
NIKKEI 225 increased 80.51 points or 0.35% to 23,373.32
Hang Seng decreased 79.12 points or -0.29% to 26,913.92
SENSEX decreased 67.93 points or -0.17% to 40,821.30
The major Asian currency markets had a mixed day today:
AUDUSD increased 0.0011 or 0.16% to 0.6787
NZDUSD increased 0.0013 or 0.20% to 0.6427
USDJPY increased 0.0650 or 0.06% to 109.0480
USDCNY decreased 0.0158 or 0.22% to 7.0152
Precious Metals:
Gold increased 7.05 USD/t oz. or 0.48% to 1,464.11
Silver increased 0.2173 USD/t. oz or 1.29%% to 17.0978
Some economic news from last night:
Japan:
Corporate Services Price Index (CSPI) (YoY) increased from 0.5% to 2.1%
New Zealand:
Core Retail Sales (QoQ) increased from 0.3% to 1.8%
Retail Sales (QoQ) (Q3) increased from 0.2% to 1.6%
Retail Sales Quarterly Vs. Year Ago (Q3) increased from 2.9% to 4.5%
Some economic news from today:
Japan:
BoJ Core CPI (YoY) remain the same at 0.3%
Singapore:
Industrial Production (MoM) (Oct) decreased from 4.0% to 3.4%
Industrial Production (YoY) (Oct) increased from 0.7% to 4.0%
Hong Kong:
Exports (MoM) (Oct) decreased from -7.3% to -9.2%
Imports (MoM) (Oct) decreased from -10.3% to -11.5%
Trade Balance increased from -31.6B to -30.6B
EUROPE/EMEA:
The idea of an independent Scotland is resurfacing. Nicola Sturgeon, the Scottish first minister, suggested that it would be "quick" to rejoin the EU. Nicola Sturgeon wants a new independence vote to be held in 2020, with the majority of Scottish nationals against the UK breaking away from the EU.
According to Reuters, high-level EU advisory groups are encouraging the new incoming executive to push for a global carbon pricing system, which pushes for a net-zero emission economy by 2050.
In the UK, the Labour Party has pushed for street music artists to promote the youth to vote for them at the upcoming election. The results coming in show a 200% increase in young voters after a few UK rap artists expressed support for the Labour camp. Meanwhile, a top UK rabbi has asked for the Jewish communities to support Conservatives and UK PM Boris Johnson.
Perhaps the largest jewelry theft took place in Dresden, Germany. It is thought that a billion euros worth of treasures could have been stolen.
The major Europe stock markets had a mixed day today:
CAC 40 increased 4.77 points or 0.08% to 5,929.62
FTSE 100 increased 6.85 points, or 0.09% to 7,403.14
DAX 30 decreased 10.03 points or -0.08% to 13,236.42
The major Europe currency markets had a mixed day today:
EURUSD increased 0.0012 or 0.11% to 1.1023
GBPUSD decreased 0.00336 or -0.26% to 1.28654
USDCHF increased 0.0002 or 0.02% to 0.9969
Some economic news from Europe today:
Germany:
GfK German Consumer Climate (Dec) increased from 9.6 to 9.7
Swiss:
Employment Level (Q3) increased from 5.109M to 5.137M
Italy:
Italian Trade Balance Non-EU (Oct) increased from 1.53B to 5.97B
UK:
Gross Mortgage Approvals decreased from 42.3K to 41.2K
Steel Production (Metric Ton) (Oct) increased from 590.10K to 620.80K
US/AMERICAS:
US indexes hit new highs for the second consecutive day. The Dow Jones was led by Merck (1.90%), Proctor & Gamble (1.42%), Disney (1.28%), and Coca-Cola (1.28%). Best Buy jumped by 9.8%, leading the way for the S&P 500, followed by Under Armour (UA; 5.04%), Under Armour (UAA; 3.69%), and Chipotle (3.68%). The Nasdaq advanced after seeing strong performances by Intuit (3.32%), Netease (3.26%), Cintas (2.06%), and Ulta (2.06%).
Fed Governor Lael Brainard is urging the Federal Reserve to move away from the 2% target to a "flexible" rate of inflation. "I prefer a more flexible approach that would anchor inflation expectations at 2% by achieving inflation outcomes that average 2% over time or over the cycle," Brainard stated during a speech to the New York Association of Business Economics. Her idea involves allowing inflation to exceed the Fed's target for a similar amount of time that is remained below target. The governor also suggested placing yield caps on bond issues in the event of short-term rates reaching zero. "The combination of a commitment to condition liftoff on the sustained achievement of our employment and inflation objectives with yield curve caps targeted at the same horizon has the potential to work well in many circumstances," Brainard stated.
The White House was placed on a thirty-minute security lockdown this morning after an unknown aircraft flew close to the building. The North American Aerospace Defense Command noted that the aircraft was not considered a hostile threat. A Secret Service member told the media that the lockdown occurred as a standard precaution.
US Secretary of State Mike Pompeo announced that the US will continue to place sanctions on Iranian officials responsible for human rights violations. Pompeo said that he has received over 20,000 reports from Iranian citizens citing various abuses of humanity. "We will continue to sanction Iranian officials who are responsible for these human rights abuses," the secretary said.
US Market Closings:
Dow advanced 55.21 points or 0.20% to 28,121.68
S&P 500 advanced 6.88 points or 0.22% to 3,140.52
Nasdaq advanced 15.44 points or 0.18% to 8,647.93
Russell 2000 advanced 2.33 points or 0.14% to 1,624.23
Canada Market Closings:
TSX Composite advanced 3.02 points or 0.02% to 17,035.88
TSX 60 declined 0.15 of a point or -0.01% to 1,019.15
Brazil Market Closing:
Bovespa declined 1,364.53 points or -1.26% to 107,059.40
ENERGY:
Crude oil pushed up slightly after some optimism over the US-China trade war. Meanwhile, for the first time in US history, the US has exported more oil than it imported for the months of October and September. This marks a very important point in US energy history as they press to be a global exporter of energy.
The oil markets had a mixed day today:
Crude Oil increased 0.4248 USD/BBL or 0.73% to 58.3300
Brent increased 0.6675 USD/BBL or 1.05% to 64.1399
Natural gas decreased 0.05 USD/MMBtu or -2.11% to 2.4598
Gasoline increased 0.0284USD/GAL or 1.69% to 1.7061
Heating oil increased 0.0163 USD/GAL or 0.84% to 1.9627
Top commodity gainers: Cocoa (2.19%), Gasoline (1.69%), Silver (1.29%), and Baltic Dry (5.55%)
Top commodity losers: Lumber (-3.37%), Ethanol (-2.12%), Natural Gas (-2.11%), and Coffee (-1.99%)
The above data was collected around 15:30 EST on Tuesday.
BONDS:
Japan -0.10%(-1bp), US 2's 1.58% (-3bps), US 10's 1.74%(-3bps), US 30's 2.17%(-3bps), Bunds -0.37% (-2bp), France -0.06% (-2bp), Italy 1.29% (+2bp), Turkey 12.18% (+0bp), Greece 1.42% (+1bp), Portugal 0.38% (+0bp), Spain 0.41% (-1bp) and UK Gilts 0.65% (-4bp).
US 5-Year Note Auction increased from 1.570% to 1.587%