Blog/Market Talk
Posted Nov 25, 2019 by Martin Armstrong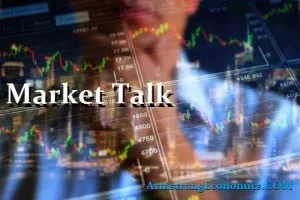 ASIA:
The recent elections in Hong Kong have given a landslide victory to pro-democratic parties. However, Beijing reiterated that Hong Kong will always be ruled by China. The foreign minister said at a G20 meeting in Tokyo, "No matter how the situation in Hong Kong changes, it is very clear that Hong Kong is a part of Chinese territory." But surely this vote will fan the flames of protests.
During the G20 meeting Japanese Foreign Minister Toshimitsu Motegi stressed that it is important that Hong Kong remains prosperous under the "one country, two systems" model for the benefit of the region as a whole.
Just as signs were showing that the South Korean and Japanese relations were improving after Friday's last minute deal with intelligence sharing, a new argument has broken out. The Japanese rejected a South Korean complaint over the wording of an announcement South Korea made regarding export controls. South Korea accused Japan of leaking and distorting information about the agreement.
The major Asian stock markets had a green day today:
Shanghai increased 20.88 points or 0.72% to 2,906.17
Kospi increased 21.54 points or 1.02% to 2,123.50
ASX 200 increased 21.60 points or 0.32% to 6,731.40
NIKKEI 225 increased 179.93 points or 0.78% to 23,292.81
Hang Seng increased 397.96 points or 1.50% to 26,993.04
SENSEX increased 529.82 points or 1.31% to 40,889.23
The major Asian currency markets had a mixed day today:
AUDUSD decreased 0.0012 or 0.17% to 0.6774
NZDUSD increased 0.0007 or 0.11% to 0.6404
USDJPY increased 0.2500 or 0.23% to 108.8900
USDCNY decreased 0.0100 or 0.14% to 7.0305
Precious Metals:
Gold decreased 4.55 USD/t oz. or -0.31% to 1,458.87
Silver decreased 0.0294 USD/t. oz or -0.17%% to 16.9120
Some economic news from last night:
Some economic news from today:
Japan:
Leading Index remain the same at 91.9
Singapore:
CPI (YoY) (Oct) decreased from 0.5% to 0.4%
EUROPE/EMEA:
The European Union set up their first European commission without Britain. The laws in Brussels requires that ever member state has a presence. However, an earlier dispute between UK PM Boris Johnson and the EU has forced them into trying to find a solution around this, with the UK failing to nominate a commissioner prior to last Friday's deadline.
The Conservatives of the UK unveiled their manifesto, which promises tax cuts and a Brexit prior to the new year to help the UK unleash its potential. PM Boris Johnson promised sensible tax cuts of around 3.5 billion GBP and to keep UK government debt under control with clear rules and regulations.
The EU raised alarms due to 5G over the risk it possesses. The report was not necessarily targeted towards China but cyber security as a whole. It also touched upon the legal ramifications the new technology can bring. They did also state that European countries should consider diversifying the suppliers in order to avoid a dependency on a single supplier.
LVMH announced a 16.2 billion USD deal to take over US jewelry brand Tiffany. The reasons cited were to get into a fast growing high-end sector with the increase in global demand. In other company related news, Uber lost its license to operate in London, UK, with reasons of repeated safety failures.
The major Europe stock markets had a green day today:
CAC 40 increased 31.74 points or 0.54% to 5,924.86
FTSE 100 increased 69.48 points, or 0.95% to 7,396.29
DAX 30 increased 82.57 points or 0.63% to 13,246.45
The major Europe currency markets had a mixed day today:
EURUSD decreased 0.0008 or 0.07% to 1.1011
GBPUSD increased 0.00734 or 0.57% to 1.29044
USDCHF increased 0.0009 or 0.09% to 0.9979
Some economic news from Europe today:
Germany:
German Business Expectations (Nov) increased from 91.6 to 92.1
German Current Assessment (Nov) increased from 97.8 to 97.9
German Ifo Business Climate Index (Nov) increased from 94.7 to 95.0
Spain:
Spanish PPI (YoY) increased from -3.3% to -2.8%
UK:
CBI Distributive Trades Survey (Nov) increased from -10 to -3
US/AMERICAS:
The Dow, S&P 500, and Nasdaq all rose to new highs this Monday. Unitedhealth Group led the Dow's rally today after advancing 2.08%, followed by Intel (2.06%), Caterpillar (1.78%), and Apple (1.72%). Bed Bath & Beyond rose by 8.46%, leading the way for the S&P 500, followed by Applied Materials (4.11%), Centene Corporation (2.92%), and Alexion Pharmaceuticals (2.91%). The Nasdaq's spike was aided by Incyte (5.94%), NVIDIA (4.89%), Applied Materials (4.18%), and Mylan (4.15%).
China is displeased with the FCC's ruling to ban US companies receiving federal subsidiaries from using ZTE and Huawei equipment. "The U.S. has a habit of abusing state power to suppress specific countries and companies on trumped-up charges without providing any evidence. It once brought down Alstom and now wants to crush Chinese companies," commented Chinese Foreign Ministry's spokesperson Geng Shuang. The US government recently began releasing business licenses for US companies wishing to continue business with Huawei. However, even those businesses with granted permissions will have to limit their operations with Huawei as the company is still considered a possible threat to national security. Huawei maintains that these claims are unfounded.
HP rejected Xerox's buyout offer yet again, citing that Xerox was undervaluing the company. Xerox offered to purchase HP at $22 per share ($17 in cash and the remainder in Xerox stock). "We reiterate that we reject Xerox's proposal as it significantly undervalues HP," a representative from HP stated. Xerox told HP that they had until this Monday to accept their offer, which HP yet again declined.
In 2018, trade between Brazil and China totaled $98.7 billion, and it is expected to reach anywhere from $105 to $110 billion this year. During the BRICS Summit, both Brazil and China agreed to new deals with a particular emphasis on agriculture. The uptick in agricultural purchases are expected to create around 10,000 new jobs in Brazil. "We will have to find a point of balance between the price expectation and business profitability, not only for Brazilian producers but also for the Chinese importers and consumers' expectations. Everyone must win to guarantee business sustainability," Jorge de Souza project manager for the Brazilian Association of Producers and Exporters of Fruits and Derivatives.
US Market Closings:
Dow advanced 190.85 points or 0.68% to 28,066.47
S&P 500 advanced 23.35 points or 0.75% to 3,133.64
Nasdaq advanced 112.60 points or 1.32% to 8,632.49
Russell 2000 advanced 32.96 points or 2.07% to 1,621.90
Canada Market Closings:
TSX Composite advanced 78.02 points or 0.46% to 17,032.86
TSX 60 advanced 4.82 points or 0.48% to 1,019.30
Brazil Market Closing:
Bovespa declined 268.35 points or -0.25% to 108,423.93
ENERGY:
According to oilprice.com, US refiners have reduced Crude processing for the first time since 2009. The EIA report suggests that global demand as well as domestic demand in US has weakened prompting a cutting back of fuel processing.
The oil markets had a mixed day today:
Crude Oil decreased 0.0596 USD/BBL or -0.10% to 57.7660
Brent decreased 0.029 USD/BBL or -0.05% to 63.5875
Natural gas decreased 0.0968 USD/MMBtu or -3.65% to 2.5621
Gasoline decreased 0.0173USD/GAL or -1.03% to 1.6545
Heating oil increased 0.0025 USD/GAL or 0.13% to 1.9312
Top commodity gainers: Feeder Cattle (2.46%),Ethanol(2.34%),Oat(2.17%), and Baltic Dry(5.22%)
Top commodity losers: Soda Ash(-4.09%), Natural Has(-3.65%), Cocoa (-1.76%), and Coal(-1.05%)
The above data was collected around 11:00 am EST on Monday.
BONDS:
Japan -0.08%(-0bp), US 2's 1.64% (+1bps), US 10's 1.79%(+2bps), US 30's 2.24%(+1bps), Bunds -0.35% (+1bp), France -0.04% (+1bp), Italy 1.28% (-2bp), Turkey 12.20% (+10bp), Greece 1.40% (-59bp), Portugal 0.39% (-1bp), Spain 0.41% (-1bp) and UK Gilts 0.70% (-1bp).
French 3-Month BTF Auction decreased from -0.600% to -0.623%
French 6-Month BTF Auction decreased from -0.609% to -0.619%
French 12-Month BTF Auction increased from -0.590% to -0.576%