Blog/Market Talk
Posted Nov 23, 2020 by Martin Armstrong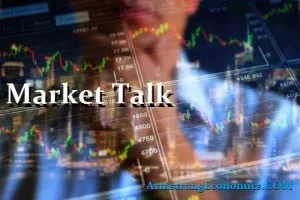 ASIA:
Zheng Yongnian, the Dean of the Advanced Institute of Global and Contemporary China Studies, a Shenzhen-based think tank, has said that the Chinese government should utilize every opportunity to mend ties with the US, South China Morning Post has reported. Mr Zheng, who attended a symposium hosted by President Xi Jinping in August to offer advice on China's long-term strategy, said there was now a bipartisan consensus in the US on containing China.
India's antitrust body on Friday cleared conglomerate Reliance Industries' $3.4 billion deal to buy Future Group's retail assets, thwarting Amazon.com's efforts to block the deal. The Competition Commission of India (CCI) announced its decision in a tweet on Friday, with details likely to be made public later. Amazon had approached the CCI and the country's market regulator SEBI alleging the deal would violate some pre-existing agreements it had with Future Group.
The major Asian stock markets had a green day today:
NIKKEI 225 closed
Shanghai increased 36.76 points or 1.09% to 3,414.49
Hang Seng increased 34.66 points or 0.13% to 26,486.20
ASX 200 increased 22.40 points or 0.34% to 6,561.60
Kospi increased 49.09 points or 1.92% to 2,602.59
SENSEX increased 194.90 points or 0.44% to 44,077.15
Nifty50 increased 67.40 points or 0.52% to 12,926.45
The major Asian currency markets had a mixed day today:
AUDUSD decreased 0.0024 or -0.33% to 0.72809
NZDUSD decreased 0.0013 or -0.18% to 0.69177
USDJPY increased 0.4290 or 0.41% to 104.27
USDCNY increased 0.0327 or 0.50% to 6.58311
Precious Metals:
Gold decreased 35.98 USD/t oz. or -1.92% to 1,834.51
Silver decreased 0.674 USD/t. oz or -2.79% to 23.470
Some economic news from last night:
Australia:
Manufacturing PMI increased from 54.2 to 56.1
Services PMI  increased from 53.7 to 54.9
New Zealand:
Retail Sales (QoQ) (Q3) increased from -14.6% to 28.0%
Retail Sales Quarterly Vs. Year Ago (Q3) increased from -14.2% to 8.3%
Singapore:
GDP (QoQ) (Q3) remain the same at 42.3%
GDP (YoY) (Q3) increased from -13.3% to -5.8%
Some economic news from today:
Singapore:
CPI (YoY) (Oct) decreased from 0.0% to -0.2%
EUROPE/EMEA:
The European Union warned that the U.K. hasn't moved sufficiently to overcome the main obstacles to a post-Brexit trade deal as three of the bloc's leaders called for contingency plans to be stepped up in case there is no agreement. At a meeting in Brussels on Friday, Secretary General of the Commission Ilze Juhansone told envoys from the EU's 27 member states that negotiations could now slip into December as progress has been slow.
The major European stock markets had a negative day:
CAC 40 decreased 3.74 points or -0.07% to 5,492.15
FTSE 100 decreased 17.61 points or -0.28% to 6,333.84
DAX 30 decreased 10.28 points or -0.08% to 13,126.97
The major European currency markets had a mixed day today:
EURUSD decreased 0.0028 or -0.24% to 1.18273
GBPUSD increased 0.0039 or 0.30% to 1.33257
USDCHF increased 0.0026 or 0.29% to 0.91355
Some economic news from Europe today:
France:
French Manufacturing PMI (Nov) decreased from 51.3 to 49.1
French Markit Composite PMI (Nov) decreased from 47.5 to 39.9
French Services PMI (Nov) decreased from 46.5 to 38.0
Germany:
German Composite PMI (Nov) decreased from 55.0 to 52.0
German Manufacturing PMI (Nov) decreased from 58.2 to 57.9
German Services PMI (Nov) decreased from 49.5 to 46.2
UK:
Composite PMI decreased from 52.1 to 47.4
Manufacturing PMI (Nov) increased from 53.3 to 55.2
Services PMI (Nov) decreased from 52.3 to 45.8
Euro Zone:
Manufacturing PMI (Nov) decreased from 54.8 to 53.6
Markit Composite PMI (Nov) decreased from 50.0 to 45.1
Services PMI (Nov) decreased from 46.9 to 41.3
US/AMERICAS:
US manufacturing grew at its fastest pace in over five years this month, according to IHS Markit data. The index rose to 56.7 in November from 53.4 in October, surpassing Reuter's estimate of 53. The service index rose to 57.7 from 56.9 the month prior; the composite index rose to 57.9 in November from 56.3 in October.
The Food and Drug Administration (FDA) rapidly approved the drug REGN-COV2, produced by Regeneron Pharmaceuticals, over the weekend as a safe treatment for coronavirus. This is the same drug mixture that President Trump took when he became ill with the virus in October. The FDA said that they hope this emergency authorization will help "alleviate the burden on our health care system" by allowing those infected to take the medicine at home as opposed to hospitalization. The treatment is a monoclonal antibody that mimics immune cells to fight off the coronavirus. Regeneron's CEO did say that more testing is needed but they hope that the immediate release of the drug will help curb the recent spike in cases across the US.
Former Federal Reserve Chairman Janet Yellen will serve as Treasury secretary under Joe Biden. Current Treasury Secretary Steven Mnuchin has been trying to secure a deal for a second stimulus package but has faced Democratic opposition. Some view Yellen as a safe choice who may garner more bipartisan support. While at the Fed, Yellen raised interest rates five times in over four years, and was criticized for failing to reduce the massive amount of government bonds purchased during the Great Recession. Yellen also favors implementing a carbon dioxide emissions tax and would like to implement new taxes to combat the naturally changing climate.
Over the weekend, President Trump made a string of statements claiming that he is not done fighting the election results. "It's all about the signatures on the envelopes," Trump stated, claiming that many mail-in ballots did not include the proper signature required for processing. "In certain swing states, there were more votes than people who voted, and in big numbers. Does that not really matter? Stopping Poll Watchers, voting for unsuspecting people, fake ballots and so much more. Such egregious conduct. We will win!" President Trump tweeted on Sunday night.
US Market Closings:
Dow advanced 327.79 points or 1.12% to 29,591.27
S&P 500 advanced 20.05 points or 0.56% to 3,577.59
Nasdaq advanced 25.66 points or 0.22% to 11,880.63
Russell 2000 advanced 32.96 points or 1.85% to 1,818.3
Canada Market Closings:
TSX Composite advanced 75.43 points or 0.44% to 17,094.53
TSX 60 advanced 5.19 points or 0.51% to 1,021.89
Brazil Market Closing:
Bovespa advanced 1,336.44 points or 1.26% to 107,378.92
ENERGY:
The oil markets had a green day today:
Crude Oil increased 0.44 USD/BBL or 1.04% to 42.8600
Brent increased 0.77 USD/BBL or 1.71% to 45.7300
Natural gas increased 0.032 USD/MMBtu or 1.21% to 2.6820
Gasoline increased 0.0237 USD/GAL or 2.02% to 1.1989
Heating oil increased 0.0178 USD/GAL or 1.38% to 1.3041
The above data was collected around 11:11 EST on Monday
Top commodity gainers: Lean Hogs (3.16%), Feeder Cattle (2.27%), Bitumen (4.39%), and Coal (2.52%)
Top commodity losers: Copper (-1.60%), Platinum (-2.42%), Silver (-2.79%), and Gold (-1.92%)
The above data was collected around 11:17 EST on Monday.
BONDS:
Japan 0.01%(-1bp), US 2's 0.16%(+0bps), US 10's 0.86%(+3bps); US 30's 1.56%(+3bps), Bunds -0.58% (+0bp), France -0.35% (+0bp), Italy 0.58% (-2bp), Turkey 11.57% (-25bp), Greece 0.70% (+0bp), Portugal 0.03% (+0bp); Spain 0.07% (+0bp) and UK Gilts 0.32% (+2bp).
US 2-Year Note Auction increased from 0.151% to 0.165%
US 6-Month Bill Auction decreased from 0.100% to 0.090%
US 3-Month Bill Auction decreased from 0.090% to 0.085%
US 5-Year Note Auction increased from 0.330% to 0.397%
French 3-Month BTF Auction decreased from -0.600% to -0.634%
French 6-Month BTF Auction decreased from -0.602% to -0.618%
French 12-Month BTF Auction decreased from -0.598% to -0.616%