Blog/Market Talk
Posted Nov 23, 2018 by Martin Armstrong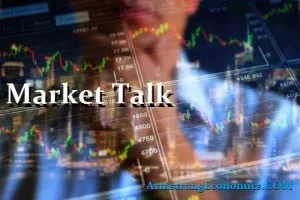 Often, when a major economy is out markets are quiet and that is exactly what we have seen the past two days. Thanks Giving in the US and national holidays in Japan has kept global markets quiet, closing almost unchanged from midweek close. Additionally, with such uncertainty surround Trade talks and BREXIT negotiations it endorsed a peaceful end to the week. The Hang Seng did drift in sympathy with Shanghai, but only closed off -0.35%. Mainland China however remains concerned about the lack of scheduling for trade talks, headlined debt overhang and concerns the off-shore currency trades heavy. The SENSEX traded well in the morning session, but lost ground into the close to finish off -0.65%. The INR has been holding in most of the week (now 70.50) initiating speculation there has been "official" support! However, India does trade well when energy prices decline, so could explain some of this recent appreciation.
Europe was on a positive footing following talk that Italy would adopt a more sympathetic approach to its current budget proposal. Financials led these gains, but have had trouble holding these levels in afternoon trading. BREXIT talks have challenged for headline all week and the topic now is that Theresa May could meet again Saturday – ahead of the 27 meeting Sunday. Although the talk is the deal is "semi-complete" even then the PM has to pass to Parliament to be voted on. This will be a huge vote that many say indirectly determines sovereignty going forward. Late in Europe afternoon trading, the US markets had not fallen through the floor, as some had expected and so we saw a marginally positive close for core indices. Collectively, the CAC, IBEX and DAX all closed higher despite weaker Eurozone data and lower bond yields.
Early US trading tended to focus on a recovering stock market and lower energy prices. With TWI trending perilously close to the $50 handle having seen a 7% fall in today, we are now looking at the lowest levels in over a year. The 20% price decline follows concerns of a global slowdown added to the increased production numbers. This oil Friday shock had a negative effect on core indices and resulted in declines for all DOW, S+P and NASDAQ. Energy companies led the declines, but were closely followed by tech after they turned lower in late afternoon trading. The market is still seeing a bid for US Dollars as again they are bid for year end again. The Treasury curve continues to flattened as 10's yields trades lower.
Japan 0.09%, US 2's closed 2.81%, US 10's 3.05% (-1bp), US 30's 3.31% (-1bp), Bunds 0.34% (-3bp), France 0.72% (-4bp), Italy 3.40% (-7bp), Turkey 16.26% (-39bp), Greece 4.52% (-9bp), Portugal 1.93% (-2bp), Spain 1.63% (u/c), and UK Gilts 1.38% (-1bp).