Blog/Market Talk
Posted Nov 22, 2019 by Martin Armstrong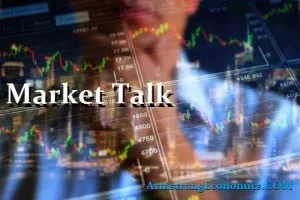 ASIA:
Chinese President Xi has said that he wishes to avoid a trade war with the US. However, he expressed if pushed too far he is willing to retaliate. "We want to work for a 'phase one' agreement on the basis of mutual respect and equality," Xi told members of an international forum. This has been a common theme throughout the US-China trade ordeal. China feels as if they are not being respected by the US when it comes to negotiations.
South Korea decided to remain in the agreement with Japan to share intelligence in what could be signs of improved relations between the two nations. South Korea had previously expressed a desire to end their three year relationship, with today being the final deadline. However, they agreed to temporarily extend the agreement.
India Report
India has gone from being the world's fastest-growing large economy to something more like a rumbling Indian railway train. In the quarter to June, growth slipped to 5%, which is the slowest rate in six years. Other indicators are more worrying. Sales of trucks and buses fell 45% in the year to September, and even sales of cheap biscuits and soap have contracted. The 88% drop in overall credit flows to businesses in the two quarters to September compared with the same period last year suggests a virtual freeze on lending.
Amid the slowdown, Modi still managed to get himself re-elected in May with a huge majority. As the summer wore on, however, it became clearer that the economy had turned against Modi, even if the electorate had not. The big question now is whether the downturn will be bad enough to force the prime minister into some of the much-needed reforms that he avoided in his first term. Some changes have started to be made in the past few months.
On September 20th the government abruptly decreed a sharp cut in corporate tax, from an effective rate of 35% to a far more competitive 25%. The move prompted Mumbai's biggest stock market leap in a decade. The market's instant, oversized joy suggests two things. One is that there is a great deal of pent-up energy in the Indian economy, waiting to be released by wiser government policies. The other is that if Modi's government puts in some effort, it is capable of coming up with those wiser policies. Businesses are watching to see what will follow. There are rumors of a sweeping privatization drive. But it is unclear whether Modi's reforming side can override his conservatism, which reflexively favors an interventionist state, protectionist trade policies, the opinions of Hindutva trade unions, small business lobbies and ideologues.
During his first term, Modi has done some welcome reforms which include changes in bankruptcy law and implementation of GST– the biggest tax reform since India became independence in 1947. The GST did, for all its paperwork, abolish absurd interstate duties and sped up internal commerce. Fiscal discipline kept inflation modest. Infrastructure—and in particular power supplies—improved substantially. Over the past decade, 30 million more Indians every year have been connected to the electric grid, which now reaches 90% of all homes. India climbed a stunning 65 places up the World Bank's Ease of Doing Business Index and pulled in record hauls of foreign investment, totaling more than $35bn in each of the past three years.
Yet, the government shied away repeatedly from risking its political capital on deeper structural reforms. Labor laws that make hiring and firing too expensive remained a block to growth, as did laws making it hard for companies to acquire land. Such blockages continue to hamstring efforts to expand India's manufacturing base, Chinese-style, to create plentiful low-paid factory jobs for rural migrants.
The major Asian stock markets had a mixed day today:
Shanghai decreased 18.35 points or -0.63% to 2,885.29
Kospi increased 5.36 points or 0.26% to 2,101.96
ASX 200 increased 36.90 points or 0.55% to 6,709.80
NIKKEI 225 increased 74.30 points or 0.32% to 23,112.88
Hang Seng increased 128.20 points or 0.48% to 26,595.08
SENSEX decreased 215.76 points or -0.53% to 40,359.41
The major Asian currency markets had a mixed day today:
AUDUSD decreased 0.0005 or 0.08% to 0.6783
NZDUSD increased 0.0001 or 0.02% to 0.6405
USDJPY increased 0.0670 or 0.06% to 108.6590
USDCNY increased 0.0103 or 0.15% to 7.0423
Precious Metals:
Gold decreased 1.65 USD/t oz. or -0.11% to 1,465.45
Silver decreased 0.1111 USD/t. oz or -0.65%% to 17.0054
Some economic news from last night:
Japan:
CPI, n.s.a (MoM) (Oct) increased from 0.1% to 0.3%
National Core CPI (YoY) (Oct) increased from 0.3% to 0.4%
National CPI (YoY) (Oct) remain the same at 0.2%
Manufacturing PMI (Nov) increased from 48.4 to 48.6
Services PMI increased from 49.7 to 50.4
Australia:
Manufacturing PMI decreased from 50.0 to 49.9
Services PMI decreased from 50.1 to 49.5
Some economic news from today:
India:
Bank Loan Growth decreased from 8.9% to 8.1%
Deposit Growth decreased from 10.3% to 9.9%
FX Reserves, USD increased from 447.81B to 448.25B
EUROPE/EMEA:
The European Union and Singapore trade agreement entered into force as of yesterday. The commissioner for trade explained that the EU has placed 16 trade agreements since 2014. "We have now the largest trade network in the world, including 42 trade agreements with 73 partners." she said. The agreement removes all tariffs between the two regions and offers more legal protection for food and drink companies. Around 100 billion is traded among the EU and Singapore in goods and services, which represents the largest partner in Southeast Asian region.
The Guardian reported that UK companies have faced the sharpest turn down since the Brexit vote. UK manufacturing shrank in November 1.4 points to 48.3, the services sector also fared poorly with a reading of 48.5, showing the economy is in decline.
The UK Conservatives are planning a foreign purchase tax of UK houses. It will be included into the stamp duty and will charge an extra 3% compared to domestic buyers. This will come into play if the Conservatives win the general election.
Russia is implementing a ban on any technological device such as mobile phones and computers that have not pre-installed a Russian security software. According to Forbes, the bill was introduced to "provide domestic companies with legal mechanisms to promote their programs for Russian users." The bill will come into effect in July 2020. Critics are stating this will cut Russia away from the rest of the world. Also, smartphone makers are concerned if they are not able to abide by the law that they will be thrown off the market. Other critics are pointing to how the Russian government wants to maintain control and surveillance over their citizens.
The major Europe stock markets had a green day today:
CAC 40 increased 11.92 points or 0.20% to 5,893.13
FTSE 100 increased 88.26 points, or 1.22% to 7,326.81
DAX 30 increased 26.18 points or 0.20% to 13,163.88
The major Europe currency markets had a mixed day today:
EURUSD decreased 0.0046 or -0.42% to 1.1019
GBPUSD decreased 0.00845 or -0.65% to 1.28335
USDCHF increased 0.0051 or 0.51% to 0.9979
Some economic news from Europe today:
Germany:
German GDP (QoQ) (Q3) increased from -0.2% to 0.1%
German GDP (YoY) (Q3) increased from 0.3% to 1.0%
German Composite PMI (Nov) increased from 48.9 to 49.2
German Manufacturing PMI (Nov) increased from 42.1 to 43.8
German Services PMI (Nov) decreased from 51.6 to 51.3
France:
French Manufacturing PMI (Nov) increased from 50.7 to 51.6
French Markit Composite PMI (Nov) increased from 52.6 to 52.7
French Services PMI (Nov)  remain the same at 52.9
UK:
Manufacturing PMI decreased from 49.6 to 48.3
Services PMI decreased from 50.0 to 48.6
Euro Zone:
Manufacturing PMI (Nov) increased from 45.9 to 46.6
Markit Composite PMI (Nov) decreased from 50.6 to 50.3
Services PMI (Nov) decreased from 52.2 to 51.5
US/AMERICAS:
Personal loans in the US are on the rise and signal a potential yellow flag for the US economy. Unemployment is low, wages are generally progressing, but US consumer debt has advanced to record levels and millions of Americans are resorting to unsecured debt for liquidity. Personal loans have jumped 10% year-over-year, and loans over $30,000 have spiked 15% in the last five years. Outstanding personal loan debt reached $115 billion last month, according to Equifax, and is expected to continue rising.
The Federal Communications Commission (FCC) voted unanimously this Friday to block telecommunication companies from using government subsidiaries to purchase equipment from Huawei or ZTE. The ruling was based upon "the threats posed by Huawei and ZTE to America's security and our 5G future," according to FCC Chairman Ajit Pai. The FCC may take measures further by requiring companies receiving government funds to remove existing Huawei and ZTE technology. A spokesperson from Huawei stated that there is no evidence that their company poses a security risk, and that the FCC is singling them out "based on selective information, innuendo, and mistaken assumptions."
Women from across the US are assembling for "the largest sales tax protest in modern history." In 35 states, feminine products are not deemed a necessity and therefore face higher rates of taxation. The groups Lola and Period Equity are collaborating to bring these issues to the forefront with an ultimate goal of seeing feminine products tax-exempt. This movement is different from the "pink tax" issue, which refers to discriminatory taxes of up to 7% on nearly identical products marketed toward women.
The Trump administration announced plans this Friday to allow US states to import prescription drugs from Canada. "While we had the first prescription drug price decrease in 50 years, Americans still pay far too much for drugs – other countries pay far less – that is WRONG!" President Trump tweeted. However, Canadian officials are less enthusiastic about the proposed legislation as they worry it will deplete Canada's drug supply and raise prices for Canadian consumers.
US Market Closings:
Dow advanced 109.33 points or 0.39% to 27,875.62
S&P 500 advanced 6.75 points or 0.22% to 3,110.29
Nasdaq advanced 13.67 points or 0.16% to 8,519.88
Russell 2000 advanced 4.98 points or 0.31% to 1,588.95=4
Canada Market Closings:
TSX Composite declined 44.35 points or -0.26% to 16,954.84
TSX 60 declined 3.09 points or -0.30% to 1,014.48
Brazil Market Closing:
Bovespa advanced 1,195.55 points or 1.11% to 108,692.28
ENERGY:
President Putin this week explained that Russia is increasing its output, but he pledged to remain in line with OPEC's production cuts. The OPEC+ is due to meet soon to discuss further cuts to supply in order to stabilize the price. "Russia and OPEC have 'a common goal' of keeping the oil market balanced and predictable, and Moscow will continue cooperation under the global supply curbs deal," Putin said to Reuters. President Putin also took the time to criticize US shale production, stating it is "barbaric" and ignores environmental consequences. Putin also stressed that Russia will never frack as they are not required to do so.
The oil markets had a mixed day today:
Crude Oil decreased 0.66 USD/BBL or -1.13% to 57.8468
Brent decreased 0.1934 USD/BBL or -0.30% to 63.6517
Natural gas increased 0.0763 USD/MMBtu or 2.95% to 2.6562
Gasoline decreased 0.0286USD/GAL or -1.68% to 1.6761
Heating oil decreased 0.0088 USD/GAL or -0.45% to 1.9307
Top commodity gainers: Natural Gas (2.95%), Cotton (2.56%), Palm Oil(2.39%), and Baltic Dry(2.31%)
Top commodity losers: Cocoa (-2.26%), Platinum (-2.48%), Gasoline (-1.68%), and Feeder Cattle (-4.56%)
The above data was collected around 15:40 EST on Friday.
BONDS:
Japan -0.09%(-0bp), US 2's 1.63% (+3bps), US 10's 1.77%(+2bps), US 30's 2.22%(-3bps), Bunds -0.32% (+3bp), France -0.03% (+0bp), Italy 1.29% (-0bp), Turkey 12.10% (+6bp), Greece 1.44% (-53bp), Portugal 0.40% (-3bp), Spain 0.43% (-3bp) and UK Gilts 0.70% (-6bp).