Blog/Market Talk
Posted Nov 22, 2017 by Martin Armstrong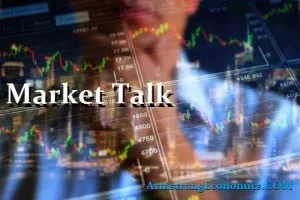 Another solid day for Asia with many talking that the key takeaway was the Hang Seng clearing the 30k mark, the first time in 10 years. It even managed a close above this psychological level adding another 0.6% to the 36% already achieved this year. The Nikkei also added 0.5% an impressive performance given that the Yen gained +0.4% and gains were led by the Exporters. The Australian Dollar was again under pressure so saw the ASX finish up +0.4%, joining the stock rally. Volumes were again a shadow of former selves but are in anticipation of UK's Budget and US national holidays tomorrow.
The European market focus today was centred on the UK's Autumn Budget delivered by Philip Hammond. Much was made of the £300,000 stamp duty cut but also warned of slower growth ahead. He also suggested that £3bn be spent on BREXIT planning. The DAX was the biggest lower today with a decline of around 1.2%. GBP saw some bulls push the currency into the US session to close it up around +0.5%. Talk was nerves surrounding Angela Merkel and the political uncertainty going into year end. Any return to the polls would take time and markets are never keen to learn of uncertainty. Helpful to see a strong rally in the oil price late in the day, but with zero sign of growth anywhere one has to wonder just how far traders can push it!
The FED minutes were the buzz for US trading and the news was concerns surrounding the extent of the stock rally. The days session was focused on the left-hand side with bids being hit ahead of the Thanksgiving Holiday tomorrow. The minutes halted the treasury curves decline, but probably not for that long. Markets and regulators are still questioning where all the money is coming from and refuse to look at the extent central bank balance sheet has expanded. Over the past 3years the ECB's balance sheet has expanded from €2tln to €4.4tln and the DXY has had only a minimal decline! Initial Claims released today because of the holidays tomorrow – not much change and Durable Goods a touch weaker at -1.2% but is a volatile figure anyway.
2's closed 1.73% (-4bp), 10's at 2.32% (-4bp), 30's at 2.74% (-2bp), Bunds 0.35% (u/c), France 0.66% (u/c), Italy 1.75% (-2bp), Greece 5.19% (u/c), Turkey 12.61% (-16bp), Portugal 1.88% (u/c), Spain 1.44% (-3bp) and Gilts 1.27% (u/c).