Blog/Market Talk
Posted Nov 21, 2019 by Martin Armstrong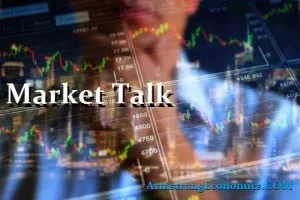 ASIA:
China dismissed 'external' rumors about the progression of the US-China trade deal, a Chinese ministry spokesperson has said. Reuters reported that the well anticipated "phase 1" of the deal may not be completed this year, as there are more demands from both sides.
The US passed a legislation that will require the US to check at least once a year that Hong Kong has not violated the Human Rights and Democracy Act. They will also check to ensure Hong Kong retains enough autonomy to be granted special US trading considerations.
India and Japan are set to meet for the first-time regarding defense and foreign affairs. The new talks will be referred as "2+2". The initial meeting will be at the ministerial level and then next month Prime Ministers Shinzo Abe and Narendra Modi will meet.
The major Asian stock markets had a negative day today:
Shanghai decreased 7.42 points or -0.25% to 2,903.64
Kospi decreased 28.72 points or -1.35% to 2,096.60
ASX 200 decreased 49.50 points or -0.74% to 6,672.90
NIKKEI 225 decreased 109.99 points or -0.48% to 23,038.58
Hang Seng decreased 422.73 points or -1.57% to 26,466.88
SENSEX decreased 76.47 points or -0.19% to 40,575.17
The major Asian currency markets had a mixed day today:
AUDUSD decreased 0.0009 or 0.13% to 0.6791
NZDUSD decreased 0.0002 or 0.04% to 0.6409
USDJPY increased 0.0480 or 0.04% to 108.5710
USDCNY decreased 0.0149 or 0.21% to 7.0307
Precious Metals:
Gold decreased 6.2 USD/t oz. or -0.42% to 1,470.28
Silver decreased 0.0636 USD/t. oz or -0.37%% to 17.1727
Some economic news from last night:
Japan:
All Industries Activity Index (MoM) increased from 0.0% to 1.5%
Foreign Bonds Buying decreased from 530.0B to 119.4B
Foreign Investments in Japanese Stocks decreased from 569.8B to 110.3B
Singapore:
GDP (YoY) (Q3) increased from 0.2% to 0.5%
GDP (QoQ) (Q3) increased from 0.6% to 2.1%
New Zealand:
Credit Card Spending (YoY) decreased from 4.7% to 2.5%
Some economic news from today:
Indonesia:
Interest Rate Decision remain the same at 5.00%
Deposit Facility Rate remain the same at 4.25%
Lending Facility Rate remain the same at 5.75%
Hong Kong:
CPI (YoY) (Oct) decreased from 3.20% to 3.10%
EUROPE/EMEA:
The OECD has set the growth forecast for UK to 1% next year even if a no-deal Brexit is avoided. The OECD believes next year will be the lowest growth, but it will pick up in 2021 again back to 1.2%. An earlier report suggested that a no-deal Brexit could shave off as much as 3% of the GDP growth, which would put the UK into a recession.
A new study shows that less than 10% of EU foreign aid actually find the world's poorest countries. The EU spends 0.5% of their GDP on foreign aid. That is less than the recommended 0.7%, which was set out in the 70's by the UN. Still, the EU is the largest donor group in the world.
Iran has now entered into its fifth day with an internet blackout. The blackout occurred when the price of oil went up by 50%. Internet use in the country is now around 5% of normal levels.
The Turkish foreign minister said that there have been some violations of the agreement between Turkey and the US regarding northern Syria, and this has been already transmitted to the US.
The major Europe stock markets had a negative day today:
CAC 40 decreased 12.82 points or -0.22% to 5,881.21
FTSE 100 decreased 23.94 points, or -0.33% to 7,238.55
DAX 30 decreased 20.44 points or -0.16% to 13,137.70
The major Europe currency markets had a mixed day today:
EURUSD decreased 0.0013 or 0.12% to 1.1065
GBPUSD decreased 0.0026 or 0.20% to 1.2899
USDCHF increased 0.0018 or 0.18% to 0.9923
Some economic news from Europe today:
France:
French Business Survey (Nov) increased from 99 to 100
Spain:
Spanish Trade Balance decreased from -3.99B to -4.26B
UK:
Public Sector Net Borrowing (Oct) increased from 7.26B to 10.51B
Public Sector Net Cash Requirement (Oct) decreased from 2.260B to 0.357B
Euro Zone:
Consumer Confidence (Nov)  increased from -7.6 to -7.2
US/AMERICAS:
Chinese Vice Premier Liu He invited Trade Representative Robert Lighthizer and Treasury Secretary Steven Mnuchin to meet in Beijing for a face-to-face discussion. The Wall Street Journal reported that negotiators from China would like to meet before Thanksgiving, therefore the talks will likely take place within the next few days if the invitation is accepted.
Speaker Pelosi alluded that the revised U.S.-Mexico-Canada Agreement (UMCA) trade deal may not pass by the end of the year. "We don't want NAFTA with sugar on top," Pelosi said this Thursday in reference to the prior controversial agreement between the trading partners. President Trump has previously criticized the NAFTA agreement for weakening US manufacturing and creating a deficit in US-Mexico trade.
Charles Schwab may purchase TD Ameritrade for $25 billion, according to the Financial Times. The arrangement would create a financial institute with more than $5 trillion in combined assets, as Schwab currently holds $3.8 trillion and TD Ameritrade holds $1.3 trillion. Founder and Chairman Charles Schwab told CNBC last month that his company would consider the purchase at the right valuation if it was deemed appropriate for Schwab shareholders.
Former U.S. Secretary of State Henry Kissinger warned that the US-China trade war could explode into a conflict greater than World War I. "If conflict is permitted to run unconstrained, the outcome could be even worse than it was in Europe. World War I broke out because of a relatively minor crisis … and today the weapons are more powerful," Kissinger said this Thursday while speaking in Beijing. Even a trade agreement would only be "a small beginning to a political discussion." The 96-year-old former secretary sees China as wanting peace and is urging the US to abandon the "Cold War mentality."
US Market Closings:
Dow declined 54.80 points or -0.20% to 27,766.29
S&P 500 declined 4.92 points or -0.16% to 3,103.54
Nasdaq declined 20.52 points or -0.24% to 8,505.21
Russell 2000 declined 7.62 points or -0.48% to 1,583.99
Canada Market Closings:
TSX Composite declined 6.63 points or -0.04% to 16,999.19
TSX 60 declined -0.22 of a point or -0.02% to 1,017.57
Brazil Market Closing:
Bovespa advanced 1,632.55 points or 1.54% to 107,496.73
ENERGY:
Crude oil is showing some signs of volatility after having a boost yesterday due to stability concerns in the Middle East and US. Today, Crude is pulling back slightly due to the weak economic data and progress with the US-China trade deal.
The oil markets had a mixed day today:
Crude Oil increased 0.8765 USD/BBL or 1.53% to 58.0887
Brent increased 0.9714 USD/BBL or 1.56% to 63.4773
Natural gas decreased 0.0209 USD/MMBtu or -0.81% to 2.5411
Gasoline increased 0.0242USD/GAL or 1.46% to 1.6830
Heating oil increased 0.027 USD/GAL or 1.43% to 1.9248
Top commodity gainers: Coffee (5.33%), Rubber (3.17%),Bitumen(2.06%), and Lumber (1.84%)
Top commodity losers: Cocoa (-2.35%), Steel (-0.94%), Palm Oil (-0.92%), and Feeder Cattle (-0.93%)
The above data was collected around 11:40 am EST on Thursday.
BONDS:
Japan -0.09%(-0bp), US 2's 1.60% (+4bps), US 10's 1.78%(+2bps), US 30's 2.25%(+5bps), Bunds -0.35% (-1bp), France -0.03% (+0bp), Italy 1.30% (-2bp), Turkey 12.06% (+2bp), Greece 1.45% (-53bp), Portugal 0.43% (+7bp),  Spain 0.47% (+4bp) and UK Gilts 0.77% (+3bp).
French 3-Year BTAN Auction increased from -0.63% to -0.58%
French 5-Year BTAN Auction decreased from -0.43% to -0.49%
Spanish 5-Year Bonos Auction increased from -0.199% to -0.106%
Spanish 10-Year Obligacion Auction increased from 0.295% to 0.409%
US 4-Week Bill Auction decreased from 1.565% to 1.550%
US 8-Week Bill Auction increased from 1.520% to 1.540%
US 10-Year TIPS Auction decreased from 0.174% to 0.149%