Blog/Market Talk
Posted Nov 21, 2018 by Martin Armstrong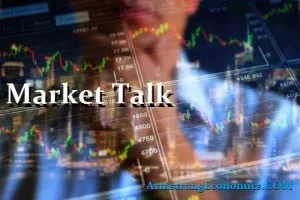 Following the worrisome US decline seen yesterday, Asia was initially spooked. However, within the first couple of hours trading prices had bounced to reach unchanged and spent the balance of the day trading with a positive bias. Talk that US and China are making slow progress behind the scenes is encouraging, but it really is the big headline finale that they have settled is the news most are waiting for! Difficult to speculate when this will come so best play the numbers as they are. Core China remains underwater for the year and so worth keeping an eye on the currency as this tends to move first. As always, the pressure valve in the economy is always the currency, so any movement is first spotted there. Some small buying interest lifted Hang Seng tech stocks and saw the index close +0.5%. Shanghai managed a small +0.2% close. The Nikkei is watching the Yen move weaker again, but did not help the Nikkei as that too was off -0.35% on the day. Oil prices are still down, but as speculation of slowing global growth spreads so fears that there really is only one game to play hits everything. The A$ (+0.75%) recovered on better commodity prices, however remains is a weak downward trend.
The Asian recovery helped confidence by the time Europe opened for business, but was helped by Italy's possible reconsideration of its 2019 budget proposal. Talk that the Italian Treasury was prepared to review once again helped BTP's recover near 20bp's. We need to see tomorrow if this is the case or is rejected. To clarify, if Italy does not play ball the first could result in a +0.2% of GDP fine and then lead to a +0.5% final if again no compliance. This seems rather crazy fining a country more money when the thing they need most of all is money! 10yr Italian debt move back under 3.5% on repositioning and a little aid from official support. Theresa May was in Brussels again today ahead of Sunday EU summit. Keep an eye on GBP and Gilts for any early signs of issue's, but worth remembering that the trend is lower for both.
Ahead of the US holidays tomorrow US markets opened on a strong note rallying over 1%. The main cause for concern was again Apple which saw yet more long liquidations as fears grow that the dominance is about to come to an end. Given the size of the FAANG's this influences not just them individually but also the confidence across all indices. Early gains were rejected by the close as it looks as though a sector shift is underway. Earlier tech leaders are making way for high dividends such as utilities and selected savvy individual companies. The global slowdown has altered the grab any tech name approach, as selection has now to be earned, justified and then rewarded. Treasury market still believes the FED moves again in December and three moves in 2019 likely. Curve continues to flatten with such belief. A quick word on v=credit as it remains under pressure as issuance builds. Many are eager to lock in at low costs while buyers back away as rates rise.
Japan 0.10%, US 2's closed 2.81% (+1bp), US 10's closed 3.06% (u/c), US 30's 3.32% (+1bp), Bunds 0.37% (+5bp), France 0.76% *(+1bp), Italy 3.47% (-14bp), Turkey 16.65% (-17bp), Greece 4.61% (-3bp), Portugal 1.95% (-3bp), Spain 1.63% (-1bp) UK Gilts 1.39% (+1bp).