Blog/Market Talk
Posted Nov 21, 2017 by Martin Armstrong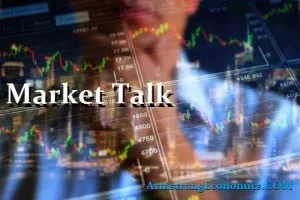 Asia followed the strong US sentiment encouraged by better than expected data. Much of the moves however, can also be explained by increasing capital flow away from troubled areas. Mondays flow was forced after news that the German Chancellor Angela Merkel failed to form a government suggesting new elections. With the Euro losing ground we did see only a small move into the Yen but saw returned demand for Asian equities. The Hang Seng returned almost 2% in todays trading, with Shanghai adding +0.6%. Both indices traded well all day but it was the Hang Seng that steadied all day closing at the days high. Very little fresh news out in Asia but money is finding its way into the market ahead of year end.
The DAX was the top performer for he core supported by solid gains in the Automobile sector. This sector appeared to take comfort following news that Angela Merkel would prefer Germany return to the polls in a bid to solidify a government; the DAX closed up near 1%. The CAC and FTSE were both around +0.4% which was an impressive performance for the UK after we saw PSBR figures adding £0.5bn more than expected. This will make tomorrow UK budget a little more interesting than was expected.
Yet more positive economic data is helping to push US stocks to greater and greater heights. Still sentiment pushes on with President Trump claiming the people will receive a huge tax cut for Christmas. Phili FED and Existing Homes Sales were both better than expected with also a support role played by an ever flatter yield curve. We are seeing values close around +0.8% firmer for the broad Russell 2k, with the NASDAQ maintaining its 1% run and the DOW and S+P both better by around +0.6%. S+P breaks record 2,600 level. Currency is the only factor that nears a little more impetus for the US and then we will start to see the power of capital flow.
2's closed 1.77% (+2bp), 10's at 2.36% (-1bp), 30's at 2.76% (-3bp), Bunds 0.35% (-1bp), France 0.66% (-3bp), Italy 1.77% (-2bp), Greece 5.19% (+5bp), Turkey 12.77% (+28bp), Portugal 1.88% (-3bp), Spain 1.47% (-3bp) and Gilts 1.27% (-2bp).