Blog/Market Talk
Posted Nov 20, 2020 by Martin Armstrong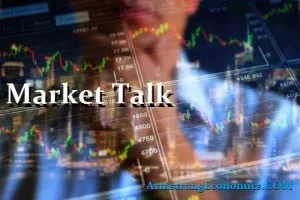 ASIA:
President Xi Jinping would like to poise China as the new financial capital of the world as the Western economy continues to decline. President Xi said that China's "resilience and vitality" will help maintain its "super-sized" economy. In what some saw as a swipe at US President Trump's "America First" policy, Xi touted China's "openness to global trade. "Openness enables a country to move forward while seclusion holds it back…China will actively cooperate with all countries, regions and enterprises that want to do so. We will continue to hold high the banner of openness and co-operation," President Xi stated.
Singapore announced strict quarantine measures for travelers from Malaysia and Japan that will take place at "dedicated facilities." "Given the sharp increase in cases in Malaysia recently, all travellers entering Singapore from Nov 22, 11.59 pm who have a travel history (including transit) in the past 14 days to Malaysia will be required to serve a 14-day stay-home notice at dedicated … facilities," the Ministry of Health (MOH) stated this Friday. The order will also be in place for anyone who has visited Japan within 14 days of travel, with the MOH stating that travelers will no longer have the ability to opt-out of mandatory stay-at-home quarantines.
US Environmental Protection Agency Administrator Andrew Wheeler is set to visit Taiwan next month to discuss bilateral co-operation on environmental issues. China, who sees Taiwan as its territory, issued a warning to the US that any negotiations will result in potential retaliation. "In accordance with the development of the situation, China will make necessary and legitimate reactions," Chinese Foreign Ministry spokesman Zhao Lijian stated this Friday.
The major Asian stock markets had a mixed day today:
NIKKEI 225 decreased 106.97 points or -0.42% to 25,527.37
Shanghai increased 14.64 points or 0.44% to 3,377.73
Hang Seng increased 94.57 points or 0.36% to 26,451.54
ASX 200 decreased 8.00 points or -0.12% to 6,539.20
Kospi increased 6.08 points or 0.24% to 2,553.50
SENSEX increased 282.29 points or 0.65% to 43,882.25
Nifty50 increased 87.35 points or 0.68% to 12,859.05
The major Asian currency markets had a mixed day today:
AUDUSD increased 0.00392 or 0.54% to 0.73103
NZDUSD increased 0.00352 or 0.51% to 0.69429
USDJPY increased 0.04 or 0.04% to 103.84
USDCNY decreased 0.02385 or -0.36% to 6.55251
Precious Metals:
Gold increased 5.26 USD/t oz. or 0.28% to 1,872.63
Silver increased 0.197 USD/t. oz or 0.82%% to 24.286
Some economic news from last night:
China:
PBoC Loan Prime Rate remain the same at 3.85%
Japan:
CPI, n.s.a (MoM) (Oct) remain the same at -0.1%
National Core CPI (YoY) (Oct) decreased from -0.3% to -0.7%
National CPI (YoY) (Oct) decreased from 0.0% to -0.4%
Manufacturing PMI (Nov) decreased from 48.7 to 48.3
Services PMI decreased from 47.7 to 46.7
Australia:
Retail Sales (MoM) (Oct) increased from -1.1% to 1.6%
New Zealand:
Credit Card Spending (YoY) increased from -9.8% to -6.3%
Indonesia:
Balance of Payments (EUR) (Q3) decreased from 9.2B to 2.1B
Current Account % of GDP (Q3) increased from -1.20% to 0.40%
Some economic news from today:
India:
Bank Loan Growth increased from 5.1% to 5.7%
Deposit Growth increased from 10.1% to 10.6%
FX Reserves, USD increased from 568.49B to 572.77B
Hong Kong:
CPI (YoY) (Oct) increased from -2.20% to -0.20%
EUROPE/EMEA:
Borrowing in the UK reached its highest level on record last month, according to the Office for National Statistics (ONS). The amount borrowed peaked at £22.3bn in October, which is the highest amount since the ONS began collecting data in 1993. In comparison, the government borrowed £11.4bn in October 2019. The national debt now stands at £2.08 trillion, reaching 100.8% of the UK's overall GDP.
The French government is working with major online retailers to postpone Black Friday in an effort to assist smaller shops. Black Friday will now occur a week later on December 4. Amazon France stated that they are willing to comply, especially since most brick and mortar stores have been closed during lockdown after being listed as "non-essential." The French government is also permitting the sale of Christmas trees, lifting many florists from the "non-essential" category.
Yemen is in "imminent danger of the worst famine the world has seen for decades," US Secretary General Antonio Guterres warned. The war-torn country has one of the lowest GDPs in the world, with very few exports and a heavy reliance on oil and foreign aid. According to Reuters, 80% of Yemen's population is in need of immediate assistance. "In the absence of immediate action, millions of lives may be lost," Guterres declared.
The major European stock markets had a green day today:
CAC 40 increased 21.23 points or 0.39% to 5,495.89
FTSE 100 increased 17.10 points, or 0.27% to 6,351.45
DAX 30 increased 51.09 points or 0.39% to 13,137.25
The major European currency markets had a mixed day today:
EURUSD decreased 0.00131 or -0.11% to 1.18549
GBPUSD increased 0.00339 or 0.26% to 1.32828
USDCHF increased 0.00065 or 0.07% to 0.91157
Some economic news from Europe today:
UK:
Core Retail Sales (YoY) (Oct) increased from 6.4% to 7.8%
Core Retail Sales (MoM) (Oct) decreased from 1.5% to 1.3%
Public Sector Net Borrowing (Oct) decreased from 27.85B to 21.58B
Public Sector Net Cash Requirement (Oct) decreased from 33.430B to 19.786B
Retail Sales (MoM) (Oct) decreased from 1.4% to 1.2%
Retail Sales (YoY) (Oct) increased from 4.6% to 5.8%
Germany:
German PPI (YoY) (Oct) increased from -1.0% to -0.7%
German PPI (MoM) (Oct) decreased from 0.4% to 0.1%
Italy:
Italian Industrial New Orders (YoY) (Sep) decreased from 5.8% to 3.2%
Italian Industrial New Orders (MoM) (Sep) decreased from 13.5% to -6.4%
Italian Industrial Sales (YoY) (Sep) decreased from -3.60% to -4.60%
Italian Industrial Sales (MoM) (Sep) decreased from 5.60% to -3.20%
Euro Zone:
Consumer Confidence (Nov) decreased from -15.5 to -17.6
US/AMERICAS:
Republican Secretary of State Brad Raffensperger will declare Joe Biden the official winner of Georgia after a recount showed Biden leading Trump by 12,284 votes. "Georgia's historic first statewide audit reaffirmed that the state's new secure paper ballot voting system accurately counted and reported results," Raffensberger stated today. While upset about his party's defeat, he noted that "numbers don't lie" and believes "the numbers that we have presented today are correct." This marks the first time Georgis voted blue since the 1992 US presidential election that granted Bill Clinton the presidency. Arizona and Pennsylvania have rejected bids by the Trump campaign for recounts, and lawyer Giuliana announced yesterday that the Trump campaign would withdraw their last lawsuit against Michigan. Joe Biden will take over as the Commander in Chief on January 20, 2021.
Operation Warp Speed advisor Dr. Moncef Slaoui stated this Friday that the Trump administration is ready to provide the public with coronavirus vaccinations as soon as possible. "We actually already have localized and are localizing all of the ancillaries — syringes, the cotton, alcohol, the masks, everything that's required to immunize individuals — is being moved," Slaoui stated, adding that people would begin to receive vaccines within 24 hours of authorization. Pfizer and partner BioNTech announced today that they are applying for emergency use authorization, and Pfizer CEO Dr. Albert Bourla said that the company will begin to shop its vaccine, which requires extremely cold storage, within hours after receiving approval.
Larry Summers, former US Treasury Secretary, believes Joe Biden should raise taxes to combat the growing deficit. "My most important recommendation in the tax area would be we could collect $1 trillion over the next decade, at least from better enforcement on the $7 trillion that is owed but not paid, with most of that coming from the richest taxpayers," Summers told reporters.
President-elect Joe Biden has plans to distribute universal broadband throughout the US. President Trump began a similar initiative, with both agreeing to spend $20 billion over the next decade to distribute broadband services throughout rural and low-income areas. Biden has said that he plans to implement municipally-owned broadband networks. Currently, 22 states have outlawed municipal broadband services, but that may change under Biden's administration.
The $2.2 trillion CARES Act that was passed in March is set to expire this December. Without an extension or additional provisions. 12 million Americans may lose unemployment benefits. This will coincide with an end of federal protections for renters that have prevented evictions.
US Market Closings:
Dow declined 219.75 points or -0.75% to 29263.48
S&P 500 declined 24.33 points or -0.68% to 3,557.54
Nasdaq declined 49.74 points or -0.42% to 11,854.97
Russell 2000 advanced 1.21 points or 0.07% yo 1,785.34
Canada Market Closings:
TSX Composite advanced 109.29 points or 0.65% to 17,019.1
TSX 60 advanced 6.09 points or 0.6% to 1,016.7
Brazil Market Closing:
Bovespa declined 627.42 points or -0.59% to 106,042.48
ENERGY:
The oil markets had a green day today:
Crude Oil increased 0.09 USD/BBL or 0.22% to 41.8300
Brent increased 0.33 USD/BBL or 0.75% to 44.5300
Natural gas increased 0.048 USD/MMBtu or 1.85% to 2.6400
Gasoline increased 0.0122 USD/GAL or 1.05% to 1.1747
Heating oil increased 0.0087 USD/GAL or 0.68% to 1.2794
Top commodity gainers: Natural Gas (1.85%), Lumber (2.40%), Copper (2.27%), and Coal (1.71%)
Top commodity losers: Coffee (-4.68%), Feeder Cattle (-1.68%), Bitumen (-0.89%), and Orange Juice (-0.51%)
The above data was collected around 13:55 EST on Friday.
BONDS:
Japan 0.02%(+0bp), US 2's 0.16% (-1bps), US 10's 0.84%(-2bps);US 30's 1.55%(-3bps), Bunds -0.58% (-1bp), France -0.34% (-1bp), Italy 0.61% (+0bp), Turkey 11.57% (-25bp), Greece 0.79% (+9bp), Portugal 0.04% (-1bp), Spain 0.07% (-0bp) and UK Gilts 0.30% (-3bp).