Blog/Market Talk
Posted Nov 20, 2019 by Martin Armstrong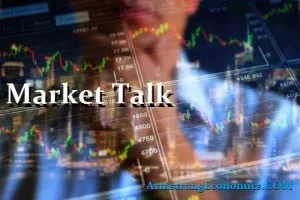 ASIA:
The Peoples Bank of China cut its one-year and five-year loan prime rates by 5 basis points. Yesterday, the central bank ordered banks to use the lowered rate to help bolster the economy. The new rates are 4.15 % for the one-year and 4.80% for the five-year, with the growth rate of China hovering above 6%.
There were some concerns this week regarding the progress of the US-China trade deal, with US President Trump threatening China by saying, "China is going to have to make a deal that I like. If they don't, that's it…If we don't make a deal with China, I'll just raise the tariffs even higher."
Japanese PM Shinzo Abe has now become the longest serving Prime Minister after lasting 2,887 days. The title was held by Tato Katsura more than a decade ago. Political analysts say he benefited from weak opposition during his tenure. Meanwhile, the ongoing issue between Japan and South Korea doesn't seem to be lightening up with the South Korean chief negotiator stating that there was no need for talking without a purpose. South Korea recently went into a defense agreement with China which angered both the Japanese and US.
In order to attract investment, India is planning to offer 324 companies incentives to set up factories in the South Asian nation in a bid to capitalize on the trade war between China and the US. Companies include Tesla Inc and GlaxoSmithKline Plc. The government proposes providing the manufacturers land to set up a factory along with power, water, and road access, according to draft of the document prepared by the Department for Promotion of Industry and Internal Trade and Invest India. Other companies that officials will reach out to include Eli Lilly & Co., South Korea's Hanwha Chemical Corp., and Taiwan's Hon Hai Precision Industry Co.
While the trade war has benefited countries such as Vietnam and Malaysia, rigid land acquisition rules and labor laws have prompted investors to largely ignore India when looking for alternatives to China. The latest proposal may reduce red tape, and set the nation, which expanded at the slowest pace in six years last quarter on a path to double its gross domestic product to $5 trillion by 2024 – a goal set by Prime Minister Narendra Modi.
Under the plan, the government will create a land bank for ready-to-move-in industrial clusters, offer investment and location-based incentives, and rationalize anti-dumping duties. The proposal includes incentives for plug-in and hybrid vehicles, fuel efficiency and carbon taxation. For the electronics and telecom sector, flexible employment, manufacturing-related incentives linked to investments and value addition have been sought.
Asia's third-largest economy expanded 5% in the June quarter, with a slew of data pointing to weaker economic activity. Getting investment inflows and boosting exports is therefore high on economic agenda of the government. It has already slashed corporate tax rate, making it competitive with rest of Asia, and has relaxed foreign investment rules to attract fund inflows in the country.
The major Asian stock markets had a mixed day today:
Shanghai decreased 22.94 points or -0.78% to 2,911.05
Kospi decreased 27.92 points or -1.30% to 2,125.32
ASX 200 decreased 91.80 points or -1.35% to 6,722.40
NIKKEI 225 decreased 144.08 points or -0.62% to 23,148.57
Hang Seng decreased 204.19 points or -0.75% to 26,889.61
SENSEX increased 181.94 points or 0.45% to 40,651.64
The major Asian currency markets had a mixed day today:
AUDUSD decreased 0.0026 or 0.39% to 0.6797
NZDUSD decreased 0.0016 or 0.25% to 0.6414
USDJPY increased 0.1150 or 0.11% to 108.5930
USDCNY increased 0.0056 or 0.08% to 7.0402
Precious Metals:
Gold decreased 2.34 USD/t oz. or -0.16% to 1,471.44
Silver decreased 0.021 USD/t. oz or -0.12%% to 17.1520
Some economic news from last night:
China:
PBoC Interest Rate decreased from 4.20% to 4.15%
Japan:
Exports (YoY) (Oct) decreased from -5.2% to -9.2%
Imports (YoY) (Oct) decreased from -1.5% to -14.8%
Trade Balance (Oct) increased from -124.8B to 17.3B
South Korea:
PPI (YoY) (Oct) increased from -0.8% to -0.6%
PPI (MoM) (Oct) decreased from 0.1% to -0.2%
Australia:
MI Leading Index (MoM) remain the same at -0.1%
Some economic news from today:
India:
M3 Money Supply decreased from 10.6% to 9.9%
EUROPE/EMEA:
Yesterday was the first round of political talks between Conservative PM Boris Johnson and Labour leader Jeremy Corbyn. The polls were split on the victor with most of the supporters choosing their candidates. Nicola Sturgeon SNP leader described both leaders as unfit to run for prime minister.
The European Commission has announced today that the budgets submitted for the next year prepared by the French and Italian governments were at risk of violating European Union fiscal rules as they could miss their debt and deficit reduction targets. Other countries that were included were Spain, Portugal, Belgium, Slovenia, Slovakia and Finland.
Italian opposition leader Matteo Salvini criticized the EU and the Italian government for passing laws that did not pass through the Parliament. He criticized the current leader for agreeing to sell out their "national sovereignty" as more anti EU-sentiment prevails.
Israel has launched a wide scale attack on Syrian targets, and has reported that it hit multiple targets in Syria belonging to the government and allied Iranian forces. A Russian senior figure was quick to criticize the attacks, stating it was not according to international law. Recently the US deemed the settlements in West bank as non-illegal in a change of a decade long policy.
The major Europe stock markets had a negative day today:
CAC 40 decreased 15.01 points or -0.25% to 5,894.03
FTSE 100 decreased 61.31 points, or -0.84% to 7,262.49
DAX 30 decreased 62.98 points or -0.48% to 13,158.14
The major Europe currency markets had a mixed day today:
EURUSD decreased 0.0006 or 0.05% to 1.1072
GBPUSD decreased 0.0011 or 0.09% to 1.2919
USDCHF increased 0.0008 or 0.08% to 0.9912
Some economic news from Europe today:
Germany:
German PPI (MoM) (Oct) decreased from 0.1% to -0.2%
German PPI (YoY) (Oct) decreased from -0.1% to -0.6%
US/AMERICAS:
The Federal Open Market Committee will likely maintain rates for the rest of the year, according to the minutes report released this Wednesday. The Fed cut rates in October for the third time this year to 1.5%-1.75%. The move was cited as an insurance against downside risks which include the ongoing trade war, feeble inflation, a slowing global economy, and rising corporate debt. Some members cited they were less concerned with weakened manufacturing as it has yet to strongly influence the labor market. As Chairman Jerome Powell reiterated last week, all policies are contingent on incoming data and not set in stone.
The White House has begun issuing licenses to select companies to resume business operations with Huawei. The Chinese tech company was blacklisted over six months ago due to security concerns. The Commerce Department stated that they are now "issuing these narrow licenses to authorize limited and specific activities which do not pose a significant risk to the national security or foreign policy interests of the United States." On the other hand, the Commerce Department has also begun issuing "intent to deny" letters to businesses as Huawei's actions are still under close surveillance.
The House Judiciary Committee voted on a milestone bill that would legalize marijuana at the Federal level. The vote cleared at 24 to 10 and will be sent to the Democratic-led House of Representatives. If approved by the full House, the legislation will be sent to the Republican-led Senate where it will likely face resistance as Speaker McConnell has voiced prior disapproval. The bill would place a 5% tax on marijuana at the Federal level and would allow individual states to implement their own regulations. Currently, only 11 US states have legalized marijuana and it remains a schedule one drug at the Federal level.
US Market Closings:
Dow declined 112.93 points or -0.40% to 27,821.09
S&P 500 declined 11.72 points or -0.38% to 3,108.46
Nasdaq declined 43.93 points or -0.51% to 8,526.73
Russell 2000 declined 6.72 points or -0.42% to 1,591.57
Canada Market Closings:
TSX Composite declined 5.58 points or -0.03% to 1,705.82
TSX 60 declined 1.26 points or -0.12% to 1,017.79
Brazil:
Bovespa declined 405.07 points or -0.38% to 105,864.18
ENERGY:
Russian energy minister Alexander Novak said that Russia is expected to increase its crude exports by around 400 to 500 thousand bpd within the next five years. OPEC+ are expected to meet in December to discuss production cuts.
The oil markets had a green day today:
Crude Oil increased 1.70 USD/BBL or 3.07% to 57.0230
Brent increased 1.5939 USD/BBL or 2.62% to 62.5350
Natural gas increased 0.0522 USD/MMBtu or 2.08% to 2.5563
Gasoline increased 0.06 USD/GAL or 3.76% to 1.6536
Heating oil increased 0.0368 USD/GAL or 1.98% to 1.8953
Top commodity gainers: Coffee (6.86%),Gasoline(3.76%),Oat(3.53%), and Steel (3.43%)
Top commodity losers: Lean Hogs(-3.02%), Lumber(-3.00%), Cotton (-1.91%), and Soybeans(-0.83%)
The above data was collected around 15:30 EST on Wednesday.
BONDS:
Japan -0.09%(-0bp), US 2's 1.59% (-0bps), US 10's 1.73%(-5bps), US 30's 2.23%(-3bps), Bunds -0.34% (-1bp), France -0.03% (+0bp), Italy 1.31% (-3bp), Turkey 12.01% (-3bp), Greece 1.46% (-60bp), Portugal 0.40% (+2bp), Spain 0.44% (-1bp) and UK Gilts 0.74% (+0bp).
German 30-Year Bund Auction increased from 0.070% to 0.140%