Blog/Market Talk
Posted Nov 20, 2017 by Martin Armstrong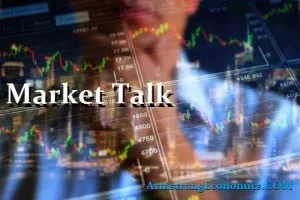 Asia closed mixed in a fairly quiet session but ahead of what could be a wild week. The Nikkei's decline was very much reflected in the Yen's strength. Financials again weighed on the index but this is a reflection of both low volume of shares traded and the shape of the yield curve (2's – 10's in Japan at 22bp). In late Friday trading the Yen played around 112 but lost ground from the opening this morning, currently mid 112's. The Nikkei opened around unchanged and after the initial flash positive was under pressure for the balance of the day closing near its lows (-0.6%); additional share supplies did not help! The Australian dollar traded heavy all day, last seen near its days low (-0.25%) whilst the ASX index countered that weak opening by ending the day almost unchanged. China saw reasonable support for both the Shanghai A and B but also watched the Hang Seng return a positive +0.2% for Mondays trading. News from the Middle East has not helped the price of oil todays as investors are concerned the recent output cuts may be reconsidered in light of further rising tensions in the region.
Europe was buzzing with talk that Angela Merkel failed to find common ground with either of the two parties in-order to form a government. The Euro suffered as a result (-0.5%) and although the GBP initially found support on its back, that did not last more than 24 hours. European indices balanced the currencies weakness although sectors were influenced. Energy suffered both on underlying price action but also news that one large SWF was considering excluding oil and gas companies from its benchmark index. Both CAC and DAX closed around +0.5% with IBEX and UK's FTSE around +0.1%. After last weeks sell-off in credits we are seeing a little caution returning, but peripheral spreads remain in play unless credit is a real concern – as evidenced by movements below. UK budget Wednesday with US holidays on Thursday.
The US session quickly forgot any negative thoughts it may have had at the opening and has spent the day rallying until drifting marginally at the close. Still, a good solid session to open the week – for the US anyway. We saw assets and the currency appreciating especially supported as the treasury curve sees more flattening; 2's – 10's in now stands at 62bp and more is expected.
2's closed 1.75% (+3bp), 10's 2.37% (+2bp), 30's 2.79% (+1bp), Bunds 0.36% (u/c), France 0.69% (-1bp), Italy 1.79% (-4bp), Greece 5.14% (+1bp), Turkey 12.49% (+29bp), Portugal 1.91% (-4bp), Spain 1.50% (-4bp) and Gilts 1.29% (u/c).