Blog/Market Talk
Posted Nov 2, 2018 by Martin Armstrong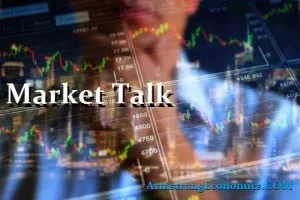 If we had all gone home just after the US employment numbers, we would have all had a wonderful weekend and no-one would be any the wiser! However, as we know with markets, nothing is ever as it seems. Lets just skip to the finally half of the day just after the numbers from the US. We already know that Asia was responding to hopes of a US/China trade deal and had seen a 2.5%+ rally in most core markets (HSI up 4% whilst ASX only marginally positive). However, by the time Europe was looking to close then we hear from Larry Kudlow who claims there is NO trade plan in the works! You can see from daily charts how that news hit European indices. The earlier the close the less of an impact the storey had. Late in the European day we hear that all European banks have passed the European stress test conducted by the European Banking Authority – but with Barclays ranked as the lowest – hmmm! BREXIT is still very much the key topic this weekend, with now all attention focused on November 21st.
US markets initially opened positive until Larry spoke and then it was all change. The FX market was arguably less impacted because the positive non-farms payroll (+250k and 3.1% wages) had already set the Dollar on a run as it had with Treasuries. What is interesting is that when stocks turned, there was no reversal in bonds nor currency. The Yen yarded its days range (112.50 – 113.30) in US trading hours. European bonds traded heavy in the final couple of hours and the Yen equally saw no flight to quality. The NASDAQ was again the leader falling 2% with both DOW and S+P not that far behind. Large tech stocks have seen profit-taking, as the search for fresh bids are enticed with 7% declines for Apple stock. Concerns still linger over valuations especially surrounding the technology space, but maybe todays payrolls number is the wake-up call all markets have been waiting for. Worth remembering that rising rates are not necessarily bad for stock markets. We are in that transition period where people will have to come to terms with that.
Japan 0.12%, US 2's closed 2.91% (+6bp), US 10's closed 3.22% (+8bp), US 30's 3.46% (+8bp), Bunds 0.42% (+2bp), France 0.78% (+3bp), Italy 3.31% (-6bp), Greece 4.24% (+6bp), Turkey 17.16% (-54bp), Portugal 1.87% (u/c), Spain 1.57% (+1bp) and UK Gilts 1.49% (+4bp).
Much of the bond sell-off happened later in the US trading session and so we will have to wait until the European open (Monday) to see the effects of the Treasury price weakness.