Blog/Market Talk
Posted Nov 19, 2020 by Martin Armstrong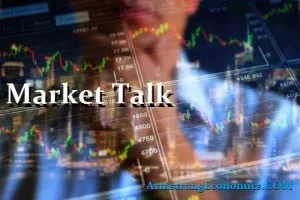 ASIA:
The Chinese government issued debt at a negative interest rate for the first time on Wednesday in a bond sale that attracted significant investor interest, according to Deutsche Bank (DB), one of the banks that helped arrange the transaction. Faced with ever lower interest rates at home, European investors snapped up the bulk of the debt as they seek to gain exposure to the only major global economy expected to grow this year. The Chinese sale, which attracted final orders of about €16 billion ($18.9 billion) for the €4 billion ($4.7 billion) worth of bonds on offer, included 5-year debt priced with a yield of minus 0.152%. China also sold 10-year and 15-year bonds with yields below 1%. Investors included central banks, sovereign wealth funds and global asset managers spanning Europe, Asia and the United States. European investors accounted for 85% of the 15-year debt and about two-thirds of the shorter-dated bonds, according to Deutsche Bank.
India did not join the Regional Comprehensive Economic Partnership (RCEP) trade deal because it would have had "negative consequences" though the country is interested in a "fair and balanced" free trade pact with the European Union (EU), external affairs minister S Jaishankar said on Wednesday. Referring to a long-delayed proposal for a free trade agreement (FTA) with EU, Jaishankar said the Indian government had spoken of the need to resume negotiations on this. India, he added, wants a "fair and balanced FTA" with EU. The 10 member states of the Association of Southeast Asian Nations (Asean) and Australia, China, Japan, New Zealand and South Korea signed RCEP on Sunday. Japan led the drafting of a ministers' declaration that left the door open for India to join the world's largest trading bloc, covering nearly a third of the global economy, at a later stage.
The major Asian stock markets had a mixed day today:
NIKKEI 225 decreased 93.80 points or -0.36% to 25,634.34
Shanghai increased 15.78 points or 0.47% to 3,363.09
Hang Seng decreased 187.32 points or -0.71% to 26,356.97
ASX 200 increased 16.10 points or 0.25% to 6,547.20
Kospi increased 1.78 points or 0.07% to 2,547.42
SENSEX decreased 580.09 points or -1.31% to 43,599.96
Nifty50 decreased 166.55 points or -1.29% to 12,771.70
The major Asian currency markets had a mixed day today:
AUDUSD decreased 0.00094 or -0.13% to 0.72951
NZDUSD increased 0.00041 or 0.06% to 0.69267
USDJPY decreased 0.09 or -0.09% to 103.77
USDCNY increased 0.00932 or 0.14% to 6.57200
Precious Metals:
Gold decreased 4.76 USD/t oz. or -0.25% to 1,866.65
Silver decreased 0.214 USD/t. oz or -0.88%% to 24.099
Some economic news from last night:
Japan:
Foreign Bonds Buying decreased from 1,372.8B to 1,009.1B
Foreign Investments in Japanese Stocks decreased from 484.5B to 422.5B
Australia:
Employment Change (Oct) increased from -29.5K to 178.8K
Full Employment Change (Oct) increased from -20.1K to 97.0K
Participation Rate (Oct) increased from 64.8% to 65.8%
Unemployment Rate (Oct) increased from 6.9% to 7.0%
Some economic news from today:
India:
M3 Money Supply increased from 11.6% to 12.0%
Indonesia:
Loans (YoY) (Oct) decreased from 0.12% to -0.47%
Interest Rate Decision decreased from 4.00% to 3.75%
Deposit Facility Rate (Nov) decreased from 3.25% to 3.00%
Lending Facility Rate (Nov) decreased from 4.75% to 4.50%
South Korea:
PPI (YoY) (Oct) decreased from -0.4% to -0.6%
PPI (MoM) (Oct) decreased from 0.2% to -0.5%
EUROPE/EMEA:
The British government has approved the largest rise in its defense budget since the end of the Cold War, with £16.5 billion (U.S. $21.9 billion) in additional funding made available for spending on shipbuilding, space, cyber, research and other sectors over a four-year period. Prime Minister Boris Johnson said the increase could transform the military and bring to an end an era of retreat in the armed forces.
The labor market in London has been hit harder by Covid-19 than the rest of the UK, while the capital's economic recovery has also been weaker, according to a report on the impact of the pandemic on the capital. A review of London's economy from the Centre for London thinktank and King's College London shows there have been steeper falls in the number of workers on company payrolls in the capital and in the number of new job postings than elsewhere in the country.
The major European stock markets had a negative day today:
CAC 40 decreased 36.79 points or -0.67% to 5,474.66
FTSE 100 decreased 50.89 points, or -0.80% to 6,334.35
DAX 30 decreased 115.73 points or -0.88% to 13,086.16
The major European currency markets had a mixed day today:
EURUSD increased 0.00249 or 0.21% to 1.18782
GBPUSD increased 0.00031 or 0.02% to 1.32702
USDCHF decreased 0.00126 or -0.14% to 0.91027
Some economic news from Europe today:
Swiss:
Trade Balance (Oct) increased from 3.053B to 3.861B
Spain:
Spanish Trade Balance increased from -1.74B to -1.48B
UK:
CBI Industrial Trends Orders (Nov) decreased from -34 to -40
Euro Zone:
Current Account (Sep) increased from 19.9B to 25.2B
Current Account n.s.a. (Sep) increased from 21.8B to 33.5B
Construction Output (MoM) (Sep) decreased from 3.90% to -2.93%
US/AMERICAS:
President-elect Joe Biden hinted that he plans to align with "other democracies" instead of focusing on trade with China, the US' current top trading partner. After noting that the US economy compromises around 25% of global GDP, Biden stated, "We need to be aligned with the other democracies, another 25% or more so that we can set the rules of the road instead of having China and others dictate outcomes because they are the only game in town." Biden plans to announce his plans for trade on January 21, 2021, the day after he is official sworn into the presidency.
President Donald Trump has stated that he would withdraw troops from Afghanistan after a near two-decade war. Now, NATO Secretary-General Jens Stoltenberg is warning Western allies that they will pay a "high price" if they retreat from the region. Stoltenberg said a sudden withdrawal could cause ISIL militant groups to grow. "Afghanistan risks becoming once again a platform for international terrorists to plan and organise [sic] attacks on our homelands. And ISIS could rebuild in Afghanistan the terror caliphate it lost in Syria and Iraq," he stated. Currently, NATO has around 12,000 troops stationed in Afghanistan including nearly 4,5000 US troops. Although Trump had planned to bring the troops home before Christmas 2020, the ever-changing political platform may change the course.
A week before the holiday, the Center for Disease Control and Prevention (CDC) urged Americans not to travel during Thanksgiving. The CDC issued a "strong recommendation" for families to limit those in attendance to those in their household, host dinner outdoors, use disposable silverware, and avoid potluck or buffet styled gatherings. The agency went as far as to ask families to wear masks indoors except when eating or drinking. Thanksgiving was previously the busiest domestic traveling season of the year for Americans.
The Bank of Canada stated this week that the global economy needs to prepare for climate change in a similar fashion to adapting to the coronavirus crisis. "Our financial system proved to be resilient during the global financial crisis and has been a key shock absorber so far through the COVID-19 pandemic. We need to ensure the financial system is just as resilient in the face of climate change," Bank of Canada governor Tiff Macklem stated. Macklem believes that consumers are "increasingly concerned about the footprints of the products they buy and the enterprises in which they invest." He is urging Canadian companies to "capitalize on these opportunities" as quickly as possible.
Canada experienced a slight spike in inflation in October to 0.7%, above September's reading of 0.5%, mainly due to an increase in food prices. Statistics Canada noted that the price of vegetables increased 9.5% YoY in October, with certain produce rising dramatically faster, such as lettuce which rose 25% YoY. The Bank of Canada has maintained that they will not raise rates until inflation meets their 2% target.
US Market Closings:
Dow advanced 44.81 points or 0.15% to 29,483.23
S&P 500 advanced 14.06 points or 0.39% to 3,581.85
Nasdaq advanced 103.11 points or 0.87% to 11,904.71
Russell 2000 advanced 14.82 points or 0.84% to 1,784.13
Canada Market Closings:
TSX Composite advanced 19.99 points or 0.12% to 16,909.81
TSX 60 advanced 1.23 points or 0.12% to 1,010.61
Brazil Market Closing:
Bovespa advanced 550.81 points or 0.52% to 106,669.9
ENERGY:
The oil markets had a mixed day today:
Crude Oil increased 0.07 USD/BBL or 0.17% to 41.8900
Brent increased 0.01 USD/BBL or 0.02% to 44.3500
Natural gas decreased 0.116 USD/MMBtu or -4.28% to 2.5960
Gasoline increased 0.0054 USD/GAL or 0.46% to 1.1683
Heating oil increased 0.0132 USD/GAL or 1.04% to 1.2772
Top commodity gainers: Cocoa (2.97%), Lumber (4.08%), Heating Oil (1.04%), and Coal (1.23%)
Top commodity losers: Lean hogs (-3.27%), Live Cattle (-2.15%), Natural Gas (-4.28%), and Ethanol (-2.11%)
The above data was collected around 17:34 EST on Thursday.
BONDS:
Japan 0.02%(+0bp), US 2's 0.17% (-1bps), US 10's 0.84%(-4bps);US 30's 1.58%(-4bps), Bunds -0.57% (-2bp), France -0.34% (-1bp), Italy 0.61% (-1bp), Turkey 11.57% (-25bp), Greece 0.79% (+12bp), Portugal 0.05% (-0bp), Spain 0.07% (-1bp) and UK Gilts 0.33% (-1bp).
US 4-Week Bill Auction decreased from 0.085% to 0.070%
US 8-Week Bill Auction decreased from 0.090% to 0.070%
US 10-Year TIPS Auction increased from -0.966% to -0.867%
French 3-Year BTAN Auction decreased from -0.64% to -0.71%
French 5-Year BTAN Auction increased from -0.70% to -0.62%
Spanish 5-Year Bonos Auction decreased from -0.345% to -0.414%