Blog/Market Talk
Posted Nov 19, 2019 by Martin Armstrong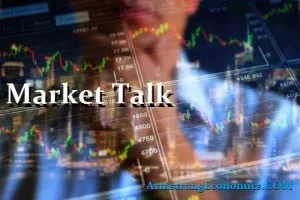 ASIA:
China and South Korea entered into a defense agreement that could dent South Korea's relationships with the US and Japan. The agreement will work on developing security ties and ensuring stability in the region. This comes about after China accused the US of meddling with affairs in the region.
Recently US President Donald Trump asked South Korea to contribute 5 billion USD a year, up from their current contribution of 1 billion USD, to maintain the 28,500 US troops that have been stationed in East Asia since the Cold War. Japan has also been asked to up their contributions to 8 billion USD compared to the 2 billion USD it currently pays.
China has issued a statement to Hong Kong that only Beijing has the constitutional authority to make decisions on Hong Kong. This came about after Hong Kong overturned a decision by Beijing to ban face masks. A parliamentary spokesperson Jian Tiewei said, "No other institution has the right to make judgements or decisions." Still, protests in Hong Kong continue with 100 or so students holding out at the university in Hong Kong.
The major Asian stock markets had a mixed day today:
Shanghai increased 24.79 points or 0.85% to 2,933.99
Kospi decreased -7.45 points or -0.34% to 2,153.24
ASX 200 increased 47.40 points or 0.70% to 6,814.20
NIKKEI 225 decreased 124.11 points or -0.53% to 23,292.65
Hang Seng increased 412.71 points or 1.55% to 27,093.80
SENSEX increased 185.51 points or 0.46% to 40,469.70
The major Asian currency markets had a mixed day today:
AUDUSD increased 0.0020 or 0.30% to 0.6826
NZDUSD increased 0.0031 or 0.49% to 0.6428
USDJPY decreased 0.0940 or 0.09% to 108.5540
USDCNY increased 0.0039 or 0.06% to 7.0276
Precious Metals:
Gold increased 0.1 USD/t oz. or 0.01% to 1,473.41
Silver increased 0.0943 USD/t. oz or 0.55%% to 17.1397
Some economic news from last night:
New Zealand:
RBNZ Offshore Holdings (Oct) increased from 49.80% to 49.90%
PPI Input (QoQ) (Q3) increased from 0.3% to 0.9%
PPI Output (QoQ) (Q3) increased from 0.5% to 1.0%
Some economic news from today:
New Zealand:
GlobalDairyTrade Price Index decreased from 3.7% to 1.7%
EUROPE/EMEA:
Today both UK PM Boris Johnson and Labour leader Jeremy Corbyn will meet for a televised debate ahead of Britain's election. The event will take one hour and will offer Corbyn the chance to make up some ground on the polls. Johnson, of course, will be pushing to get Brexit done, where Corbyn will be offering a more diplomatic solution to Brexit with the EU.
The 2020 EU budget was agreed upon yesterday, with the total commitments reaching 168.7 billion euros, which is a 1.5% increase from last year. The main areas of focus were growth and competitiveness (25 billion euros). They also set a budget for the immigration management as well as climate initiatives.
The US, through the secretary of State Mike Pompeo, has reversed an earlier American policy which declared Israeli settlements in the West Bank as illegal. The US no longer sees the Israeli settlements as a violation of international law. In recent days there has been a lot of fighting in the region. Many Arab and non-Arab nations have voiced their concerns on the decision.
Turkish President Erdogan has told US President Trump that he will not give up the purchased S-400's from Russia. "We agreed to seek solutions on the S-400 issue," Erdogan told Parliament in Ankara. Erdogan maintains he is confident that President Trump will not impose punitive actions against Turkey.
The major Europe stock markets had a mixed day today:
CAC 40 decreased 20.73 points or -0.35% to 5,909.05
FTSE 100 increased 16.10 points, or 0.22% to 7,323.80
DAX 30 increased 14.11 points or 0.11% to 13,221.12
The major Europe currency markets had a mixed day today:
EURUSD increased 0.0005 or 0.05% to 1.1078
GBPUSD decreased 0.0026 or 0.20% to 1.2924
USDCHF increased 0.0014 or 0.14% to 0.9907
Some economic news from Europe today:
Norway:
Consumer Confidence (Q4) decreased from 15.00 to 13.40
UK:
Car Registration (YoY) (Oct) decreased from 1.3% to -6.7%
Car Registration (MoM) (Oct) decreased from 270.8% to -58.3%
CBI Industrial Trends Orders (Nov) increased from -37 to -26
Italy:
Italian Car Registration (YoY) (Oct) decreased from 13.4% to 6.7%
Italian Car Registration (MoM) (Oct) decreased from 59.8% to 10.4%
Italian Industrial New Orders (YoY) (Sep) increased from -10.4% to 0.3%
Italian Industrial New Orders (MoM) (Sep) increased from 0.8% to 1.0%
Italian Industrial Sales (YoY) (Sep) increased from -2.20% to -1.60%
Italian Industrial Sales (MoM) (Sep) increased from -0.30% to 0.20%
Swiss:
Trade Balance (Oct) decreased from 4.052B to 3.497B
Germany:
German Car Registration (MoM) (Oct) increased from -22.0% to 16.3%
German Car Registration (YoY) (Oct) decreased from 22.2% to 12.7%
France:
French Car Registration (YoY) (Oct) decreased from 16.6% to 8.7%
French Car Registration (MoM) (Oct) decreased from 34.2% to 9.0%
Euro Zone:
Construction Output (MoM) (Sep) increased from -0.82% to 0.74%
Current Account (Sep) decreased from 28.5B to 28.2B
Current Account n.s.a. (Sep) increased from 27.6B to 35.8B
US/AMERICAS:
President Trump allegedly told his Cabinet this Tuesday that he plans to raise tariffs on China if they fail to finalize phase one of the trade deal. The first portion of the trade deal was verbally agreed upon in October, however, nothing has been confirmed. According to Bloomberg, China is asking the US to eliminate all tariffs implemented prior to May. Additionally, China is asking the US to gradually rollback tariffs placed after May. Recent reports signaled progress between the two nations, but volatility will remain until the ink has dried.
The US House of Representatives narrowly avoided another government shutdown and achieved enough votes to pass a temporary funding bill. The temporary bill will fund the US government until December 20 when the vote is passed up to the Senate. The Senate and House have been at odds over how to distribute government funds.
Bank of Canada's (BoC) Senior Deputy Governor Carolyn Wilkins spoke optimistically about the state of the Canadian economy today. ""In the unlikely event of a storm, Canada's financial system is resilient and we are in a good position to deal with whatever comes our way," Wilkins stated. Last month, the central bank held the overnight rate firm at 1.75%. However, some analysts suspect the bank may choose to lower the rate in the coming months. The next target rate announcement will take place on December 4.
Over 3,000 workers from Canadian National Railway Co. (CN), Canada's largest railroad network, went on strike this Tuesday morning. Union officials say they are protesting medical benefits, remote-control train operations, and time off. Unlike other recent large-scale union protests, wages are not a concern. CN netted $3.8 billion in the last quarter or 2019 alone, but plans to reduce its overall profit outlook for the year due to the strike.
US Market Closings:
Dow declined 102.20 points or -0.36% to 27,934.02
S&P 500 declined 1.85 points or -0.06% to 3,120.18
Nasdaq advanced 20.72 points or 0.24% to 8,570.66
Russell 2000 advanced 5.95 points or 0.37% to 1,598.29
Canada Market Closings:
TSX Composite declined 13.71 points or -0.08% to 17,011.40
TSX 60 declined 0.42 of a point or -0.04% to 1,019.05
Brazil Market Closing:
Bovespa declined 405.07 points or -0.38% to 105,864.18
ENERGY:
Saudi Aramco has set a valuation between 1.6-1.7 trillion USD, well below the initial goal of 2 trillion set by the Crown Prince Mohamed Bin Salman. The stock is set to be listed next month on the Riyadh stock exchange; Saudi Aramco will list approximately 1.5% of its company.
The oil markets had a negative day today:
Crude Oil decreased 1.6727 USD/BBL or -2.94% to 55.3237
Brent decreased 1.3956 USD/BBL or -2.24% to 61.0055
Natural gas decreased 0.0349 USD/MMBtu or -1.37% to 2.5138
Gasoline decreased 0.0202 USD/GAL or -1.25% to 1.6032
Heating oil decreased 0.044 USD/GAL or -2.31% to 1.8560
Top commodity gainers: Ethanol (3.81%), Palladium (1.57%), Coal (2.99%), and Platinum (1.80%)
Top commodity losers: Crude Oil(-2.94%), Coffee(-2.70%), Heating Oil (-2.31%), and Brent(-2.24%)
The above data was collected around 15:50 EST on Tuesday.
BONDS:
Japan -0.09%(-0bp), US 2's 1.60% (+0bps), US 10's 1.78%(-3bps), US 30's 2.25%(-4bps), Bunds -0.33% (+0bp), France -0.03% (+0bp), Italy 1.34% (+5bp), Turkey 11.96% (-14bp), Greece 1.49% (-62bp), Portugal 0.38% (+3bp), Spain 0.45% (+2bp) and UK Gilts 0.73% (-2bp).
Spanish 3-Month Letras Auction decreased from -0.581% to -0.602%