Blog/Market Talk
Posted Nov 19, 2018 by Martin Armstrong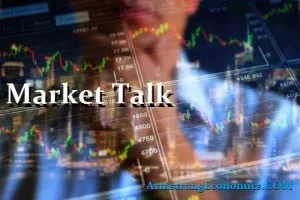 A quiet yet steady session for Asia as continued news of Sino-US trade talks probably hinder progress. What we continue to see recently though, has been the progressive move into the US Dollar. Again today the move fluctuates along with equity movement. The Hang Seng and Shanghai indices managed a near 1% return despite both dipping into negative territory in the morning trading session. We did see a rush into the Yen on Friday and that has held for todays session also. However, rather than seeing weakness in the Nikkei it managed a +0.65% return today. Admittedly, Nikkei futures are weaker in sympathy following US markets, but then the Yen looks comfortable mid 112's. The more the energy [price falls so we see strength in the Indian Rupee which also helps the SENSEX. Still a lot of events this week from data, speakers and a national holiday on Thursday due to US Thanksgiving.
European markets were trending well in the morning session, but then suffered under the US influence. A marginally weaker Euro and GBP shifted consensus towards equity markets, but then data and headlines shifted sentiment. Talk that EU were to impose sanctions on Italy saw BTP's trade lower (price – higher yields). In late trading the 10yr BTP had lost 11bp taking the yield to 3.6%. It was doing well on talk of a Franco-German assist but nerves then appeared. Talk is that even if there was an assist it would require additional debt issuance. Then a headline that Spain would not accept the BREXIT terms saw Sterling trade into the 1.27's only to recover into the European close. There is so much more to go in the BREXIT story that it will continue to move markets well into 2019.
US started trading as poor data hit confidence and saw the DOW off over 500 points. Again, technology shares led the declines and todays talk was the expected drop in Apple production numbers. The stock is now trading off around 20% from its highs and looks to be seeing profit-taking regularly. Interesting that the bond markets are waking-up finally. The fear that Italy will either raise more debt or more importantly, possibly lose official support is obvious given todays price action. Also, the move into US Dollars is highlighting the yield difference between Treasuries and European government paper. Worth keeping an eye on the US-Bund spread together with peripheral Euro paper. Crypto currencies taking another beating with BITCOIN below $5k losing over 11% on the day. Stocks remained under pressure all day and led by the NASDAQ closed off around 1.75% on the day.
Japan 0.08%, US 2's closed 2.77% (-3bp), US 10's closed 3.05% (-2bp), US 30's 3.32% (u/c), Bunds 0.37% (+1bp), France 0.78% (+2bp), Italy 3.59% (+10bp), Turkey 16% (-1bp), Greece 4.52% (u/c), Portugal 1.98% (+2bp), Spain 1.65% (+2bp), UK Gilts 1.37% (-4bp).