Blog/Market Talk
Posted Nov 18, 2019 by Martin Armstrong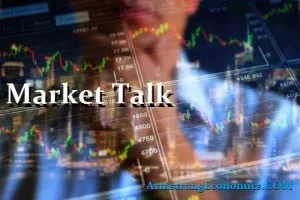 ASIA:
A lot of pessimism in the news today regarding the US and China trade deal, with agricultural and concerns over intellectual property being the main sticking points. In addition to this, China came out with a bold statement for the US to stop flexing its muscles in the South China Sea in a separate spat between the two nations.
In Hong Kong, the protests continue with a clash between the students and police. The police stormed a held up polytechnic university  in which the police gave an option to the protesters to peacefully leave or be met with tear gas and rubber bullets. Some protesters interviewed by the media claimed they could not find a way out of the university. There were some signs of police brutality with one protester being stomped on whilst being arrested. Meanwhile, on a geopolitical stage, China has accused Britain of taking sides. The Chinese ambassador to the UK said the UK is pretending to be even handed and warned them and the US not to interfere.
On the sidelines of the BRICS Summit, India's Modi met with Russian President Vladimir Putin and Chinese President Xi Jinping and exchanged dialogues to strengthen the bilateral ties with both countries. India has gone ahead and made an advance payment for the Russian's s-400 missile system in what could be a move that angers Washington.
The major Asian stock markets had a mixed day today:
Shanghai increased 17.86 points or 0.62% to 2,909.20
Kospi decreased -1.49 points or -0.07% to 2,160.69
ASX 200 decreased 26.90 points or -0.40% to 6,766.80
NIKKEI 225 increased 113.44 points or 0.49% to 23,416.76
Hang Seng increased 354.43 points or 1.35% to 26,681.09
SENSEX decreased 72.50 points or -0.18% to 40,284.19
The major Asian currency markets had a mixed day today:
AUDUSD decreased 0.0007 or 0.10% to 0.6811
NZDUSD increased 0.0002 or 0.03% to 0.6402
USDJPY decreased 0.1390 or 0.13% to 108.6390
USDCNY increased 0.0222 or 0.32% to 7.0258
Precious Metals:
Gold increased 4.8 USD/t oz. or 0.33% to 1,468.71
Silver increased 0.1628 USD/t. oz or 0.97%% to 17.0508
Some economic news from last night:
Singapore:
Non-Oil Exports (YoY) (Oct) decreased from -8.10% to -12.30%
Non-Oil Exports (MoM) (Oct) increased from -3.30% to -2.90%
Trade Balance decreased from 3.830B  to 3.780B
Some economic news from today:
China:
FDI increased from 6.50% to 6.60%
Hongkong:
Unemployment Rate (Oct) increased from 2.90% to 3.10%
EUROPE/EMEA:
Guy Verhofstadt, an EU politician, is pushing ways of speeding up the democratic system with his biggest concern being that the EU is too slow to act in times of need. He referred to the 2008 financial crisis when the US was able to implement a 2.5 trillion dollar plan but the EU was not. He also stated there is a drainage of tech and energy companies as they move to jurisdictions which are more competitive.
A leak from the Iranian secret intelligence service showed Iran having a vast influence in Iraq. The 700 page document illustrated how Iran managed to gain control over some of the political and military spheres in Iraq.
In a deal between China and Germany, the German military plans to educate 11 Chinese soldiers in 2020. However, this was met with some backlash from Human Rights group Amnesty International and activist Joshua Wong. An Amnesty International spokesperson said there was no reason for Germany to help China given the current circumstances.
The Russian search engine Yandex has agreed to a restructuring that will allow for a veto over key company decisions to a company with government ties. Decisions include those covering the security of personal data and intellectual property amongst other issues.
The major Europe stock markets had a mixed day today:
CAC 40 decreased 9.48 points or -0.16% to 5,929.79
FTSE 100 increased 4.76 points, or 0.07% to 7,307.70
DAX 30 decreased 34.74 points or -0.26% to 13,207.01
The major Europe currency markets had a mixed day today:
EURUSD increased 0.0021 or 0.19% to 1.1074
GBPUSD increased 0.00506 or 0.39% to 1.29526
USDCHF decreased 0.0009 or 0.09% to 0.9886
Some economic news from Europe today:
UK:
Rightmove House Price Index (MoM) decreased from 0.6% to -1.3%
US/AMERICAS:
Federal Reserve Chairman Jerome Powell met President Donald Trump at the White House this morning to discuss monetary policy. "Everything was discussed including interest rates, negative interest, low inflation, easing, Dollar strength & its effect on manufacturing, trade with China, E.U. & others, etc." said President Trump, who described the meeting as "cordial." President Trump has been at odds with the Federal Reserve since the beginning of his presidency as he believes they need to lower interest rates. Despite the meeting, Powell reaffirmed that the Fed will make decisions based on data. On Wednesday, the Federal Reserve will release their Minutes Report for October.
Cleveland Fed President Loretta Mester stated that the US economy is "in a good spot." "We think that policy now is well calibrated to the economy and we are really going to be looking at the data going forward to see whether any adjustment is needed in that policy," Mester continued. The Cleveland Fed president was not in favor of raising interest rates last month, but is not eligible to vote on rate decisions until next year. When questioned about Europe's monetary policy compared to America's, Mester voiced that the two are not comparable. "Our financial markets are very different than theirs. We are more market-centric," she stated.
Deforestation is at an 11-year high in Brazil, according to Reuters. Brazil's INPE space research agency noted that deforestation is up 29.5% or 9,762 square kilometers from July 2018 to July 2019. President Bolsonaro has previously accused the agency of exaggerating their data. Still, many blame Bolsonaro's policies to expand commercial agriculture.
US Market Closings:
Dow advanced 31.33 points or 0.11% to 28,036.22
S&P 500 advanced 1.57 points or 0.05% to 3,122.03
Nasdaq advanced 9.11 points or 0.11% to 8,549.94
Russell 2000 declined 4.11 points or -0.26% to 1,592.34
Canada Market Closings:
TSX Composite declined 3.36 points or -0.02% to 17,025.11
TSX 60 declined -0.39 of a point or -0.04% to 1,019.47
Brazil Market Closing:
Bovespa declined 287.63 points or -0.27% to 106,269.25
ENERGY:
All eyes are on the OPEC+ meeting in Vienna next month, as there seems to be large questions over the over supply of Crude in the markets. Given what is going on with the US and China, as well as US productions increasing, many analysts are fearing that there will be an over supply in the market compared to the demand. The increase of supply expected for 2020 could be around 2.3 mp/d compared to the expected increase in demand of 1.2 mb/d.
The oil markets had a negative day today:
Crude Oil decreased 1.0616 USD/BBL or -1.83% to 56.7805
Brent decreased 1.1635 USD/BBL or -1.84% to 62.2520
Natural gas decreased 0.1314 USD/MMBtu or -4.90% to 2.5510
Gasoline decreased 0.0202 USD/GAL or -1.23% to 1.6150
Heating oil decreased 0.0555 USD/GAL or -2.84% to 1.8960
Top commodity gainers: Ethanol (3.69%), Palladium (1.76%),Steel(1.15%), and Silver (0.97%)
Top commodity losers: Natural Gas (-4.90 %), Cocoa (-2.96%), Heating Oil (-2.84%), and Oat (-2.12%)
The above data was collected around 16:10 EST on Monday.
BONDS:
Japan -0.08%(-1bp), US 2's 1.60% (-2bps), US 10's 1.81%(-2bps), US 30's 2.30%(+1bps), Bunds -0.33% (-0bp), France -0.03% (-1bp), Italy 1.31% (-2bp), Turkey 12.10% (+0bp), Greece 1.50% (-1bp), Portugal 0.36% (-1bp), Spain 0.43% (-3bp) and UK Gilts 0.75% (+2bp).
French 3-Month BTF Auction decreased from -0.594% to -0.600%
French 6-Month BTF Auction decreased from -0.596% to -0.609%
French 12-Month BTF Auction decreased from -0.580% to -0.590%
US 3-Month Bill Auction decreased from 1.565% to 1.540%
US 6-Month Bill Auction decreased from 1.550% to 1.540%