Blog/Market Talk
Posted Nov 17, 2017 by Martin Armstrong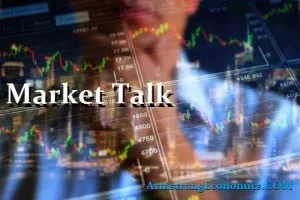 The tax reform bill passing the US House yesterday certainly added to sentiment, after great earnings releases for markets but Asia need more help for cash today. Having opened strong all core markets then drifted and even saw the Nikkei trade negative. For the week it closes down 1.3% which has broken a two month rally. The Hang Seng performed well all day closing up around +0.6% but only off-set the decline in the Shanghai (-0.5%). India traded well following Thursday's credit upgrade eventually adding an additional +0.7% onto yesterdays gain. All eyes are still on the DXY as we approach the weekend as just below we have the 50 Day Moving Average at 93.50. Oil has bounced following comments from potential output cuts led by OPEC.
Europe was abuzz after Mario Draghi's comments that recovery momentum is set to continue coupled with signs of a sustainable expansion. Although he defended the negative interest rate policy denying they have had any direct impact on European banks profitability, even though Deutsche Bank stock is down 33% over the past three years. Draghi also restated patients is required, but one wonders if he ever asked the BOJ how long they've been waiting for a return of inflation! For the cores performance today, the DAX and CAC both fell around -0.4% with Consumers and Retail the key drag on prices. UK's FTSE closed almost unchanged, but many are expecting the weekends press will host a hoard of articles and opinions which will dominate Mondays price action.
Friday was a reverse of yesterdays trend but to a far lesser extreme. The DOW opened around 60 points lower and seemed happy to play there and -100pts for the rest of the day. Consolidation at the highs is very healthy especially after such a strong recovery yesterday. They attempted to push the DXY through the 50 D MA but that was rejected just at the close. Can see the treasury market continues to price weaker growth concerns and soon the realisation that the curve is getting flatter and flatter will provoke questions higher up. Oil sneaked another constructive day in with a +2.65% return for the day heading into the weekend.
2's closed 1.72% (u/c), 10's 2.35% (-2bp), 30's 2.78% (-4bp), Bunds 0.36% (-1bp), France 0.7% (-2bp), Italy 1.83% (+0bp), Greece 5.13% (+3bp), Turkey 12.18% (+19bp), Portugal 1.95% (-1bp), Spain 1.54% (+1bp) and Gilts 1.29% (-2bp).