Blog/Market Talk
Posted Nov 16, 2020 by Martin Armstrong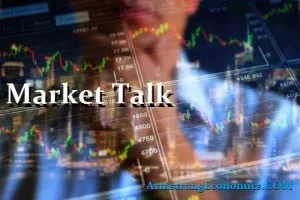 ASIA:
US President-elect Joe Biden is expected to maintain a hard line on most matters, including export restrictions to Huawei. However, he will probably enlist more support from international allies and maintain more consistent policies than the ones Trump sometimes announced, and rescinded, via tweet, China watchers say. Some China watchers express skepticism that enlisting allies will yield better results, considering that allies such as Germany depend heavily on exports to China and have appeared reluctant to take a confrontational tone with Beijing.
On Sunday, 15 countries solidified their participation in the Regional Comprehensive Economic Partnership (RCEP). Even as India opted to stay out after walking out of discussions last year, the new trading bloc has made it clear that the door will remain open for India to return to the negotiating table. Described as the "largest" regional trading agreement to this day, RCEP was originally being negotiated between 16 countries — ASEAN members and countries with which they have free trade agreements (FTAs), namely Australia, China, Korea, Japan, New Zealand and India. The purpose of RCEP was to make it easier for products and services of each of these countries to be available across this region. Negotiations to chart out this deal had been on since 2013, and India was expected to be a signatory until its decision last November.
The major Asian stock markets had a green day today:
NIKKEI 225 increased 521.06 points or 2.05% to 25,906.93
Shanghai increased 36.86 points or 1.11% to 3,346.97
Hang Seng increased 224.81 points or 0.86% to 26,381.67
ASX 200 increased 79.10 points or 1.23% to 6,484.30
Kospi increased 49.16 points or 1.97% to 2,543.03
SENSEX increased 194.98 points or 0.45% to 43,637.98
Nifty50 increased 60.30 points or 0.47% to 12,780.25
The major Asian currency markets had a mixed day today:
AUDUSD increased 0.00476 or 0.65% to 0.73187
NZDUSD increased 0.00581 or 0.85% to 0.69049
USDJPY decreased 0.0250 or -0.02% to 104.58
USDCNY decreased 0.01987 or -0.30% to 6.572234
Precious Metals:
Gold increased 1.26 USD/t oz. or 0.07% to 1,889.30
Silver increased 0.158 USD/t. oz or 0.64%% to 24.788
Some economic news from last night:
China:
House Prices (YoY) (Oct) decreased from 4.6% to 4.3%
Fixed Asset Investment (YoY) (Oct) increased from 0.8% to 1.8%
Industrial Production (YoY) (Oct) remain the same at 6.9%
Chinese Industrial Production YTD (YoY) (Oct) increased from 1.2% to 1.8%
Retail Sales (YoY) (Oct) increased from 3.3% to 4.3%
Chinese Retail Sales YTD (YoY) (Oct) increased from -7.87% to -6.83%
Chinese Unemployment Rate decreased from 5.4% to 5.3%
Japan:
GDP (YoY) (Q3) increased from -28.8% to 21.4%
GDP (QoQ) (Q3) increased from -8.2% to 5.0%
GDP Capital Expenditure (QoQ) (Q3) increased from -4.5% to -3.4%
GDP External Demand (QoQ) (Q3) increased from -3.3% to 2.9%
GDP Price Index (YoY) decreased from 1.4% to 1.1%
GDP Private Consumption (QoQ) (Q3) increased from -3.1% to 4.7%
Capacity Utilization (MoM) (Sep) increased from 2.9% to 6.4%
Industrial Production (MoM) (Sep)  decreased from 4.0% to 3.9%
South Korea:
Exports (YoY) (Oct) decreased from -3.6% to -3.8%
Imports (YoY) (Oct) increased from -5.8% to -5.6%
Trade Balance (Oct) decreased from 5.98B to 5.83B
Some economic news from today:
China:
FDI (Oct) increased from 5.20% to 6.40%
India:
WPI Food (YoY) (Oct) decreased from 8.17% to 6.37%
WPI Fuel (YoY) (Oct) decreased from -9.54% to -10.95%
WPI Inflation (YoY) increased from 1.32% to 1.48%
WPI Manufacturing Inflation (YoY) (Oct) increased from 1.61% to 2.12%
Indonesia:
Export Growth (YoY) (Oct) decreased from -0.51% to -3.29%
Import Growth (YoY) (Oct) decreased from -18.88% to -26.93%
Trade Balance (Oct) increased from 2.44B to 3.61B
EUROPE/EMEA:
Britain has secured 5 million doses of an experimental Covid-19 vaccine developed by Moderna Inc after it reported positive trial results, health minister Matt Hancock said on Monday, with the earliest doses expected for delivery in spring. Britain had previously secured supply deals for a total of 350 million vaccine doses from six different suppliers, including Pfizer Inc, whose vaccine was found to be more than 90 percent effective, and 100 million doses of an AstraZeneca/Oxford candidate expected to report late-stage results in coming weeks.
The major European stock markets had a green day today:
CAC 40 increased 91.32 points or 1.70% to 5,471.48
FTSE 100 increased 104.90 points, or 1.66% to 6,421.29
DAX 30 increased 61.89 points or 0.47% to 13,138.61
The major European currency markets had a mixed day today:
EURUSD increased 0.00201 or 0.17% to 1.18540
GBPUSD decreased 0.00028 or -0.02% to 1.31970
USDCHF decreased 0.00015 or -0.02% to 0.91241
Some economic news from Europe today:
Norway:
Trade Balance (Oct) increased from -8.0B to 2.7B
Italy:
Italian CPI (YoY) (Oct) remain the same at -0.3%
Italian CPI (MoM) (Oct) remain the same at 0.2%
Italian CPI Ex Tobacco (MoM) (Oct) increased from -0.6% to -0.4%
Italian HICP (YoY) (Oct) remain the same at -0.6%
Italian HICP (MoM) (Oct) remain the same at 0.6%
Euro Zone:
Reserve Assets Total (Oct) increased from 909.58B to 914.71B
US/AMERICAS:
Wall Street peaked to new highs on the news of a promising coronavirus vaccine. The Dow jumped over 470 points to 29,952.22—a record high. Boeing led the Dow's bullish day after advancing 7.8% followed by Chevron (6.95%), and Disney (4.36%).
Biopharmaceutical company Moderna announced this Monday that their trial vaccine is 94.5% effective.  CEO Stephane Bancel called the vaccine a "game changer." Shares of Moderna reached a new high of 9.58% after the news. The news comes a week after Pfizer announced their late-stage vaccine was ready to be implemented in society. The US government invested $955 million into the development of Moderna's COVID vaccine under "Operation Warp Speed." Former Commissioner of Food and Drugs said that the promising trials could eliminate the coronavirus by 2021. "Once we get these vaccines in sufficient qualities heading in 2021, the combination of the fact that a lot of the population will have already had COVID, combined with the fact that we'll be vaccinating the public with a highly effective vaccine, we could effectively end this pandemic in 2021 with our technology," Gottlieb stated.
Jay Clayton, the head of the Securities and Exchange Commission, announced that he will step down from his post after over three years on the job. The SEC confiscated $14 billion in revenue under his tenure, according to CNBC, which included $4.68 billion in 2020 alone. "The U.S. capital markets ecosystem is the strongest and most nimble in the world, and thanks to the hard work of the diverse and inclusive SEC team, we have improved investor protections, promoted capital formation for small and larger businesses, and enabled our markets to function more transparently and efficiently," Clayton told reporters.
US Undersecretary of State Keith Krach is poised to hold talks with Taiwan later this month regarding US-Taiwan economic relations. "The dialogue signifies that our economic relationship with Taiwan, a vibrant democracy and a reliable partner, is strong and growing," Secretary of State Mike Pompeo told reporters. Discussions, according to Reuters, will include trade, building reliable supply chains, and implementing 5G networks. Taiwanese President Tsai Ing-wen called the discussion "a milestone for our strategic collaboration, building closer Taiwan-U.S. partnership for a more prosperous world."
US Market Closings:
Dow advanced 470.63 points or 1.6% to 29,950.44
S&P 500 advanced 41.76 points or 1.16% to 3,626.91
Nasdaq advanced 94.84 points or 0.8% to 11,924.13
Russell 2000 advanced 41.29 points or 2.37% to 1,785.34
Canada Market Closings:
TSX Composite advanced 214.17 points or 1.28% to 16,889.81
TSX 60 advanced 13.04 points or 1.31% to 1,007.86
Brazil Market Closing:
Bovespa advanced 1,706.92 points or 1.63% to 106,429.92
ENERGY:
The oil markets had a mixed day today:
Crude Oil increased 1.29 USD/BBL or 3.21% to 41.4200
Brent increased 1.13 USD/BBL or 2.64% to 43.9100
Natural gas decreased 0.312 USD/MMBtu or -10.42% to 2.6830
Gasoline increased 0.0261 USD/GAL or 2.32% to 1.1515
Heating oil increased 0.0253 USD/GAL or 2.10% to 1.2295
Top commodity gainers: Cocoa (11.54%), Coffee (5.68%), Sugar (3.54%), and Platinum (4.14%)
Top commodity losers: Ethanol (-2.70%), Natural Gas (-10.42%), Soda Ash (-1.80%), and Coal (-0.24%)
The above data was collected around 17:40 EST on Monday.
BONDS:
Japan 0.03%(+0bp), US 2's 0.18% (+0bps), US 10's 0.91%(+2bps);US 30's 1.66%(+1bps), Bunds -0.56% (-1bp), France -0.31% (-1bp), Italy 0.63% (-0bp), Turkey 12.13% (-5bp), Greece 0.82% (+5bp), Portugal 0.08% (-1bp), Spain 0.11% (-0bp) and UK Gilts 0.35% (+1bp).